Elias (Helias) de Derham (Deram or Berham)
canon of Salisbury.
According to a manuscript quoted by Leland, Elias de Derham, a canon, was the first architect of the cathedral of Salisbury. By bull of Honorius III (Pope 1216-1227) the seat of the cathedral was removed from the fortress of Sarum (Salisbury) to a plot of ground called the Merrifield, where, April 28, 1220, the foundations of the present building were laid with imposing ceremonies.


Old Cathedral, Salamanca, Early Gothic, c.1120-c.1220.


Column of the cloister of the Church of St. Laurence, Rome.
Seroux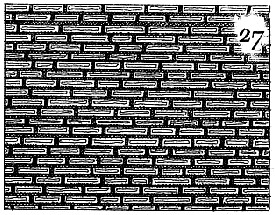 Brick wall from the Church of St. Laurence outside the walls of Rome; thirteenth century.
Seroux


Capital from a column of the cloister of the Church of St. Laurence.
Base and architrave from the same.
Seroux