John Abel
architect; b. 1577; d. 1674.
Abel was a famous builder of timber edifices in England. He built the town halls of Hereford (destroyed 1861), and Leominster (destroyed 1858) which are illustrated in Clayton's Ancient Timber Edifices of England, folio, 1846.


Pierre Biard (II)
sculptor and architect; b. 1592; d. May 28, 1661.
A son of Pierre Biard (I). He was the preferred sculptor of Louis XIII, and was employed by the queen dowager, Marie de' Medici. He made two figures of rivers for the fountain in the Gardens of the Luxembourg, Paris. Biard made the figure of Louis XIII. for the bronze equestrian statue which stood in the Place Royal, Paris, until 1792. The horse was modelled by Danielo da Volterra (see Ricciarelli).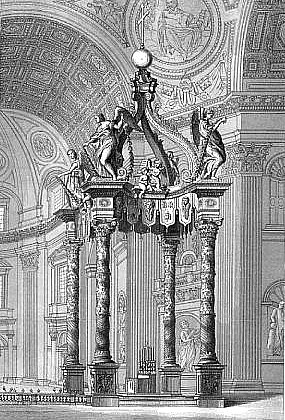 Gianlorenzo Bernini, Baldacchino in St. Peter's (Rome: 1624-33).