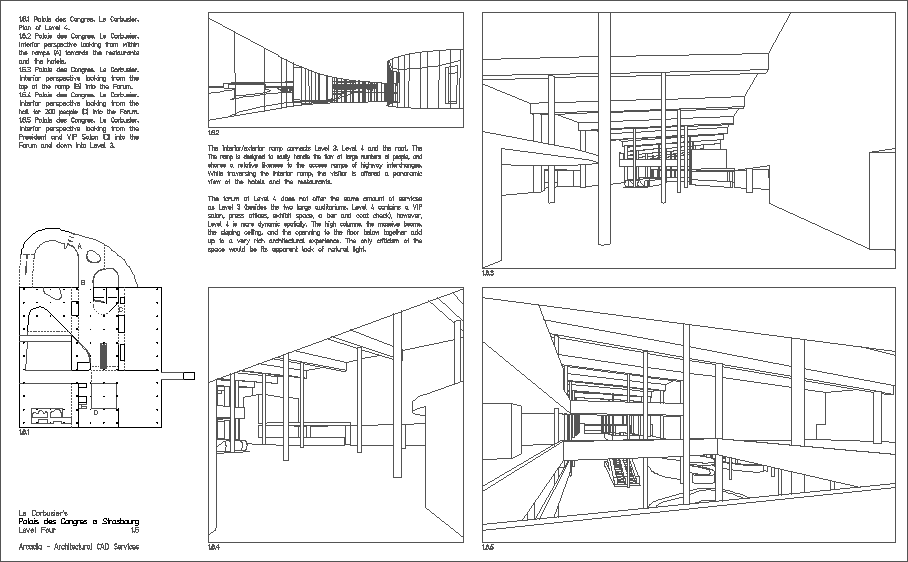 6.1 Plan of Level 4.
6.2 Interior perspective looking from within the ramps (A) towards the restaurants and the hotels.
6.3 Interior perspective looking from the top of the ramp (B) into the Forum.
6.4 Interior perspective looking from the hall for 200 people (C) into the Forum.
6.5 Interior perspective looking from the President and VIP Salon (D) into the forum and down into Level 3.
The forum of Level 4 does not offer the same amount of services as Level 3 (besides the large auditoriums, Level 4 contains a VIP salon, press offices, exhibit space, a bar and coat check), however, Level is more dynamic spatially. The high columns, the massive beams, the sloping ceiling, and the opening to the floor below together add up to a very rich architectural experience. The only criticism of the space would be its apparent lack of natural light.


The interior/exterior ramp connects Level 3, Level 4 and the roof. The ramp is designed to easily handle the flow of large numbers of people, and shares a relative likeness to the access ramps of highway interchanges. While traversing the interior ramp, the visitor is offered a panoramic view of the hotels and the restaurants.