1996.02.29
Michelangelo's horizontal window
...construct a 3-D model of Michelangelo's horizontal window at St. Peter's. I want to compare it in scale to Venturi's Gooding House in Absecon. This may not lead to anything, however, but if it does, I'm hoping it will shed some light on Venturi's manipulation of scale.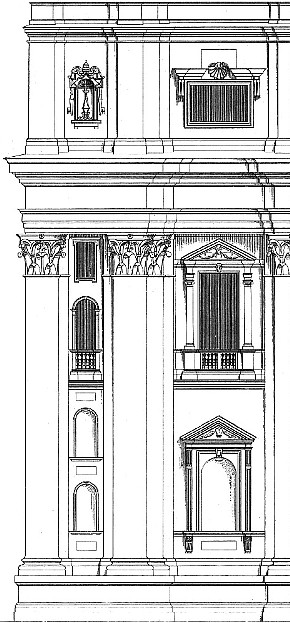 Portion of the facade of St. Peter's Basilica.


Seeing the facades of the Gooding House and the horizontal window of St. Peter's Basilica side by side at the same scale, there are distinct similarities. The cornices of both are very close in scale, and the window group of the Gooding House side elevation could well be replaced by Michelangelo's horizontal window itself. Of overall interest, however, is that both designs are essentially plain boxes with detail, relief and decoration applied.