2007.04.23 15:41
Featured Discussion: Volume
It seems to make sense that de-territiorialization ultimately registers a re-territorialization, but it is the effect of de-territorialization (on one's thinking) that is the most important aspect here. And I guess you could say that new mode of thinking is what then shapes the new "territory".
I have no idea if this is so, but I wonder if this composition might be an example of de-territorialized architecture.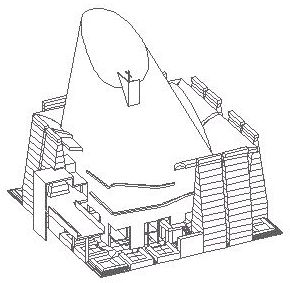 2007.04.23 17:08
Featured Discussion: Volume
Firminy church by Le Corbusier
Hurva synagogue by Kahn
composition 1a : the act or action of composing : the formation of a whole especially by different things being put together
To confuse or not to confuse, that is de-territorialization?
The church/synagogue composition came as a result of seeing how the plan of the church fit almost perfectly within the sanctuary(?) of the synagogue. And, since I had a model of both buildings, I just wanted to see the superimposition in 3D. And upon seeing that I thought, "Gosh, that kinda looks like a mosque." Trust me, de-territorialized thinking isn't necessarily brilliant, although for the most part uninhibited.
2014.07.12 17:33
Art + Architecture: Schumacher vs. Post-Net
Presently, I design Quondam more along the lines of #1.
Although I'd rather be designing along the lines of number #2.
If I actually started to work at designing the way I'd like too, then perhaps I'll arrive at #3.