Whitaker Mills Barn (Tacony Creek Park, Philadelphia, PA: c1813).


Re: Swiss Architect to Help Afghans Rebuild Buddhas
2002.04.03 07:49
"In Bamiyan they told us that between five and 12 truck loads of material from the statues was carried off to Pakistan," he said. "If this is correct, I think much of this material will be sold in the same way as the stones of the Berlin wall were sold as paperweights."

2002.01.27:
Rather than returning to the growing and exporting of opium, perhaps Afghanistan should begin globally marketing the millions of pieces of building debris that presently litter its cities and remote terrorist training sites. Of course, cave rocks would be the most expensive, er, I mean sought after. But, if rubble rocks are not appealing to worldwide consumers, maybe there are piles of pieces of Taliban destroyed Buddhist artworks throughout Afghanistan which could be tapped for sale in the global marketplace.

2002.03.29:
I finally got around to taking pictures of the circa(post) 1813 substantial stone barn remains of the now gone Whitaker Mills compound at Tacony Creek and Tabor Road, Philadelphia. Within a few weeks, this somewhat majestic structure will again be almost completely covered by vegetation. Despite this barn's age and its probably being the only such stone structure left in Philadelphia, it nonetheless will likely sometime in the future be purposefully demolished by the Fairmount Park Commission (with the reason being its potential liability as a safety hazard). My picture taking is perhaps the only preservation this 'historic' structure is ever going to receive. [Anyone interested in buying some old Philadelphia barn stones?]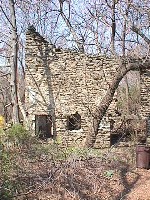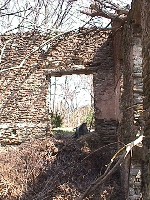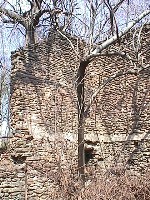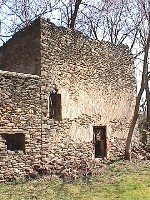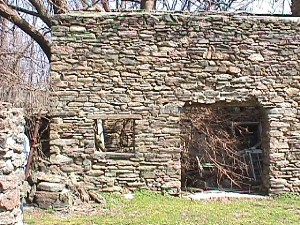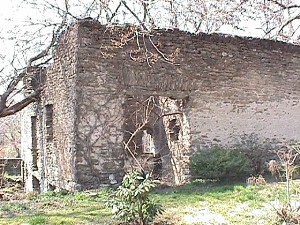 Images taken 29 March 2002.