2011.01.31 12:39
what is our current architectural style called
answer:
Gehry's Winton Guest House Style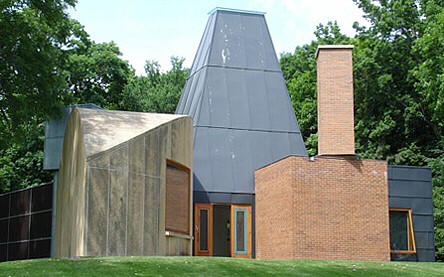 apparently inspired by Morandi's still-life paintings
The Gehry-inspired-by-Morandi Style?


2011.02.11 10:40
TOP 10 MUST HAVE ARCHITECTURE BOOKS
Le Corbusier, Oeuvre Complète 1957-65.
Dal Co and Forster, Frank O. Gehry: The Complete Works.
John Hejduk, Adjusting Foundations.
El Croquis 131/132 and El Croquis 134/135 (OMA/AMO/Rem Koolhaas).
James Stirling - Michael Wilford & Associates: la Nuova Galleria di Stato e Stoccarda.
van Berkel and Bos, MOVE.
Liane Lefaivre, Leon Battista Alberti's Hypnerotomachia Poliphili.
Oppositions 18.
Lotus International 35 or Learning from Las Vegas (first edition).
Luigi Ficacci, Piranesi: The Complete Etchings.


2011.11.12 10:04
Quondam's Fifteenth Anniversary
I read Sanford Kwinter's "Mack 1 (and Other Mystic Visitations)" last night and early this morning. Back in mid-October 1997, instead of going to the opening of Guggenheim Bilbao, Kwinter and Reiser went to a reenactment--the fiftieth anniversary reenactment of Yeager's October 14, 1947 breaking of the sound barrier. Kwinter calls the event a "commemorative re-enaction, of perhaps the second most significant accomplishment in the history of twentieth-century space," and, because architects did not somehow latch on to this accomplishment (back in the late 1940s), late twentieth-century architectural accomplishments like Guggenheim Bilbao are not as important as they seem. Apparently, architecture missed the real Zeitgeist "boat," however, and most thankfully, a reenactment can come to the rescue.
After reading, a few things started entering my mind, like didn't John Hejduk's Silent Witnesses architecturally address this very Zeitgeist? It's hard to grasp the impact of Silent Witnesses by just the images within The Mask of Medusa, but I still vividly remember seeing the models in person at Cooper Union (Spring Break, 1977). Hejduk definitely did not miss the boat, or the submarine, or the lunar module.
2011.12.06 21:36
Frank Gehry
2008.08.23 21:06
peter's canon
Personally, I like seeing all the study models of various projects by various architects. I like it because it clearly demonstrates just how pliant architectural designing can be. And I seriously consider the notion that it may well be Gehry that best introduced architectonic pliancy to the profession.
Is architectonic pliancy in somewhat sharp contrast to Eisenman's method? Up to a certain point (in time) I'd say yes. And when Eisenman's work started exhibiting some measure of pliancy, that's where I start to see Gehry's influence.
Have Gehry's designs of late become somewhat predictable and/or seemingly uninspired? Perhaps the pliability metaphor applies here too; perhaps the pliancy has been lost for being stretched too much and too far.
----------
pliant 1 : yielding readily without breaking : bending or folding easily
About a month ago, I purchased Constructing a New Aganda: Architectural Theory 1993-2009. The first essay in the book is "Architectural Curvilinearity: The Folded, the Pliant, and the Supple" (1993) by Greg Lynn. Upon seeing this title I immediately thought of the post above. I have little doubt that it was a long ago reading of this essay (as I used to own several books by Lynn, although now all sold off at eBay around 8 years ago) that lodged the connection of Gehry's architecture and pliancy somewhere in my brain. With the 2008 post, however, I was thinking more along the lines of the pliacy demonstrated by the plan of Gehry's Wagner House (1978)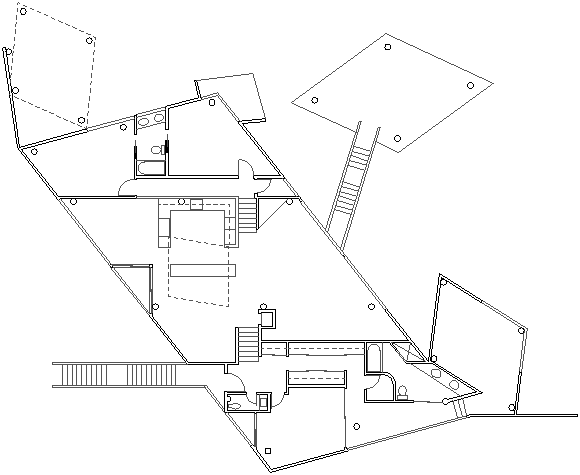 and the 3-dimensional execution of this plan as well. I have also wondered if the peeling wall detail of a 1970-4 Venturi and Rauch project is percursor to Gehry's pliancy.