2003.12.22 13:58
ME ARCHITECT?
I saw My Architect yesterday, and a neat part of the film was when Nathaniel was speaking with a couple of taxi-cab drivers (who supposedly drove Kahn around Philadelphia over 30 years ago)--in the immediate background of this scene is the Ritz Theater (within which I was actually watching My Architect). Seeing the scene, I said to Tony, "Look, it's 3D," but watching a movie in a movie theater that you see the movie theater in is probably much more like 4D. Hence, I'll tell you what it's like being in My Architect, albeit from the fourth dimension.
Countless times between January 1982 and May 1985 I walked by and into 1501 Walnut Street (where Kahn's office used to be, where you see him walking outside of several times in the film). I worked at 1611 Walnut Street (for Cooper and Pratt Architects, later Cooper Pratt Vallhonrat). I used to buy my "Dunhill Green" cigarettes in the tiny tobacco store on the ground floor of 1501 Walnut Street. Cooper is the older brother of NY's Alex Cooper, Pratt is from Pratt-Lambert Paint money, and Vallhonrat was the project architect of Salk Institute--three bosses and a staff of four in the drafting room; we all knew each other fairly closely. Nathaniel speaks with the project manager of Salk Institute in the film. If you ever visit the new US Constitution Center in Philadelphia, look at the Federal Reserve Bank building across 6th Street, a design by Vallhonrat that tries hard to emulate Kahn's Mellon Art Gallery at Yale.
In 1979-80 there was a lecture series at the Art Institute on "The Philadelphia School." One night the lecturer was Anne Tyng, and I was one of the five or so people that attended. At the end, someone said to Anne that the attendance was so low because it was Yom Kippur as well. Cold comfort, I'm sure, for the "other woman." Tony remembers going with Franco to Tyng's house to pick up her article for Stanza in 1975.
Stanza was the student journal of Temple University's Architecture Program. Temple's Architecture Program began in 1973, a year before Kahn died, and was the 'brain-child' of John Knowles, a quondam Kahn student. When Tony and I started at Temple in 1975, Brigitte Knowles, John's wife, taught first year--you see Brigitte in the film a couple of times as the only female in one of Kahn's classes at Penn. (I worked for BJCKnowles Architects 1979-80.) Esther Kahn gave the first guest lecture I attended at Temple.
By the mid-1980s, I was working at/for the University of Pennsylvania Graduate School of Art--you see Kahn kind-of prancing around the Fine Arts campus in the film. The Kahn Collection was recently installed within the GSFA's Architectural Archives, and, since I was the resident 3D CAD expert at the time, I asked for access to the drawings of Kahn's design of the Dominican Sister's (who you also see in the film) Convent so I could then construct a 3D computer model of the unexecuted design. Julia Converse didn't allow me free access to any of the drawings done in Kahn's own hand, but I certainly spent several hours over several days going through all the office drawings relative to the project--this all predates Kent Larson's computer model construction of Hurva Synagogue; in fact, the computer model of Hurva Synagogue in Quondam's collection even predates Larson's.
You know, Nathaniel's whole premise of the film is his search for a father that he never really knew, while the reality is that Nathaniel knew Kahn in a very real way that no one else did. Searching for Kahn, for me, really was trying to find an unknown. Unlike Nathaniel, I would never bother speaking with Johnson or Pei or Gehry or Stern to find Kahn, rather I went to Piranesi because Kahn, during his mature years, had the Ichnographia Campus Martius hanging on the wall above his office desk. Yes, were it not for that, I would never have found/discovered (in 1999, in the same building where Kahn taught at Penn) the heretofore unknown first version of Piranesi's great Campo Marzio plan.
I enjoyed My Architect, especially seeing Kahn resembled in all three of his offspring--the daughter of Esther, the daughter of Anne and the son of Harriet. My only regret is that I didn't have the opportunity to coach Nathaniel before he talked with Edmund Bacon. After having several (business related) conversations with Bacon myself in the late 1980s/early 1990s, I finally learned how to best put Bacon in his place (although he still owes me $200).


2004.04.14 17:18
Re: enactionary architecturism
Kahn and Matta-Clark have lately been discussing architecture and cut-outs (and cut-up books).


2004.07.01 14:57
Modern Trajectory
Why not compose a modern trajectory based on individual buildings/designs and events (such as building expositions, publications, schools, symposiums, etc.) entwined with historical events, instead of dealing with architects themselves as a datum?
Is the course on architecture or is it on architects?
A Venturi and Rauch building of the 1960s, for example, is not the same as a Venturi, Scott Brown & Associates building of now-a-days. The same goes for Gehry's career trajectory. An early Mies building is not the same as a late Mies building (although most late Mies buildings are just like each other). Note what building design Kahn was working on while Wright was designing Beth Sholom Synagogue.
A chronological trajectory of buildings/designs will be much more informative than a more or less speculative list of what architects may have succeeded or followed what other architect.
2004.07.13 17:39
plan free
...Gordon's also pinned down the content of his "moldy paper on mildew". He's putting together an analysis of the architecture Louis Kahn and Robert Venturi were designing in the years just before he (Gordon) was in architecture school.


2004.11.10 14:26
Re: Concrete Comedy: A Primer
Sir Edwin Lutyens designed 'imperial' New Delhi.
Le Corbusier's was (mostly) at Chandigarh.
Louis I. Kahn was mostly at Ahmedabad.


2005.03.06 14:14
Versailles, sigh
I'm curious as to why you think you previously knew nothing about Whitemarsh Hall? Were you perchance through Chestnut Hill to see the Vanna Venturi House or the Esherick House by Kahn?
Should Whitemarsh Hall hold a distinct place in 20th century architecture history? Does Vincent Scully even know of Whitemarsh Hall? You would hope (Philadelphian) Robert Venturi knows of Whitemarsh Hall--interesting how Venturi makes much of Lutyens, yet virtually nothing of about Trumbauer, who is Lutyen's almost exact contemporary. And let's not forget African-American architect Julian Abele, who is seen as near equal with Trumbauer when it comes to executing the design of Whitemarsh Hall.
Is modern oblivion all around what is really to blame. Progress über alles and God bless the garbage disposal? Is there a subconscious shame that comes with modern oblivion that hence engenders a selective deaf-dumb-and-blind-ness?
In another current thread here, it is said that "architects are taught to think differently." Do architect's realize how much they are likewise unwittingly taught to forget?


2005.04.14 18:23
AN ARCHITECTURE OF REMOVEMENT
The Esherick House by Kahn is right down the street from the Vanna Venturi House, but it isn't a duplex (although it does kind of look like a duplex).
The office of Venturi Scott Brown & Associates is in Manayunk, Philadelphia, an ethnically diverse neighborhood, now much gentrified. Manayunk is a Native American name/word. The last time I was at the VSBA office, I was waiting for a friend in the reception area. Someone else I knew came along and we chatted a bit. For some reason I laughed loudly (which is my nature) and then Venturi flew out of his office and looked at us in the reception area very sternly. During the subsequent lunch with my friend I asked why Venturi did that.
"You're not allowed to laugh in the office."
"Gosh, I wouldn't last there two minutes, would I?"
Then we both laughed loudly, of course.


2005.04.29 16:17
Re: time-capsule
The great early 19th century English architect Edwin Lutyens died 1 January 1944. His was a very full career, and, like Trumbauer, he designed and built great homes, often palaces, albeit for the wealthy British. His creative talents were immense, even original, but when he visited the new Philadelphia Museum of Art 7 October 1929, he admitted some envy. You could say Philadelphia architect Robert Venturi is the biggest fan of Edwin Lutyens architecture.
2005.05.20 16:24
hotrod architecture
Picking up on LB's "stealth communication with other experts," I'm recalling a detail from Kahn's Esherick House. I think in the hall right as you enter the house there is a light switch panel unlike anything I've ever seen before. Not only are there like eight toggle switches in a row, but the panel is set on the wall vertically, as opposed to the traditional horizontal mounting. Granted this is just a small detail, but, given that the building dates from 1959-61, such a light switch panel seems extreme (and I certainly thought that when I first saw it in 1977), but also elegantly simple in its execution.
While I'm "in" the Esherick House, the windows here also have an extremeness to them, and these windows are very much integral to the architecture.
And now I'm thinking of the enormous light hoods that "light" the communal spaces of Kahn's Erdman Hall dormitory at Bryn Mawr. Again there is this extremeness in terms of how light enters the space, and the resultant effect is very much part of what makes Kahn's architecture "great".
And now thinking further about "windows," my favorite panes of glass remain those at either end of the quondam Liberty Bell Pavilion (vintage 1976). While not a makeover, per se, the detailing of this building has an extremeness to it overall, even to the point where the roof/ceiling is split right down the middle so as to not disrupt the axis of Independence Hall. And even aesthetically, if you look at this building closely, it wouldn't be a stretch to say it has a 'hot rod' feel to it. And, as to performance, as much as most didn't like the building, representatives of the National Park Service will nonetheless admit that it served its purpose of allowing thousands and thousands of visitors to see, stand by, and touch the Liberty Bell very well.
Anyway, I never expected to be thinking about Kahn and Mitchell/Giurgola architecture in conjunction with "hot rodding", so again, "Who knew?"


2005.05.23 14:27
hotrod architecture
Anyone familiar with Venturi and Rauch's Renovation of St. Francis de Sales, Philadelphia 1968 (which is best illustrated in the original Learning from Las Vegas) will have to agree that it was a bone-fide "hot rod" design. Sadly, the design is no longer in place (but at least the white plastic lectern still exists, albeit in storage). The single tube of white neon that hovered over the church sanctuary apparently didn't last long at all. Like the ecumenical changes of Vatican II, the Renovation of St. Francis de Sales was indeed an "extreme makeover."


2005.09.21 16:08
philly.
I'd go to Bryn Athyn and see all the overwhelming architecture there:
Bryn Athyn Cathedral
Cairnwood
Glencairn
Or go the Bryn Mawr and see inspirational architecture there:
the quondam Bryn Mawr Hotel by Frank Furness (now the Baldwin School, across the street from...)
Kahn's Erdman Hall at Bryn Mawr College
all the Mitchell/Giurgola buildings at the American College of Life Underwriters


2005.12.05 13:22
Thom Mayne on Charlie Rose
Kahn knew how to answer questions well and ethereally, and I imagine Vanbrugh knew how to answer questions well and theatrically.
2005.12.23 16:06
Jimmy Venturi's new website...
Today's post delivered a copy of the A+U Louis I. Kahn book I recently won at eBay and a completely unexpected postcard from bobanddenise.com.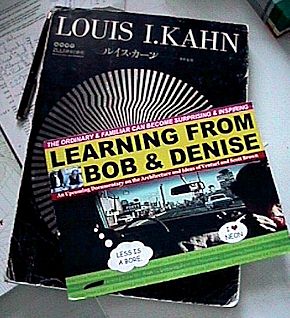 I love how the stamp on the postcard is 860-880 Lake Shore Drive.


2006.01.31 12:34
Thesis Semester [blog] 25 years ago
Hal Guida sent me a response email two days ago--our first exchange in 25 years. Among other things he writes:
"Back in early June of 1989 saw the office into Asia for the first time, which has become an ever increasing part of the practice - we currently have projects in Singapore; Kuala Lumpur; Hong Kong; Suzhou, PRC; and New Delhi; and I spend many weeks each year in those places.
Aldo Giurgola retired years ago, but we still undertake projects at the Parliament together, and indeed he was in the office this morning gathering slides of Philadelphia and Canberra projects for an upcoming lecture."


2006.03.29
Depth
"The whole aesthetic notion of POP Art flatness (as best described in xxxx) is an aesthetic that Venturi still to this day strives ardently toward in many aspects of his designs. This 'style' is rarely, if ever, discussed within the plethora of writing on or by Venturi, yet it is definitely a substantial part of Venturi's design psyche. ...offers lots of actually working examples of the quest for flatness in the design process, and then we inevitably agree that it is somehow amazing that hardly anyone (else) knows about this very integral component of Venturi's style."
--QBVS2, p. 50.