Inside the Density of G. B. Piranesi's Ichnographia Campus Martius

A paper prepared for and presented at the Network for Theory, History, and Criticism of Architecture INSIDE DENSITY Colloquium, Brussels, Belgium 25-6 November 1999.
I thank Martine De Maeseneer for letting me know about the INSIDE DENSITY colloquium, and I equally thank the INSIDE DENSITY Organizing Committee for accepting my paper.
This paper is dedicated to Susan M. Dixon and Anthony D'Aulerio whose support and assistance brought Piranesi many degrees closer.
21 November 1999, Philadelphia

abstract
Albeit resolutely virtual, Piranesi's Ichnographia Campus Martius nonetheless manifests a high degree of density not only in terms of architecture and urbanism, but with regard to symbolism, meaning, and narrative as well. The hundreds of individual building plans and their Latin labels within the Campo Marzio do not "reconstruct" ancient Rome as much as they "reenact" it. Thus Piranesi's overall large plan presents a design of Rome that reflects and narrates Rome's own imperial history. Given Rome's history, then, the ultimate theme of Piranesi's design is inversion, specifically ancient Rome's inversion from (dense) pagan capital of the world to (dense) Christian capital of the world--a prime example of the proverbial "two sides to every story."
With the inversion theme, Piranesi also incorporates a number of sub-themes, such as life and death, love and war, satire, and even urban sprawl. Rendered largely independent, each sub-theme relates its own "story." Due to their innate reversal qualities, however, each sub-theme also reinforces the main inversion theme. Piranesi's Campo Marzio is not only dense, it is condensed.
In 2001, the finished Ichnographia Campus Martius will be 240 years old, yet Piranesi's truly unique urban paradigm -- a city "reenacting" itself through all its physical, sociopolitical, and even metaphysical layers -- may well become the most real urban paradigm of the next millennium.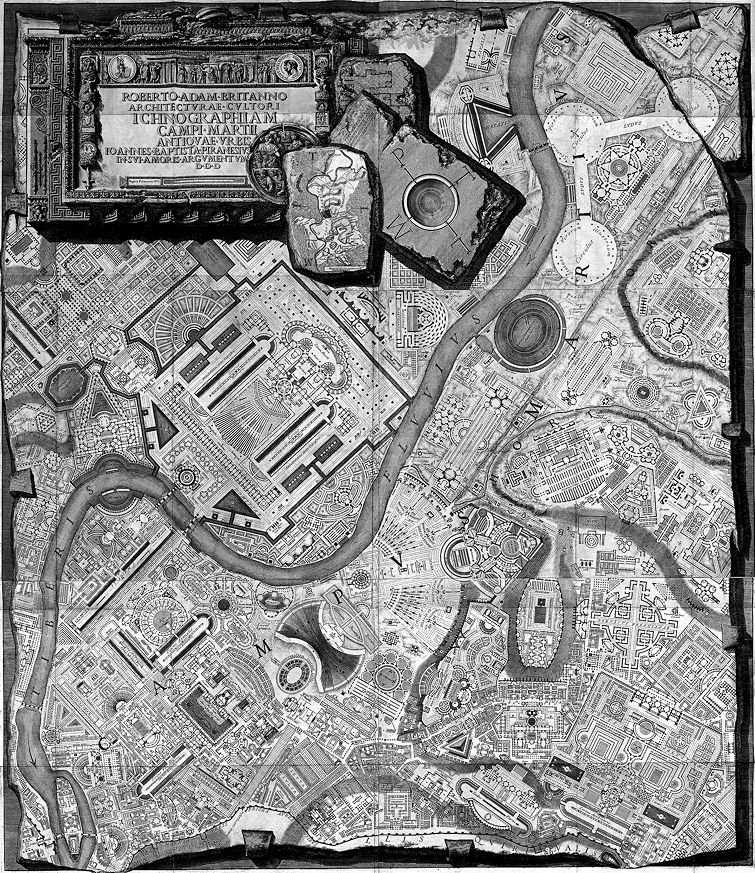 Ichnographia Campus Martius 1st state
1999.11.29 15:29
hello, Charlotte's email address?
Hello GaŽtan,
I am now home in Philadelphia again, but Brussels is still very much on my mind. I want to thank you again for your and Charlotte's efforts as the chairpersons of the "Thinking Density" session. Others may not have liked what you and Charlotte where attempting to do, but your plan certainly worked for me.

I plan to write my many impressions of Inside Density.

On Saturday afternoon, Charlotte took my on what I now refer to as the 'sacred and profane' tour of old Brussels.