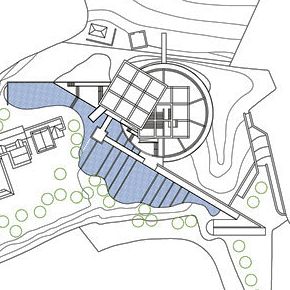 2002.12.17 17:25
Re: a Bemused Tadao Ando observation
I have studied the evolution of Kahn's architecture beyond Kahn since my own architecture thesis 1981, and Ando's Museum of Literature design appears to be a late descendant of Kahn via late 1970s Stirling and early 1980s Isozaki.
Kahn's Levy Memorial Playground designs with Isamu Noguchi (1961-66, unbuilt), and his Dominican Motherhouse of Saint Catherine de Ricci (1965-69, unbuilt) engendered much formal architectural play, a genealogy that goes mostly unnoticed by architectural historians. Much of Predock's, work, for example, especially "reenacts" the Levy Memorial Playground designs.
Interesting how you relate the Museum of Literature to a kind of themepark. It could easily be said that Kahn's formal playfulness was inspired by Piranesi's Ichnographia Campus Martius, an ultimate plan of an ancient Roman themepark if there ever was one.


2009.01.31 16:38
Re: Misc. stuff
I am familiar with the Levy Playground designs--they are featured within the A+U Kahn book I sliced up in 1984, so I really haven't looked at them closely in a long time. I have thought of them when I first saw Predock's work. Back in school I wanted to start doing stuff like that (I had the Kahn A+U since 2nd year) but I also knew I wouldn't be able to get away with it jury-wise, so maybe the inspiration did show up in later designs. Of course, I can't deny that the convent plan has had a huge influence on me.


2009.01.31 19:34
Re: Misc. stuff and the best of youth
I always saw that kind of Kahn geometry play as maybe Campo Marzio inspired.



2012.08.08 18:38
The Philadelphia School, deterritorialized
...because of ongoing "Philadelphia School" work, I was studying Kahn and Noguchi's Levy Memorial Playground designs, particularly the third version from late 1963.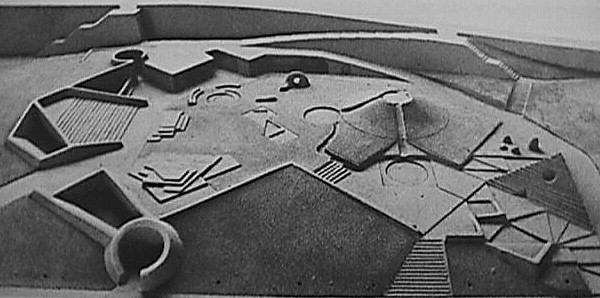 The pyramidal form in the lower right corner is very likely the earliest precedent for the Acadia design, yet Kahn himself added further precedent for the Acadia design via the very early 1965 design of the building for the Council of Islamic Ideology at Islamabad...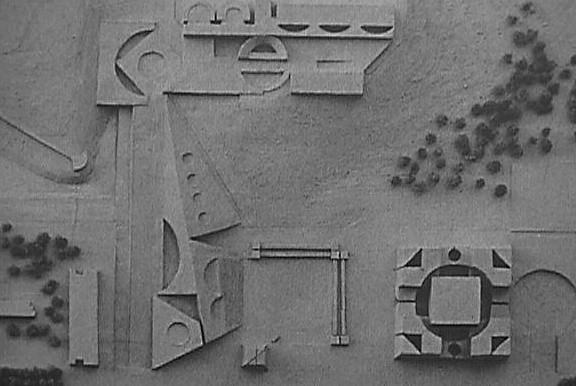 ...which no doubt stems from Kahn's coincident collaboration with Noguchi. Alas, the Levy Memorial Playground and the Council of Islamic Ideology designs were also never executed in built form, but there are two very real, legitimate offspring of these designs in Italy: Institute for Draghtsmen and Library and Cultural Centre.
The Venturi and Rauch designs that come into play here are the three buildings for Princeton Memorial Park, 1966. ...the Entrance and Administration building and the Crypts...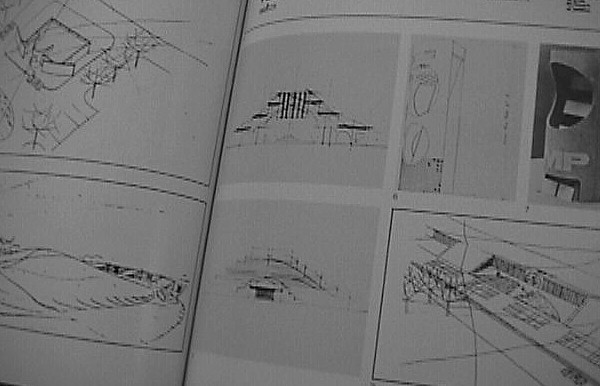 ...have an affinity with the architectures of the Levy Memorial Playground and the Council of Islamic Ideology, although Venturi had already used bermed forms within the F.D.R. Memorial competition, 1960.


2013.01.31 16:35
Foster + Partners works with European Space Agency to 3D print structures on the moon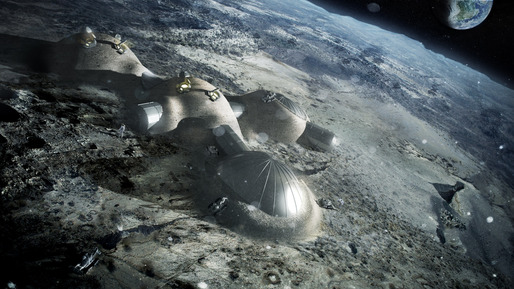 Perhaps further inspiration can be gleaned from Isamu Noguchi and Louis I. Kahn...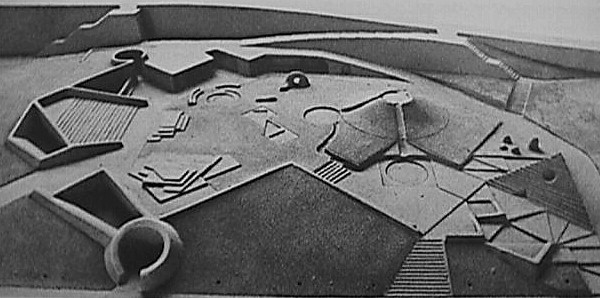 The ultimate in deterritorialization (and reterritorialization) even!


2015.04.05 09:49
What's your favorite piece of architecture?
Ury
Aedicula Intercourse
Whitemarsh Hall
Courthouse with Garage
Goldenberg House
Levy Memorial Playground
Electronic Calculation Center Olivetti at Rho-Milan
Palais des Congrès
Acadia National Park Headquarters Building
House 15
Museum for Nordrhein Westfalen
Wallraf-Richartz Museum
Eclectic Houses
Dresdner Bank
Retreat House
Wagner House
Mayor's House
Battery Park City
Parkway Interpolation
Analogous Building
Palace of Ottopia
Good-Bye House
Mosque Q
House of Shadows Bye
Gooding Trice House
Duchamp Inn
Ichnographia Ink Blot
Headquarters of D.A.T.A.
Courthouse Plus Ultra
Casa Unbekannt 001
New Not There City
Germantown Avenue University of Architecture
Cubist ICM
Whitemarsh Hall is the only building here that I have actually experienced, and Ury is the only other building here to have actually existed, but I live where Ury once was so it's a completely cerebral 'piece' of architecture for me now. In fact, as the first half of the list demonstrates, my favorite architecture teaches me something beyond what actually exists, and the latter half of the list is a wishful manifestation of architecture that perhaps goes beyond even that.