Entropy attracted artists well before the 1960s, when Robert Smithson made it his motto, and many took it up after him, In the hands of these artists, entropy operates in various ways: by degradation, by redundancy, by accumulation, infinite profusion, by inversion, by tearing, by lack of elasticity, by the invasion of "noise" into the message, by wear and tear, but also by under-usage or nonconsumption. Entropy is a sinking, a spoiling, but perhaps also an irrecoverable waste. The first entropic artist was Giambattista Piranesi, about whom Henry-Charles Puech says:

[Beginning with Piranesi], man is definitively overrun by what he creates and what little by little boundlessly destroys him. The obsessional idea of construction, the ordering of stones or of machines, these human triumphs! carried to an extreme, open an infinite vista of nightmares and of multiplied punishments wrought by the automatic law of the vaults, the pillars, the stairways, a multiplication there is no reason to stop (totality, form existing only on a human scale, man is outstripped by the very need for representation that has unleashed this crushing force).37
Rosalind Krauss, Formless: A User's Guide (1997), pp. 38-40.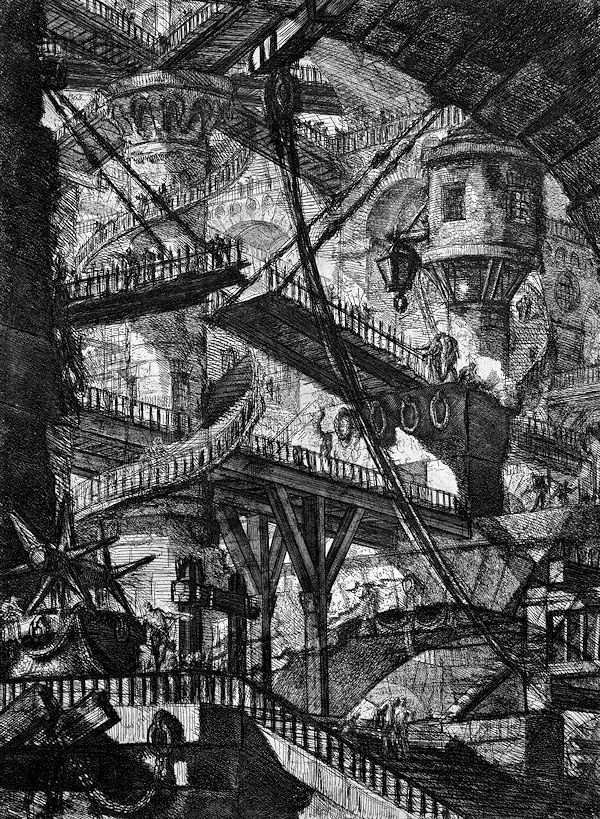 37. Henry-Charles Puech, "Les 'Prisons' de Jean Baptiste Piranesi," Documents2 (1930), no, 4, p. 204. Thinking in particular of his Pianta di ampio magnifico collegio and of the famous plan of the Campo Marzio dell'antica Roma. Manfredo tafuri would characterize Piranesi's work as "an architectural banquet of nausea, an empty dictionary created by an excess of visual noise" (Tafuri, "'The Wicked Architect': D.B. Piranesi, Heterotopia, and the Voyage," in The Sphere and the Labyrinth [Cambridge, MA: MIT Press, 1987], p. 35).