Interpretation of the Campo Marzio of Piranesi

Regarding the actual qualities of an "architect," that is to say in the sense of a creator of ideal forms which have practical ends and the imagination of art, what portion of these characteristics are to be found in the figure and personality of G. B. Piranesi? As engraver, painter-engraver, architectural designer, scholar of Roman construction, in his own way an essayist and archeologist, scenographer, did he also strive for an active, aggressive role in architecture? In short, did he aspire to build as a participant in the architectural movements of his time, for clients who could furnish him themes and commissions equal to his high aspirations and inspirations? Or must his potent charge of architectural knowledge, of architectural dreams and visions, abounding in the immense production of his designs, engravings, and writings, be considered an immense potential which never found favorable conditions for its proper realization? And did he satisfy himself solely through his visions, his evocations, the world which he was discovering in his fascinating soul? Through that world which at that time was being revealed in a new light? Was he but the narrator of a poem about ancient history? These questions may seem superfluous, given the complexity of the Piranesian works, all directed to the study and representation of the architectural monuments of Rome, for which the designation of "architect", beyond that of "engraver", is implicit. And yet, if we limit our research to the terms described above, the edges of a more decisive definition of his figure still offer some shadings, which we propose to sharpen more precisely than has been done so far in the admittedly extensive Piranesian bibliography.

As a generator of forms, as a constructing architect, he shows his abilities in the reconstruction and renovation of the church of S. Maria del Priorato. It is a work done in the maturity of his 45th year, and was commissioned by Cardinal Rezzonico in 1765. For Pope Clement XIII he designed some improvements for the villa at Castelgandolfo, and a project for the apse of St. John Lateran. None of these designs were executed. The facade of S. Nicola in Carcere has recently been attributed to him by Fiocco.

During his twenty-five years of Roman life - he had come to Rome when he was twenty as a "designer for the Venetian embassy" and he lived there almost without interruption, pursuing his work as engraver, under the reigns of Popes Benedetto XIII , Clement XII , Benedetto XIV, and Clement XIII - he does not, let us say, enter the professional field.

Even though he was a friend of Salvi, of Vanvitelli, of Bottari, and was surely placed, albeit indirectly, in contact with bricks and mortar, he does not enter the competitions or appear in the professional circles of the city, in order to obtain design commissions. He enters the S. Luca Academy in 1762, that is to say, very late, and solely on his merits as a scholar.

A more analytical reading, generating from the more flamboyant aspects of his pictorial work, may help us to understand and resolve the proposed problem.
Written over fifty years ago, Fasolo's opening argument unwittingly describes today's architect of the virtual realm, that is, an architect who designs "potential" realities utilizing CAD, 3-D, and Cyberspace, and is no longer restricted to the dormancy of images on paper. From our turn-of-the-millennium perspective, therefore, Piranesi fills the role of Ur-architect of the virtual realm.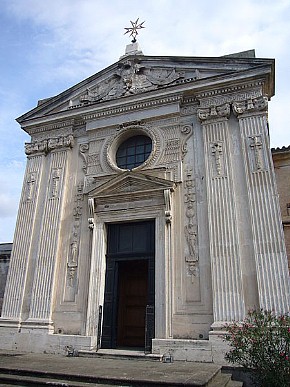 S. Maria del Priorato