Seffrid
bishop.
Seffrid, second of that name, was bishop of Chichester, England, from 1180 to 1204. In 1186 the church was greatly injured by fire. The repairs, which extended through eleven years, were so considerable that the church was rededicated in 1199.


Theophilus (Rugerus)
monk and writer on art.
Theophilus, supposed to have been a German or Italian "priest and monk," wrote the mediaeval technical manual of the arts entitled Diversum artium schedula. It was probably written late in the twelfth century, although the date is conjectured variously from the tenth to the thirteenth. The work is divided into three parts. The first part is on painting, the second on the manufacture and painting of glass, and the third on metal work. It was first noticed in the last century by Lessing, who discovered the manuscript in the library at Wolfenbüttel, Germany, of which he was librarian. There are manuscripts also in the libraries of Leipzig, Paris, Cambridge (Trinity College), and Venice. The first part was published by Raspe in his Critical Essay on Oil Painting in 1781, and the entire treatise by Leiste and Lessing in the same year. A Latin and French edition was published by Count de l'Esealopier in 1843. Another French edition with notes by Bourassé was published by J. P. Migne in Nouvelle encyclopédie théologique, Vol. 12, 1851. An English translation by Robert Hendrie was published in 1847. A translation of the second book (on glass), from the French of de l'Esealopier, was published by Winston in his Hints. The manuscripts have been collated and the Latin text published with a German translation and appendix by A. Ilg.


William the Englishman
architect.
He succeeded William of Sens as architect of Canterbury cathedral, and in much of his work simply carried out the designs of his predecessor. The new Trinity chapel or chapel of Becket was built entirely under his direction.



South Tower, Cathedral, Chartres, Gothic, finished c.1180.


Choir, Abbey Church, Vézelay, Gothic, c.1180.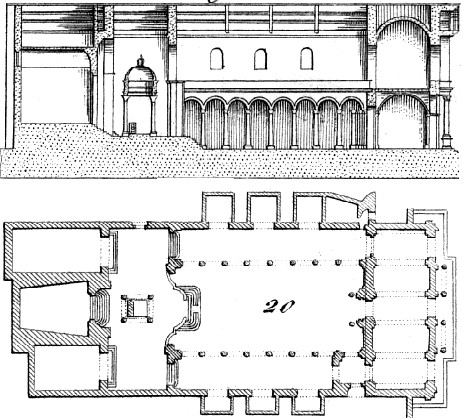 Transverse section of the Church of San Bartolommeo all'Isola at Rome.
Plan of the same.


Three bases from the same, one of which is antique, enriched with ornaments.
Seroux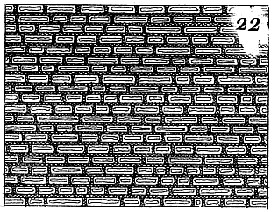 From the Church of St. Bartholomew at Rome, work of the tenth century, showing that the amelioration did not long continue.
Seroux