Andrea da Pisa (Andrea Pisano)
sculptor and architect ; b. 1270; d. 1349.
He received his training in Pisa, Italy, probably from Giovanni da Pisa. Before going to Florence Andrea worked in Venice, where he is supposed to have assisted in the decoration of the Church of S. Marco and the Doge's palace. The only work which can with certainty be ascribed to him is the first bronze door which was made for the Florentine Baptistery between 1330 and 1336. At the death of Giotto, in 1337, Andrea was appointed architect of the Campanile and built the two stories of niches above the work of Giotto. From 1347 to 1349 he was chief architect of the Cathedral of Orvieto. The beautiful reliefs of the "Genesis" on the fašade of that building are supposed to show his influence.


Antonio Campedroni
sculptor.
Campedroni was born in the island of Majorca (Spain), and learned sculpture from his father Francisco. In 1330 he was appointed chief sculptor of the decoration of the cathedral of Palma (Majorca).


Guillermo de Cors
architect and sculptor.
According to a document in the archives of the building, Cors succeeded Jaime de Faberan in the direction of the construction of the cathedral of Gerona (Spain) in the year 1330.


Vitale Maitani
architect.
A son of Lorenzo Maitani. At his father's death in 1330, he succeeded him, with his brother Niccol˛, in the superintendence of the construction of the cathedral of Orvieto. In 1350 he assumed complete direction of the works at the cathedral.






Base and capital of one of the columns of nave of the Cathedral of Orvieto.
Seroux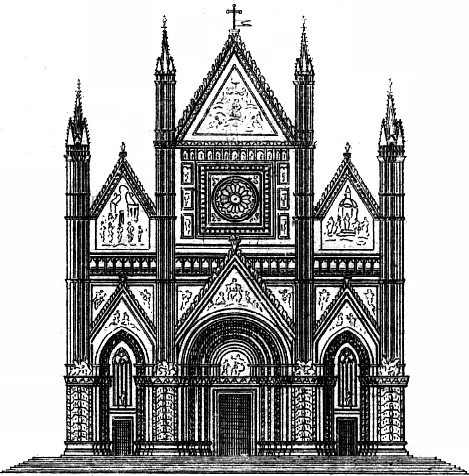 Porch of the Cathedral of Orvieto.
Seroux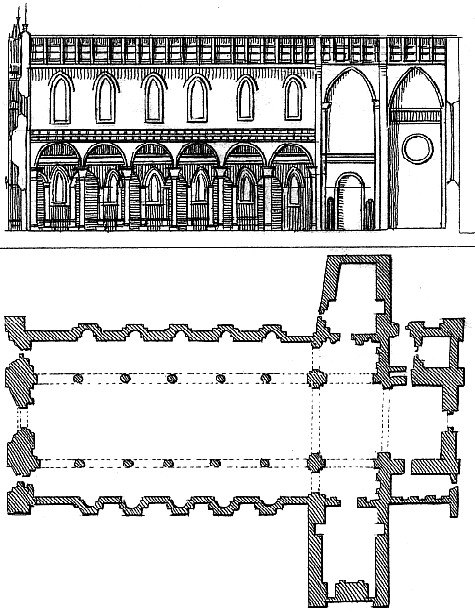 Plan and longitudinal section of the Cathedral of Orvieto, erected in the thirteenth century.
Seroux