1457.04.12 first stone of the Ospedale Maggiore at Milan laid.


Macias Bonafé (Mathias)
architect and sculptor.
Bonafé constructed the lower stalls of the choir of the cathedral of Barcelona, Spain, in 1457.


Jean de Cambrai
architect and sculptor.
Jean de Cambrai was the chief pupil of André Beauneveu, and one of the best sculptors of his time. He made for the Duke Jean de Berry a mausoleum similar to that designed by Claus Sluter for the Duke Philippe le Hardi, at the Chartreuse at Dijon. This work, with its sculpture, was not finished until about 1457. Fragments of it are in the museum at Dijon.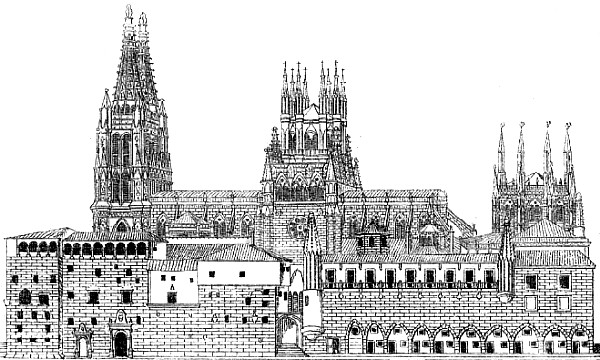 Side elevation of the Cathedral of Burgos (1221-1457) in Spain, built by Ferdinand III in the beginning of the thirteenth century. The style appears to resemble somewhat the Arabic Architecture of Spain.
Seroux