William Farley or Ferley
ecclesiastic and architect.
Abbot of Gloucester from 1472 to 1498; finished the Lady Chapel of Gloucester cathedral begun by Abbot Henley between 1457 and 1472.


William Sellynge
prior
Prior of Canterbury, England. Began the central tower of the cathedral of that city in 1472.


Luca Signorelli
painter; b. about 1441; d. 1523.
A great mural painter.


Veit Stoss
sculptor and engraver; b. about 1447 (in Krakau, Poland); d. 1533.
He was a well-known master as early as 1472, in which year he finished the great altar of the King Kasimir in the cathedral of Krakau. In 1496 he made the first model for the shrine of S. Sebaldus in the church of that saint in Nuremberg, which was carried out by Peter Vischer.


Bartolommeo Suardi (Bramantino)
Milanese painter and architect; b. about 1455; d. after 1536.
He was practising painting in Milan when Bramante came there about 1472, and seems to have become his pupil and assistant. September 28, 1513, he was in Milan, and made a contract for pictures with the monks of the Certosa of Chiaravalle, in which he is mentioned as domino Bartholomeo dicto Bramantino de Suardis filio Alberti. A volume of drawings in the Bibliotheca Ambrosiana at Milan is ascribed to him, and has been published in facsimile by Giuseppe Mongeri: Le Rovine di Roma al principio del Secolo XVI, Studi del Bramantino (Milan, 1880).


Conrad Wagt
architect.
In 1472 he succeeded Jost Dotzinger as architect of the cathedral of Strasbourg (Elsass, Germany). Some time after 1481 he was invited to visit Milan (Italy) by the Duke Galeazzo Sforza.






Base, capital, and entablature of the composite pilasters of the central arch of the fašade of St. Andrew at Mantua, by Leon Baptista Alberti.
Seroux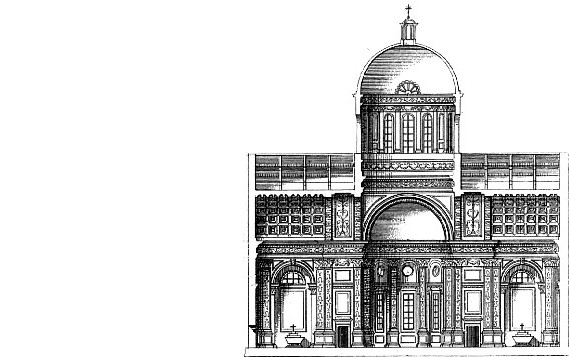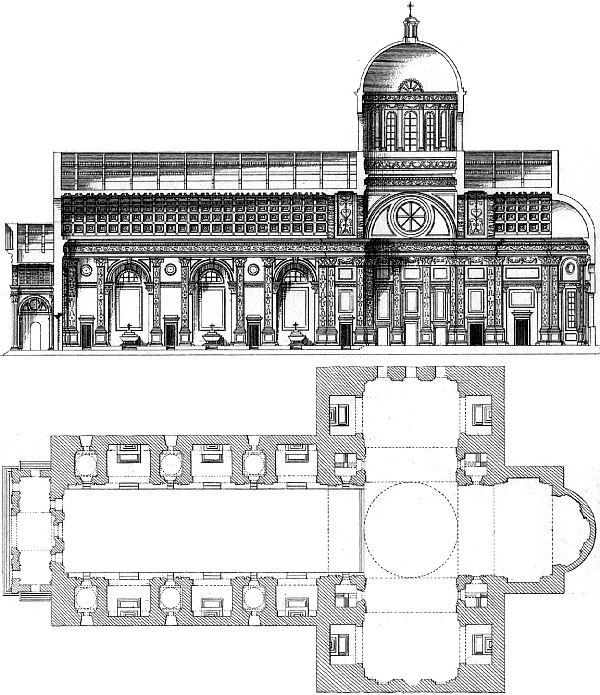 Transverse section through the transepts.
Longitudinal section of the Church of St. Andrew at Manuta, commenced in 1472 from the designs of Leon Baptista Alberti, and terminated after his death, which happened the same year. The transepts were not completed till 1600, and the dome is the work of Philip Juvara in 1732.
Plan of the Church of St. Andrew; the form of the Latin cross, the regular distribution of the chapels, the entrances to which form the decoration of the nave, have been often imitated, and this church has in fact served as a model to many others since erected.
Plan of the Church of St. Andrew at Mantua; commenced in the fifteenth century, from the designs of Leon Baptista Alberti, one of those who, after Brunelleschi, most contributed to the revival of architecture.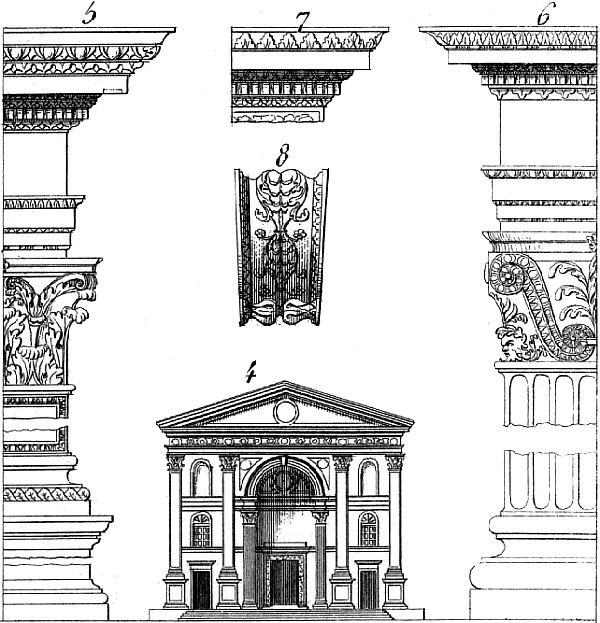 4. Elevation of the entrance vestibule.
5. Details of the Corinthian order decorating the entrance vestibule.
6. Details of one of the fluted pilasters supporting the central arch of the fašade of the vestibule, no. 4.
7. Cornice of the principal door to the church under the vestibule.
8. Console, serving as key-stone of the center arch of vestibule.
Seroux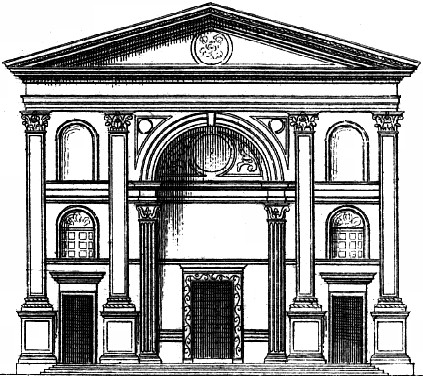 Fašade of the Church of St. Andrew at Manuta.
Seroux