Baccio (Bartolommeo) d'Agnolo Baglioni
architect, sculptor, and woodworker (intarsiatore); b. May 19, 1462; d. 1543.
The Baglioni conducted a Botega in Florence where many kinds of decorative work were done. The organ of the Church of S. Maria Novella (Florence), one of Baccio's earliest known productions, has been removed. The lower part, or "cantoria," is at the South Kensington Museum, London, the upper part in the Church of Rueil, near Paris. After 1495 he assisted II Cronaca, and later Antonio da San Gallo in the construction of the great hall of the Palazzo Vecchio, Florence. He built the Palazzo Bartolini (begun about 1520). Ascribed to him, also, are the villas Bartolini and Borgherini, and the Palazzi Ginori, Taddei, and Borgherini. In 1498 he became Capomœstro of the Palazzo Vecchio. He made a model for the façade of S. Lorenzo from the drawings of Michelangelo. In 1506-1515 he built a section of the cornice gallery of the dome of the Florentine cathedral, and in 1516, with Antonio da San Gallo, began the loggia opposite Brunellesco's Spedale degli Innoceitti.


Ambrogio (Caradosso) Foppa
sculptor and medalist; b. about 1452; d. about 1526.
Caradosso was born in Lombardy, the son of a jeweller. At the court of Ludovico Sforza (II Moro), in Milan, he was associated with Leonardo da Vinci and Bramante. The charming terra cotta frieze in the sacristy of the church of S. Satiro, at Milan, was undoubtedly made by him.


Veit Hirsvogel , the elder
glass painter; b. 1461 ; d. 1525.
In 1495 he was appointed Stadtglaser at Nuremberg. He made four important windows in the S. Sebaldus Kirche in that town. His son Veit, the younger, was also glass painter. (See Hirsvogel, Augustin.)


Jacob von Landshut
architect; d. about 1509.
He became architect of the cathedral of Strasburg in 1495, and built the chapel and portal of S. Lorenz at the cathedral before 1505.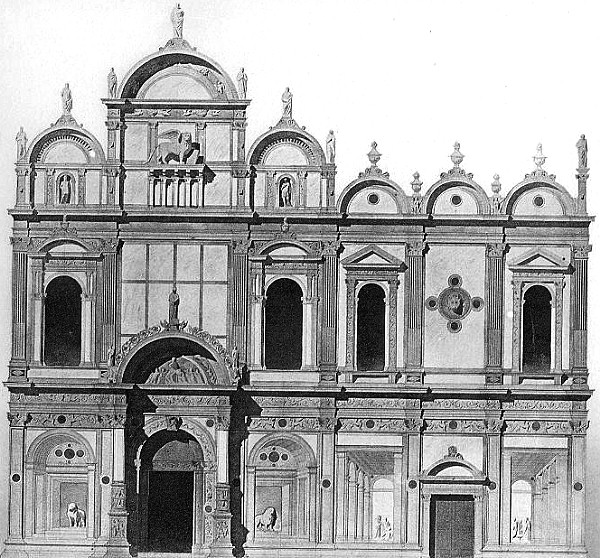 Martino Lombardo, Scuola di San Marco (Venice: 1485-95).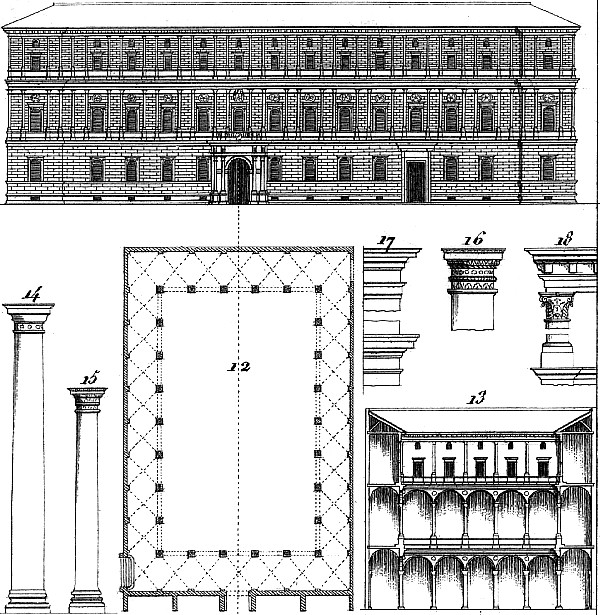 12, 13, 19. Plan of the ground floor, transverse section and elevation of the principal front of the Palace of the Cancelleria, erected in Rome by Bramante in 1495.
14-15. Doric columns, in granite, supporting the arches of the ground and first floor of the court.
16. Capital of the Doric column, no. 15.
17. Profile of the entablatures over the arches of the ground and first floor of the court.
18. Base, capital, and entablature of the composite order of the upper story of the court.
Seroux