Benedetto de Brioschi
sculptor and architect.
Brioschi assisted Giovanni Antonio Omodeo in the execution of the façade of the Certosa of Pavía, Italy. The portal (after 1501) is especially credited to him. After 1483 he appears in the records of the construction of the cathedral of Milan.


Leonardo da Vinci
painter, sculptor, architect, and engineer; b. 1452; d. 1519.
Leonardo da Vinci was a pupil of Verrocchio. In 1483 he settled in Milan and began the equestrian statue of the Duke Francesco Sforza. Many sketches for this work have come down to us, but the actual form which it assumed is uncertain. The model, nearly 8 metres high, was finished in 1493, and still existed in 1501. It is not known when Leonardo's most celebrated picture, the "Last Supper," in the refectory of the church of S. Maria delle Grazie, Milan, was begun. He was still working upon it in 1497. Very little of the original painting is now to be seen. He left Milan in 1499 at the fall of Lodovico Sforza, and entered the service of Cesare Borgia as engineer. After the fall of Cesare in 1503 Leonardo went to Florence, and was commissioned by the Gonfaloniere Piero Soderini to paint a picture of the battle of Anghiara for the hall of the Council at the Palazzo Vecchio. The central group of horsemen fighting has been preserved to us in a sketch by Rubens and an engraving by Edelinck. (For the companion picture, see Buonarroti, Michelangelo.) In 1515 he went with the king, François I, to France, and spent the last years of his life at the little manor of Cloux, near Amboise. Leonardo left numerous architectural drawings and notes among his manuscripts, but no practical work in architecture can now be attributed to him.


Antonio di Giovanni Rizzo (Riccio) (The Antonio Bregno of F. Sansovino)
sculptor and architect; d. about 1498.
Antonio Rizzo should not be confounded with Andrea Briosco called Riccio. Antonio Bregno of Como, sculptor of the monument of the Doge Francesco Foscari in the church of S. Maria dei Frari, in Venice, is probably also a different person. The only work which bears Rizzo's signature is the statue of Eve on the Arco Foscari, at the Doge's Palace, Venice, but the Adam and other statues on the Arco are doubtless by him. Sansovino ascribes to him the monument of the Doge Niccolo Tron in the Frari. Rizzo's chief work was the reconstruction of that portion of the court of the Doge's palace which was destroyed by fire September 14,1483. He held the office of Soprastante of this work until 1498. At the Doge's Palace, Rizzo built the northern half of the eastern wing (on the Riva), including the façade upon the court and that upon the canal. The Giants' Stair was also built by him.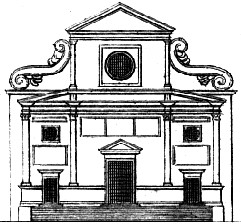 Façade of the Church of St. Augustine at Rome.
Seroux







Column from the Church of St. Augustine, Rome, by Baccio Pintelli.
Seroux





Plan and section of the cupola of the Church of St. Augustine, near the Place Navona at Rome, built in 1483, by Baccio Pintelli, a Florintine architect; although not important by its dimensions, it forms an epoch in the history of cupolas; all those which had been erected up to that period were either like the Pantheon, supported on the walls; or on pendentives united to the arches of the nave, as at St. Sophia and St. Mark, or on low tambours, as at the Cathedrals of Pisa, Siena, and Florence. The cupola of St. Augustine is the first which was established on a tour de dome, a happy idea more fully carried out in the dome of St. Peter's.
Seroux


Details of the two composite orders, one over the other, supporting the great arches of St. Augustine, Rome, built by Baccio Pintelli.
Seroux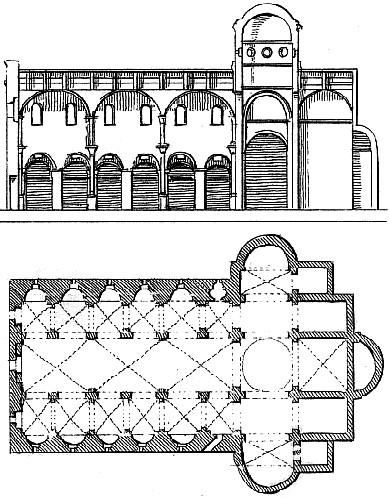 Plan and longitudinal section of the Church of St. Augustine at Rome, constructed in 1483 by Cardinal Guilliaume d'Estoutevlle, from the designs of Baccio Pintelli.
Seroux