Paul Abadie, the Younger
architect; b. November 9, 1812 at Paris; d. August 2, 1884.
A son of Paul Abadie the Elder. In 1835 he entered the École des Beaux Arts (Paris) under the direction of Achille Leclère. In 1848 he was made architect of the dioceses of Angoulême, Pèrigueux, and La Rochelle, and in 1861 inspecteur général des édifices diocésains. Abadie was interested in the restoration of many mediæval monuments, especially the Church of S. Front at Périgueux and the Cathedral of Angoulême. He built also the Hôtel de Ville at Angoulême. In 1874 he replaced Viollet-le-Duc, as architect of Notre Dame (Paris). He began the Church of the Sacré Cœur on Montmartre (Paris), but did not finish it.


Louis Dupasquier
architect: b. 1800 (at Lyons, Rhone, France).
In 1848 he was made diocesan architect of the departments of l'Ain and Saone-et-Loire (France), and in that capacity restored the church at Brou and the cathedral of Autun. Dupasquier built the Hôtel des Beaux Arts at Lyons and many churches in different parts of France. He published Monographie de Notre Dame de Brou (Paris, 1842, folio).


Bernhard Grüber
architect; b. 1806; d. 1883.
Grüber studied painting and architecture at the academy of Munich, Bavaria. He was employed on the restoration of the cathedral of Regensburg, Bavaria, and in 1842 went to Prague, where in 1844 he was appointed professor in the Academy of Art. A list of his works is given in Wurzbach.


Albert Rosengarten
architect; b. 1809; d. 1893.
In 1839 he won a three years' travelling scholarship and went to Paris to study with the architect Labrouste. After a sojourn of two years in Italy, he established a large practice in Hamburg, Germany. He published Die Architektonischen Stylarten (1874, 1 vol. 8vo).
| | | |
| --- | --- | --- |
| Friedrich Wilhelm IV, Polytechnikum on Königsplatz (c. 1842). | | |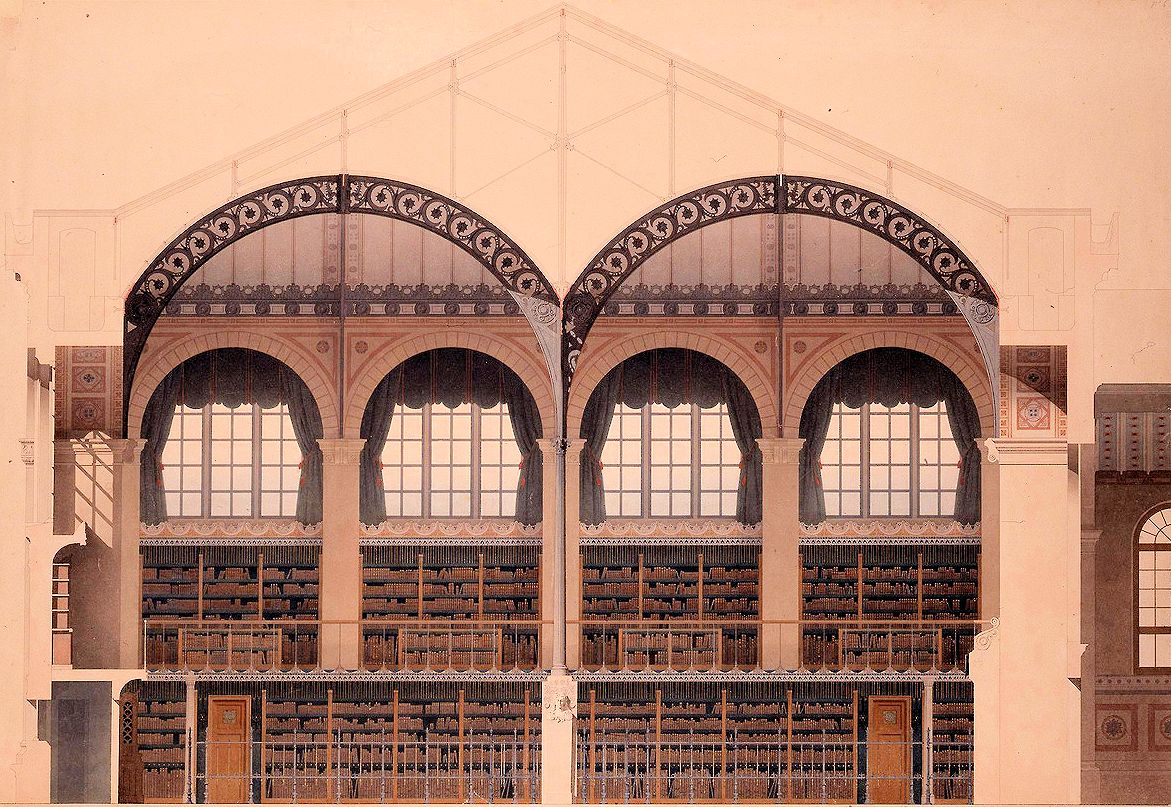 Pierre François-Henri Labrouste, Bibliothèque Sainte-Geneviève (Paris: cross section, 1841-50).