Paul Abadie, the Elder
architect; b. July 22, 1783, at Bordeaux, France; d. December 3, 1868.
In 1805 he entered the atelier of Percier, in Paris. In 1818 he was appointed architect of the city of Angoulême and the department of Charente. At Angoulême he built the palais de justice (1825), the hôtel of the prefecture (1828), the lycée, the grain market.


Pascal-Xavier Coste
architect; b. November 28, 1787 (at Marseilles); d. 1878.
Coste was a pupil of Penchaud, architect in chief of the Bouches-du-Rhône. He entered the École des Beaux Arts (Paris) in 1815. In 1818 he was appointed architect to Mehemet Ali, pasha of Egypt. In 1828 he returned to practise in Marseilles and was made supervising architect of that city. The results of his study in Egypt were published in his Architecture Arabe, Monuments du Kaire (one vol. folio, Paris, 1839). During the years 1840-1841 Coste was attached, with Eugène Flandin, painter, to the French embassy at the court of Persia. They published in 1844 the great work Voyage en Perse, Perse Ancienne (I vol. text, 4 vols. pls. folio). Independently of Flandin, Coste made observations and measurements of the Mohammedan monuments of Persia, which he published in 1865, Monuments Modernes de la Perse (1 vol. folio text and pls.).


Karl von Fischer
architect; b. 1782; d. 1820.
Professor of architecture in the Academy of Munich. His most important building was the old Munich theatre, built in 1818, burned in 1823, and rebuilt under the name Hof- und Natioital-Teater. (See Klenze.)


Samuel Prout
water colour painter; b. September 17, 1783 (at Plymouth, England); d. February 10, 1832.
He assisted John Britton in his topographical work, and was also employed by the publisher Ackerman. In 1818 went to Normandy and began the water colour drawings of picturesque architecture which are well known. In 1824 he visited Venice and afterward Germany. Among his published volumes of lithographed drawings of architectural subjects are sketches made in France and Germany (1833); sketches in France, Switzerland, and Italy (1839); all are of singular fidelity to the general aspect and character of the monuments represented, although the appearance of picturesque rudeness is exaggerated.


George Ledwell Taylor
architect; b. 1780; d. April, 1873.
In 1817-1819, and again in 1857-1868, he visited France, Italy, Greece, and Sicily. June 3, 1818, he discovered the monumental lion which commemorates the battle of Chaeronea (338 B.C.). Taylor published numerous architectural works, and is best known by his Autobiography, which contains descriptions and illustrations of many important monuments.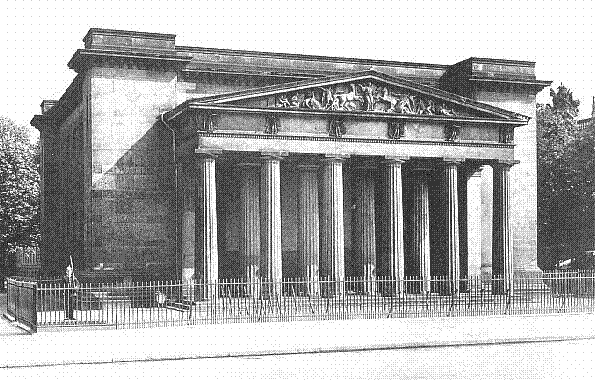 Karl Friedrich Schinkel, Neue Wache (Berlin: 1817-18), p.SAE.


Joseph Gandy exhibits a watercolor drawing at the Royal Academy.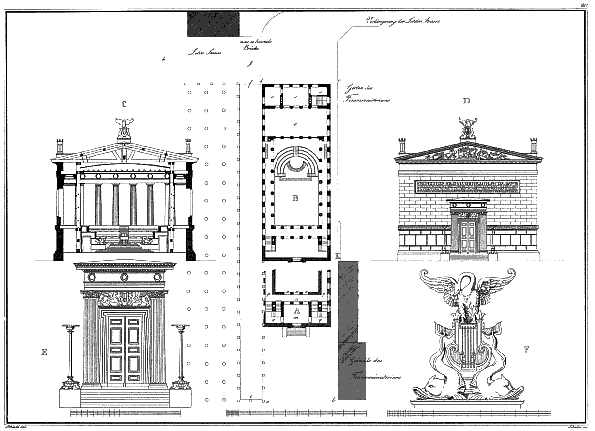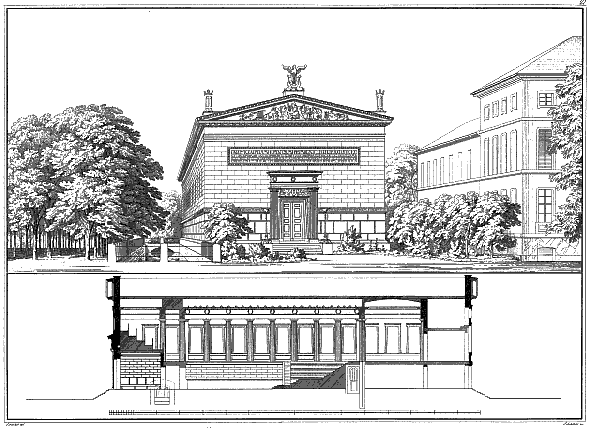 Karl Friedrich Schinkel, Singakademie (Berlin: 1818).