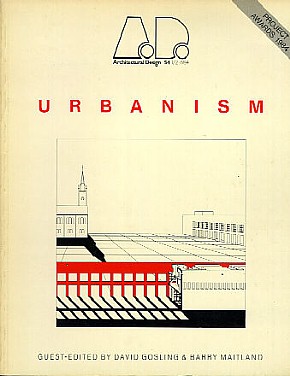 David Gosling and Barry Maitland, guest editors, Architectural Design (London: Academy Editions, vol. 54 no. 1/2, 1984).
AD PROFILE 51: URBANISM
Barry maitland:
The Uses of History
Michael Wilford:
Off to the Races, or Going to the Dogs?
David Gosling:
Definitions of Urban Design
Lucian Kroll:
Les Vignes Blanches, Cergy-Pointoise
SITE:
The Frankfurt Museum of Modern Art
SITE:
Paz Building, Brooklyn
Miguel Angel Roca:
Chille Market -- Pratt Square -- Mapocho Station, Santiago
Emilio Ambasz:
Plaza Mayor, Salamanca
Emilio Ambasz:
Houston Center Plaza
Derek Walker & Peter Barker:
Docklands, Amsterdam
Christopher Cross:
Royal College of Art Students Projects
O.M. Ungers:
Kulturforum, Berlin
Richard Rogers & Partners:
Proposal for the banks of the River Arno, Florence
Archives d'Architecture Moderne:
The Battle for Corner Properties in Brussels
Demetri Porphyrios:
Polytechnic of Central London Student Projects
Rob Krier:
Breitenfurterstrasse, Vienna
Rob Krier:
Breitenfurt Centre
Bruno Minardi:
Calatafimi: The Spa Town
Bruno Minardi:
Mazaro Del Vallo: The Canal Port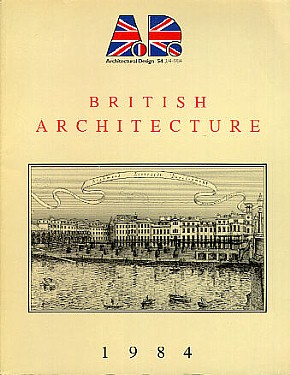 A.C. Papadakis, Architectural Design (London: Academy Editions, vol. 54 no. 3/4, 1984).
Juan Gris
A Personal Point of View
The Casual, The Shocking, and the Well Ordered Acropolis
Gordon Wu Hall, Princeton University
The Wonderwall
The Newark Museum
Post-Modern Classicism -- The Synthesis
Lloyd's New Building
320 North Michigan Avenue
AD PROFILE 52: British Architecture 1984
The AD Profile presents the winning entries to both the 1983 and 1984 Project Awards, together with a review of the latest work by leading British architects with altogether over 30 architects' work featured.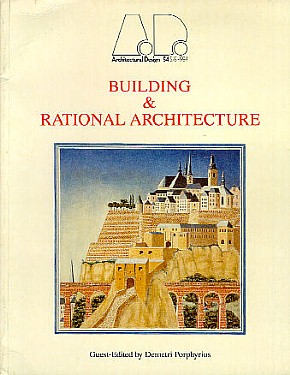 Demetri Porphyios, guest editor, Architectural Design (London: Academy Editions, vol. 54 no. 5/6, 1984).
Matisse
In Turner's Footsteps
On David Inshaw, Painter
Walker House, Holland Park
Venice Biennale
AD PROFILE 53: Building & Rational Architecture
Demetri Porphyrios:
Introduction
Demetri Porphyrios:
Building & Architecture
Giorgio Grassi:
On the Question of Decoration
Ignaci Solá-Morales:
Neo-Rationalism & Figuration
José-Ignacio Linazasoro:
Ornament & Classical Order
Alan Colquhoun:
Vernacular Classicism
Leon Krier
Iñiquez & Ustarroz
José-Ignacio Linazasoro
Demetri Porphyrios
Giorgio Grassi
Duany & Plater-Zyberk
Iñiquez & Ustarroz
Linazasoro & Garay
Paul Keoug
Herrero & Aritio
Duany & Plater-Zyberk
Garay & Muga
José-Ignacio Linazasoro
Duany & Plater-Zyberk
Jones & Kirkland
Iñiquez & Ustarroz
Colquhoun & Miller
Rob Krier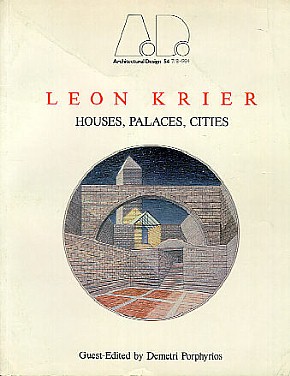 Demetri Porphyios, guest editor, Architectural Design (London: Academy Editions, vol. 54 no. 7/8, 1984), 130 pages.
AD PROFILE 54: Leon Krier -- Houses, Palaces, Cities
Demetri Porphyrios:
Introduction
Colin Rowe:
The Revolt of the Senses
Jacuelin Robertson:
The Empire Strikes back
Demetri Porphyrios:
Cities of Stone
Leon Krier:
Critique of the Megastructural City
Town and Country
Critique of Zoning
Critique of Industrialisation
The Idea of Reconstruction
Urban Componants
The City Within the City
Critique of Modernisms
Organic vs. Mechanical Composition
Building and Architecture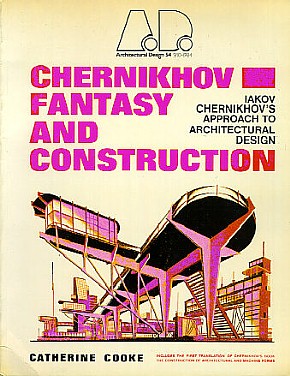 Catherine Cooke, guest editor, Architectural Design (London: Academy Editions, vol. 54 no. 9/10, 1984).
AD PROFILE 55: Chernikhov -- Fantasy and Construction
Catherine Cooke:
Chernikhov in Context
His Theory & Programme
His Principal Treatise
Iakov Chernikhov:
The Construction of Architectural and Machine Forms