Market Street East Development 2263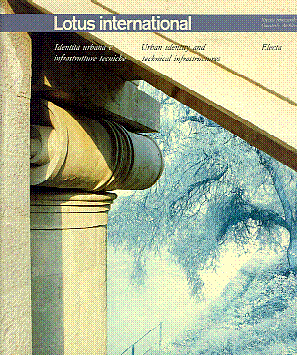 Pierluigi Nicolin, 59 Lotus International (Milan: Gruppo Editoriale Electa, 1989).
Contents
Pierluigi Nicolin:
Urban identity and technical infrastructures
Alberto Ferlenga:
Riverbank among the trees
Damjan Prelovsek:
Note on the construction of the riverbank
Luca Ortelli:
Similarities and differences
Alberto Ferlenga:
In the Piazza della Vittoria
Juan Miguel Hernandez Leon:
New transitional structures at Lerida
Herman Lebberz:
Schinkel's journey in England
Emilio Battisti:
On the Landwehrkanal
Eberhard Engelmann:
Abwasserpumpwerk Tiergarten
Mirkp Zardini:
New railway constructions
Frank Werner:
The myth of the atemporal
Clinical Research Building
University of Pennsylvania
Philadelphia, Pennsylvania
1985-89
Venturi, Rauch and Scott Brown
| | | |
| --- | --- | --- |
| | | "We have written a lot about an architecture of meaning rather of expression--that is, an architecture that depends on symbolic form rather than abstract form; also we are suspicious of trying to too literally apply the methods of linguistics to architecture. We feel at home discussing symbolism and vocabulary as a system of symbols or ornament." |
| | | |
| --- | --- | --- |
| "We are not doing ordinary. What we are doing is using the ordinary and heightening it, making art out of it. This is a way of enriching everyday life. What we do is not ordinary after we are finished with it. It involves making the ordinary extraordinary by giving it a new context--often also a new scale and slightly modified proportions. Yet it is not ordinary after we are finished with it." | | |
"We all love old stone buildings and their ornament. Because we love them and respect them does not mean we should try to replicate them."


Quotations: Robert Venturi from an interview with Peter Eisenman in Skyline (New York: The Institute of Architecture and Urban Studies), July, 1982.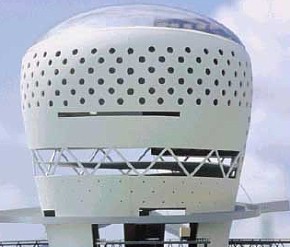 OMA, Sea Terminal (Zeebrugge, Belgium: 1989).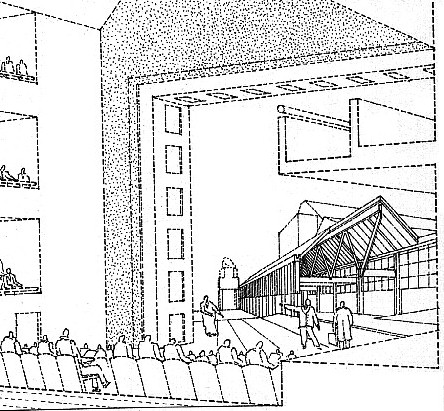 James Stirling, Michael Wilford and Associates, Compton Verney Opera House (Warwickshire: interior view of the opera house with stage backdrop depicting the opera house, 1989).