2013.01.06 14:00
5 January
Sure I'm aware of Libeskind's V&A Boilerhouse, and I've owned Eisenman's Diagram Diaries since early 2000. I don't know the plan or section of the Boilerhouse design, just the image you posted, and I've looked through (but not so much read) Diagram Diaries many times in the past. Working Title Museum 002 is part of a series of (schematic) designs from late summer 2000, and each version was very much intentionally designed within the architectural miliue of the very late 20th century.
2000.08.09: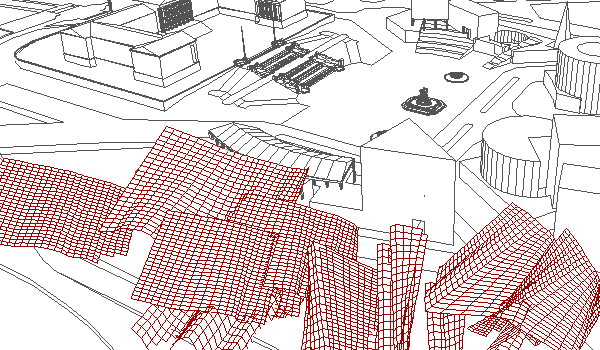 The Working Title Museum [001]
(Bilbao "Affect")
East Bank of the Schuylkill River, Quondam, 2000
2000.09.17: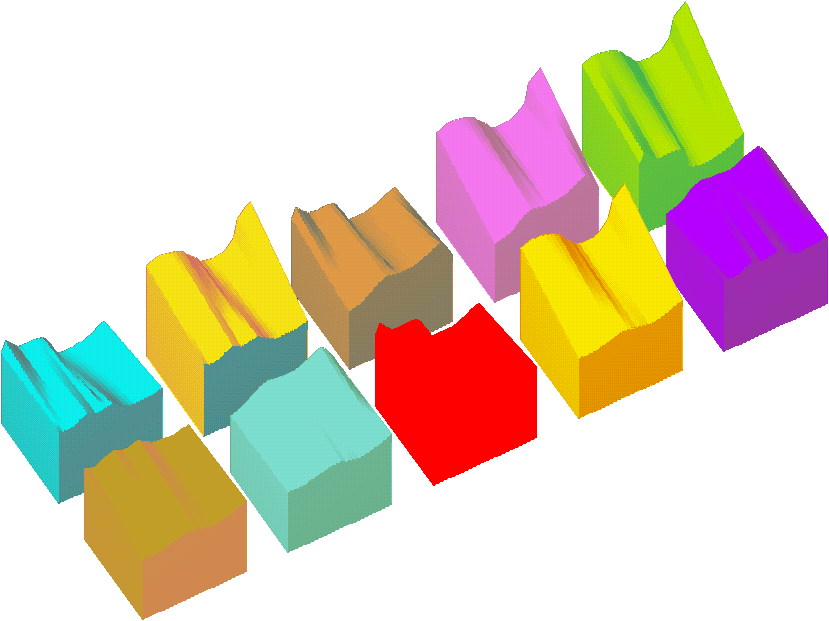 Working Title Museum 002 jumbled some of these "cubes" together...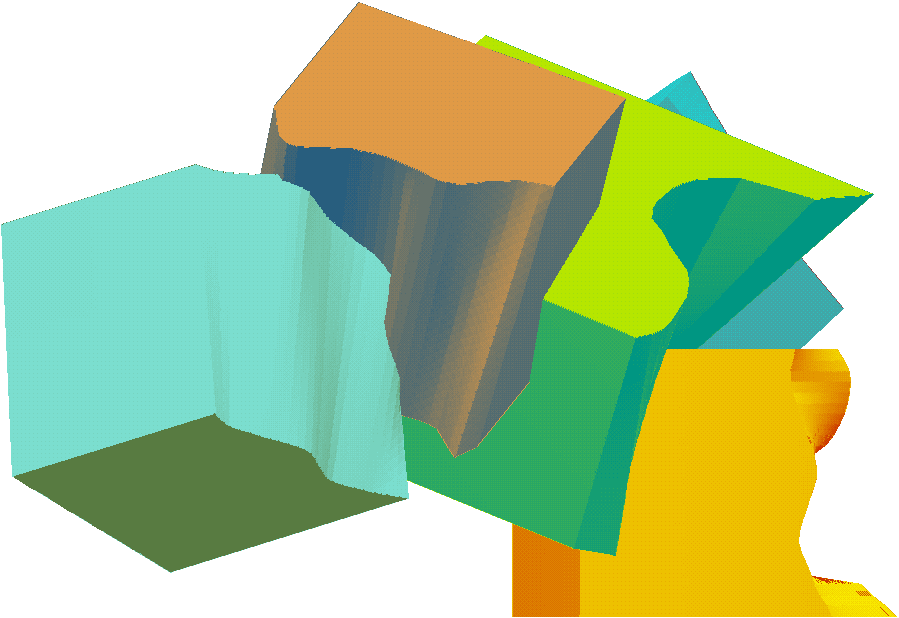 ...playing with the notion of a Gehry-Libeskind hybrid.
All along it's been an investigation, finding out what it's like to design along these lines. And, just recently, I've taken up the investigation again. Regarding the Eisenman/trace connection, what I think relates there is that I'm designing exclusively within a CAD environment--there are no sketches, drawings, physical models--it's all done just within the 'machine'. Of course I create fresh (digital) data, but much of the design work is a manipulation of existing data, and inspiration often comes from overlapping data in simultaneous 2D and 3D, seeing things from any angle, wireframe or solid, etc. The roof plan as paving idea, for example, occurred late Friday night when I was checking to see how the jumble of upper 'cubes' relate to the ground plan in plan view.
Re-newed interest in this project started with OMA's 2011.04.04 announcement of the National Art Museum of China design...
...thus beginning to see the Working Title Museum 002 design in a new way. And that's what I'm investigating now.
The Quondam-on-LSD Style. Sure, why not?


2013.03.11
Old school - when it was done manually - anyone care to share some old work?
My post-CAD 'manual' work is a lot more interesting:
1983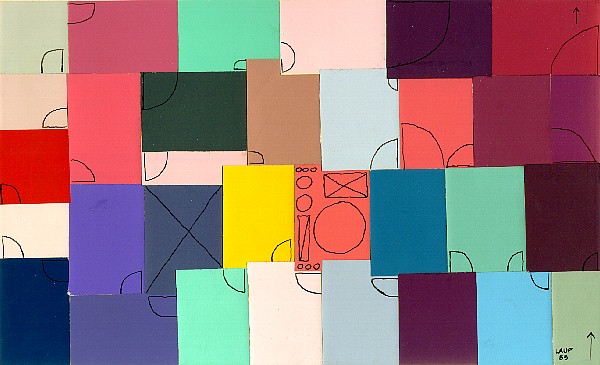 1984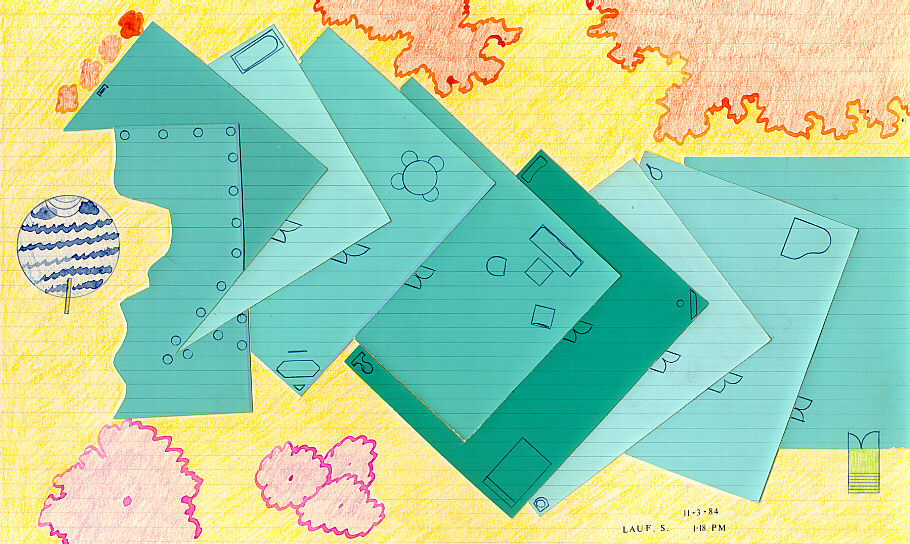 1984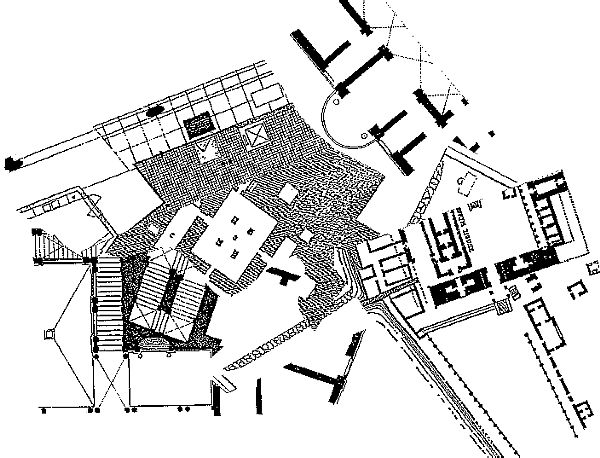 Photo-copy ink on paper collaged. The work was produced in the computer room at Cooper & Pratt Architects during one of my lunch breaks. The design is a Museum of the Un-Intended.
1986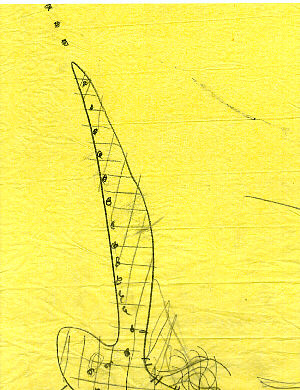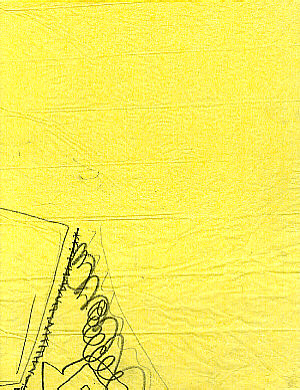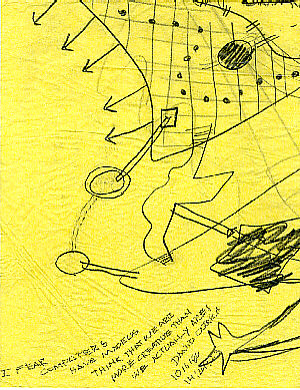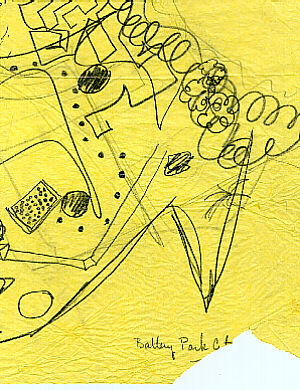 Stephen Lauf, Battery Park City (pencil on yellow trace paper, 1986.10.06), schematic site plan.
When I was CAD system at the University of Pennsylvania's Graduate School of Fine Art, I became acquainted with many of the landscape architect students, as they were the only students seriously learning CAD at the time, while most of the architecture students, or their teachers at least, saw very little use for CAD. The landscape students didn't use CAD so much for design, however, rather they utilized CAD for mapping integrated with data. Nonetheless, I remember when many of the landscape architect students were also busy working on a landscape design project for Battery Park City in New York. It was a challenging design project, and many of the students were having difficulties coming up with satisfactory solutions. I decided to quickly draw up my own design, which I did by hand in about two minutes, and hung the result on one of the computer room walls where I was sure the landscape architect students would see it. One of the students subsequently left a note on the drawing/design: "I fear computers have made us think we are more creative than we actually are!"
In retrospect, it was indeed CAD that made me more creative, or at least freer with form. It was also in the mid-1980s that I began to become aware of Frank Stella's work current at that time, particularly his 'Circuit' and 'Cones and Pillars' series.
As far as my design is concerned, it was the centerpiece sculpture that the landscape students most liked, i.e., a rectangular platform the size of the largest public elevator within the World Trade Center towers, and on this platform were as many life-size nude sculptures as it would take to fill it, like a crowded elevator, and trailing from this platform was a line of single nude sculptures meandering through the site and in into the Hudson River beyond.
2002.01.09 12:15
CAD freed-up the hands (and mind) to do whatever they wanted. I may be the first one that ever got that.
2013.04.15 21:53
MoMA to raze ex American Folk Art Museum building
multiple choice
Museum of Art Display Failures
Museum of Provincial Art
Museum of Double Standards
Museum of Reality Show Art
Museum of Public Voices


2013.05.21 21:29
What are the cultural ingredients of architecture today?
form follows function
--well over a century ago
less is more
--four generations ago
You could say OMA's Content of a decade ago kind of mixed architecture with cultural ingredients.
crumble follows crumple
--something Orhan wrote last week
Has the recipe been rewritten lately?


2013.07.25 08:16
Traditional/Classical Architecture- Part 2
There's a very interesting relationship between the architecture of Strickland and Schinkel. For example, compare the (space-time) of the Neue Wache and the Second Bank of the United States. Did they know of each other's work? I have no idea, but the space-time similarities are sometimes uncanny. Did they just happen to have access to (and devour) the same books and 'magazines'?
Koolhaas/OMA has been steadily building upon the components of architecture's tradition of the last 100 years or so.
The more traditions stay the more they change the same?


2013.07.25 11:29
Traditional/Classical Architecture- Part 2
Personally, I would like a truly eclectic house...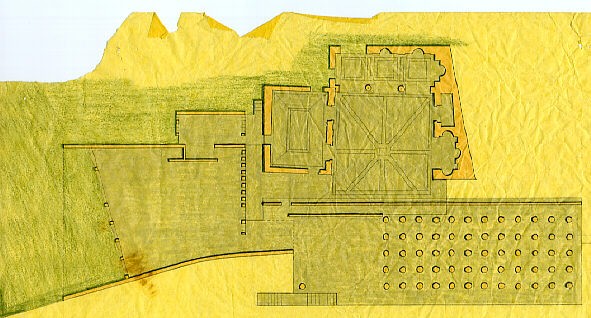 ...showing my love of all architectur[al education].


2013.08.13 15:56
13 August
Art is not an architecture, but art can certainly strive to be done architecturally.


2013.09.07 10:35
Are you into modernism or do you also like historical architectural styles?

Cooper & Pratt House 3714hi01
Mayor's House 3714hi02
Ur-Ottopia House 3714hi03
Stoner Food Resturant 3714hi04
Gooding trice House 3714hi05
Headquarters of D.A.T.A. 3714hi06
Courthouse Plus Ultra 3714hi07
Zany House 01 3714hi08
Lauf Haus der Kunst 3714hi09
Schizophrenic Fold 3714hi10
House for Otto 3 3714hi11
House for Otto 7 3714hi12

Obviously, I'm into (creating) 'dys' architecture styles: dyskenesic architecture, dyslexic architecture, dyslalic architecture. Hopefully, I'll continue to design even more dys-architecture styles.


2013.09.08 13:00
Obama names critic of Gehry's design to Eisenhower Memorial Commission to oversee DC project
...don't forget that after the Vietnam Memorial was complete, there was still a controversy that Lin's design was too abstract, and eventually a representional statue of three soldiers looking as if cautiously scouting a jungle was added to the 'entry' point of the path to the wall of names.
Does the design 'battle' hinge on abstraction versus representation?
I'm still hoping to find a sketch I drew for a design project from first semester of fifth year (Fall 1980). The project was an omni war memorial for Philadelphia's Independence Mall, the site was where the US Constitution Center now stands. The guest studio critic was Allen Greenberg, who was big on (the design history of) Lutyen's WWI Memorial Cenotaph in London. The sketch is not what I ultimately presented because I just knew it wouldn't go over too well at jury. Anyway, the design was of seven 30' high white marble monoliths, one for each US war up to that time, standing erect in line across the site. Each slab was blank except for a 1' high thin vertical gash somewhere about half way up which acted as a fountain releasing water that would run down the slabs and into a shallow pool connecting all the monoliths. I wanted the water of the fountain dyed deep red to look like blood.
Today, that design could well be a seen as an uncanny composite of abstraction and representation.
2013.10.28 13:40
Why won't you design what we (the public) want?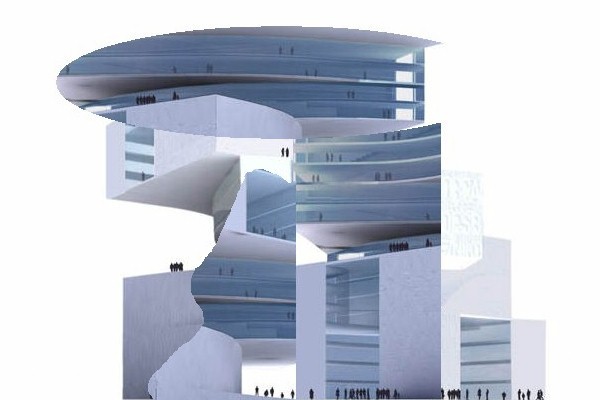 This is my design for the Old School of New Thinking (2007). The figures throughout the design are not there to just represent a human presence, rather they are an actual part of the design--life-size sculptures of nude human figures giving the design a combination of ornament and human scale at the same time. Survey said an overwhelming majority of people enjoy seeing other people in the nude.


2013.11.13 19:37
Why won't you design what we (the public) want?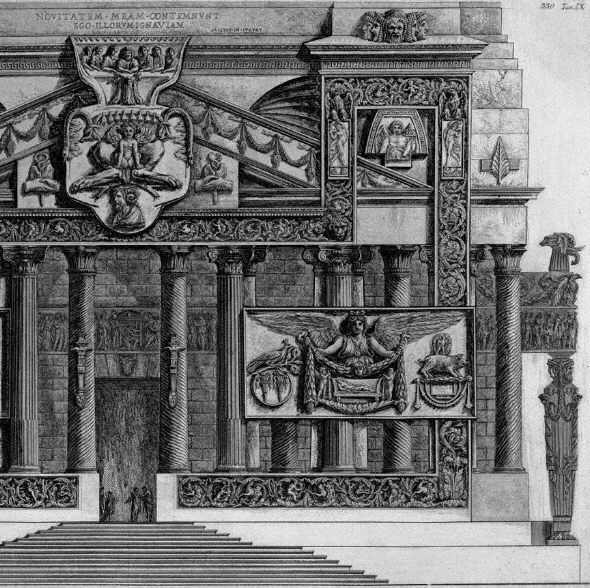 elevation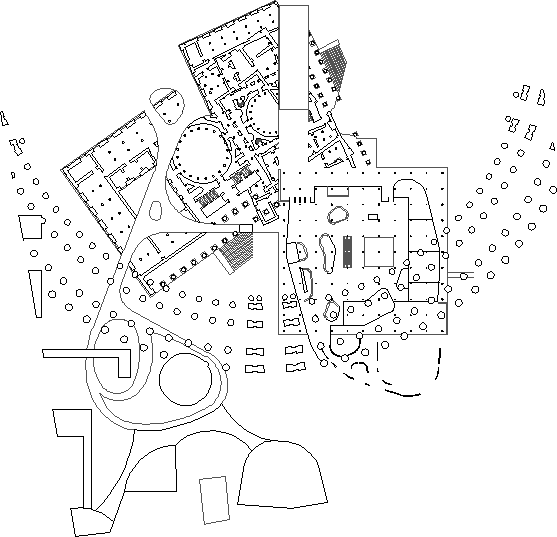 plan
a line
- - - - - - - - - - - - - - - - - - - - - - - - - - - - - - - - - - - - - - - - - - - - - - - - - - - - - - - - - - - - - - - - - - - - - - - -
has been drawn



elevation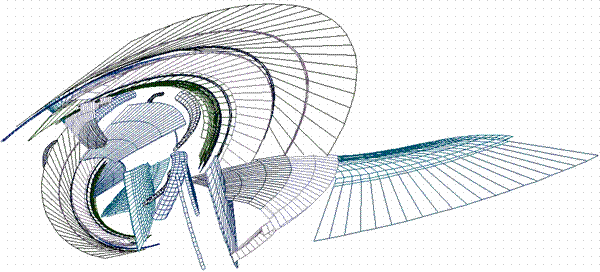 plan