2013.12.23 19:47
23 December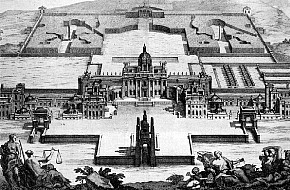 I'm now wondering whether the above image of Castle Howard from Vitruvius Britannicus (published 1715-1725) somehow inspired the architecture of Piranesi as delineated within Il Campo Marzio (1762). Remember the...
I was prompted by the "what is experimental architecture" thread to look again at "Piranesi's Campo Marzio: An Experimental Design." After reading a few pages it became evident that the essay/project could be 'rewritten' to deliver a whole other set of results, a whole other 'history.'
By covertly publishing the Ichnographia in a second state was Piranesi himself conducting an experiment to see who would ultimately discover the two different plans?
Piranesi's language of the plans relates back to the origins of Rom(ulus and Remus) itself.
"Both Piranesi's Campo Marzio and Picasso's Dame au violon are "projects," though the former organizes an architectural dimension and the latter a human mode of behavior. Both use the technique of shock, even if Piranesi's etching adopts preformed historical material and Picasso's painting artificial material (just as later Duchamp, Hausmann and Schwitter were to do even more pointedly). Both discover the reality of a machine-universe: even if the eighteenth century urban project renders that universe as an abstraction and reacts to the discovery with terror, and the Picasso painting is conceived completely within this reality.
But more importantly, both Piranesi and Picasso, by means of the excess of truth acquired through their intensely critical formal elaborations, make "universal" a reality which could otherwise be considered completely particular."
Manfredo Tafuri, Architecture and Utopia: Design and Capitalist Development, p. 90.
There is no Picasso painting with the title Dame au violon, but it is possible that Tafuri is referring to Portrait of a Girl (1914):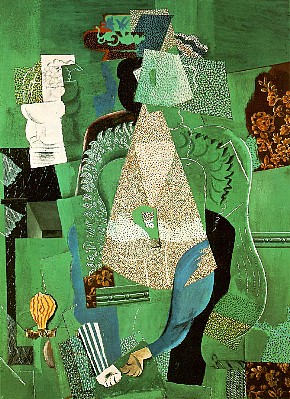 Project: redraw the Ichnographia Campus Martius following the principles of Picasso's (Synthetic) Cubism.
2014.02.06 11:37
6 February
Coincidental reading just ten minutes ago:
"If, to a modern mind, the postmodern discourse represents the opening of perspectives that were previously unthinkable and, in the final analysis, mark the surpassing of a previously unsurpassable limit, then for the postmodern mind, the modern represents an entire universe of discourse it can dip into and draw upon with both hands, albeit conferring a radically different sense upon it."
Marco Biraghi, Project of Crisis: Manfredo Tafuri and Contemporary Architecture (2013), p. 183.
Coincidental because I just spent the last 24 hours compiling all the notes on Unthinking an Architecture.

Coincidental and apropos. 01 02 03 04 05 06 07 08
Museum as future-shock, even.