2005.08.05 13:00
Brideshead Revisited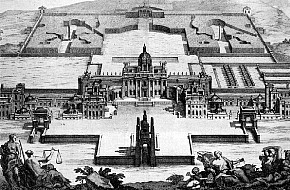 I'm now wondering whether the above image of Castle Howard from Vitruvius Britannicus (published 1715-1725) somehow inspired the architecture of Piranesi as delineated within Il Campo Marzio (1762). Remember the Ichnographia of the Campo Marzio (1757-62) is dedicated to Robert Adam. Did Adam show Piranesi Vitruvius Britannicus while he (Adam) was friends with Piranesi in Rome in the 1750s? In any case, the perspectival vantage point and indeed the architecture depicted within the perspectives of the Campo Marzio very much evoke the Castle Howard aerial perspective, for example the Frontispiece of the Campo Marzio: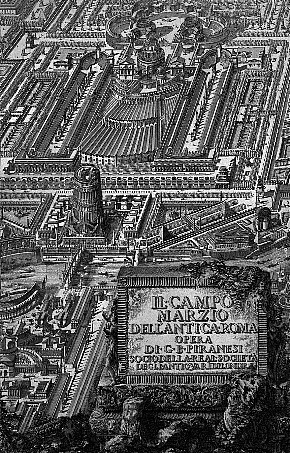 2007.03.27 13:25
Theory Part II - Doing What I Said I Would Do...
Ever notice how much Stalinist Architecture reenacts Piranesi's architecture within the four aerial perspective views within Il Campo Marzio dell'Antica Romae?
2007.11.09 10:56
It rocked Eisenman on his chair...
Giovanni Battista Piranesi died today in 1778, on the feast of the dedication of the Basilica Constantiniani (known today as the Basilica of St. John Lateran), the first Christian basilica in Rome.
"Piranesi uses the Rome that was extent in the eighteenth century as a starting point, but that possesses no original value; it is merely a being in the present. From this existential moment of being, he takes buildings that existed in the first and second centuries, in Imperial Rome, and places them in the same framework of time and space as the eighteenth-century city."
--Peter Eisenman, "Notations of Affect. An Architecture of Memory" in Pathos, Affect, Gefühl (Berlin: Walter de Gruyter GmbH, 2004), pp.504-11.
If you actually study the Campo Marzio you'll find the starting point, framework and the millennium's worth of buildings that Piranesi utilized. First there are the altar and race course dedicated to Mars by Romulus in the mid-eighth century BC. Incidentally, this is how the Campo Marzio received its name--the fields of Mars. And to manifest the framework there is the last Imperial artifact of the Campo Marzio, the sepulcher of Empress Maria, wife of Honorius, from the early 5th century AD. Indeed the sarcophagus of Empress Maria holds a key position within the Il Campo Marzio publication. And to complete the framework, the last page of Il Campo Marzio depicts a double theater.