Vincenzo Fasolo, "The Campo Marzio of G. B. Piranesi".
2691a 2691e
1956




Tafuri text
1996.09.02




Ara Martis
1998.04.12

...significance of the Templum and Ara Martis that is situated next to the Circus Agonalis. ...this altar and temple to Mars are representative of the very original altar to Mars from which the entire campus Martius receives its name--indeed this altar is the very first "structure" of the campus.

...now knowing the program of the Alexander Severus complex. ...the porticus providing shade from the heat of the day. ...the temple and altar of Mars is surrounded by a very generous public amenity.




Romulus
1998.07.17

As the son of Mars, and as founder and first king of Rome, Romulus is synonymous with beginnings. Without Mars, however, Romulus is nothing, so it is through the concomitance of Mars and Romulus that the origin of Rome takes place in Piranesi's Campo Marzio.

The presence of Romulus within the Ichnographia occurs both directly and indirectly. There is the Templum Romuli, and there is the Templum novum Quirini. The Templum Romuli is within the Campus Martius proper, while the Templum novum Quirini is situated further east between the Horti Salustiani and the base of the Quirinal Hill. Both temples, interestingly enough, "preside" over large stadium complexes, and it is worth further noting that the Templum Romuli is on the same axis as one of the Ichnographia's two Templum Martis.

The third and most indirect reference to Romulus is the Lineae indicantes viam triumphalem--the line indicating the Triumphal Way--which begins in the Area Martis in front of the Ichnographia's other Templum Martis that is on the west bank of the Tiber within the Vatican valley. Each Roman Triumph, of which there were hundreds throughout ancient Rome's history, is a reenactment of the original triumphal march of Romulus. The Lineae. . .triumphalem of the Ichnographia therefore literally marks a lineage back to Rome's inception, and thus locates a point of beginning for the Ichnographia Campus Martius as well.
21 April 1999 (Rome's birthday)
1999.04.21

The path that ultimately lead me to Helena began with my learning about a deliberate connection between Piranesi's Ichnographia Campus Martius and Saint Agnes of Rome. According to ancient tradition, the first "structure" within the Campus Martius was an altar erected by Romulus in honor of his father Mars. Piranesi situates the Ara Martis within the generally accepted location of the original altar, that is, within the area between the present day Piazza Navona and the Tiber to the west. In Piranesi's plan, the altar of Mars is within a circular pool in front of a Temple of Mars and is furthermore surrounded by an extensively curvilinear porticus. Additionally, the Domus Alexandri Severus (1) flanked by two Sessorium (2) is to the west.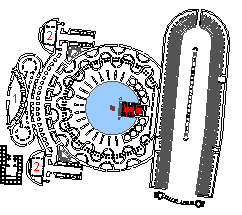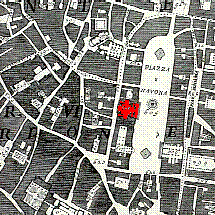 Investigating the meaning of Piranesi's Ara Martis layout, I looked to Nolli's 1748 Plan of Rome for a possible connection. I chose this approach because I had already learned that Piranesi indeed sometimes cleverly disguised links between his Ichnographia and Nolli's plan. The only potential tie between the two maps at the Ara Martis juncture is the coinciding position of the Templum Martis and the baroque church of St. Agnes on the Piazza Navona. At this point it became necessary for me to investigate the story of Saint Agnes.

Saint Agnes died in Rome circa 249 as a thirteen year old virgin and martyr. "Her riches and beauty excited the young noblemen of the first families of Rome to contend as rivals for her hand. Agnes answered them all that she had consecrated her virginity to a heavenly husband, who could not be beheld by mortal eyes. Her suitors, finding her resolution unshakable, accused her to the governor as a Christian, not doubting that threats and torments would prove more effective with one of her tender years on whom allurements could make no impression."1 As a form of torture, Agnes was sent to a brothel where her vow of virginity would be threatened and almost certainly eradicated. According to the legend, however, an angel protected Agnes while she was in the brothel, and subsequently Agnes was put to death. The traditional location of the brothel of Agnes' torture is the site of St. Agnes on the Piazza Navona. Moreover, the subsequent execution of Agnes sent shockwaves throughout both pagan and Christian Rome because the worst possible thing any Roman could do was to kill a virgin. Suddenly, and ironically, the Roman persecution of Christians took on the guise of a pagan moral dilemma.

The martyrdom of Agnes signifies a pivotal point of pagan-Christian inversion, and this inversion is precisely what Piranesi delineates within the complex of the Ara Martis. First, the co-positioning of the Templum Martis and the church of St. Agnes represents the origin of Rome itself when Mars raped the Vestal Virgin Rhea, who subsequently became mother to Romulus and Remus. Second, the emperor Alexander Severus is known for having been very interested and sympathetic towards Christianity, to the point where he seriously considered proclaiming Jesus as one of the official Roman gods as well as carving the (inverting) words "do unto others as you would have them do unto you" over the door of his house. Third, Sessorium is a direct reference to the Palatium Sessorianum, the imperial estate that became Helena's residence in Rome after 312, and soon thereafter the church of Santa Croce in Gerusalemme. It seems quite evident that Piranesi was well aware of early Christian history, including its architectural history.

Personally, I wonder whether Piranesi recognized Helena as an architect as well.

1 Herbert Thurston, S.J. and Donald Attwater, editors, "St Agnes" in Butler's Lives of the Saints (New York: P.J. Kenedy & Sons, 1956), v. 1, pp. 133-4.




Pagan - Christian - Triumphal Way
3123h 3123i 3123j 3123k
1999.11.21