Berenguer Cervia
architect.
A memorandum dated September 28, 1434, indicates that Cervia succeeded in that year Pedro Cipres as architect of the cathedral of Gerona (Spain).


Bernardo di Matteo Gambarelli (Rossellino)
architect and sculptor; b. 1409 (at Florence); d. 1463 (buried September 23).
The surname Rossellino belonged originally only to his brother Antonio. The Gambarelli were a family of stonecutters of Settignano. Bernardo first appears in 1434 in the records of the Palazzo della FraternitÓ dei Laici at Arezzo, of which he built the upper part; the campanile is later. In September, 1439, he acquired a house on the corner of the Via Proconsolo, Florence, and with his four brothers established there a botega. His most interesting creation, and a very important Renaissance work of its kind, is the monument of Leonardo Bruni in the church of S. Croce in Florence, which was ordered by the consiglio of Arezzo between 1444 and 1448. The tomb of Beata Villana at S. Maria Novella in Florence was ordered in 1451. He was probably associated with Alberti in the construction of the Rucellai palace, Florence, about 1450, and in Rome from that time until the death of Nicholas V in 1455. The great apse of S. Peter's church (removed by Bramante) and extensive changes at the Vatican are credited to their cooperation. Bernardo was employed by Pius II (Ăneas Sylvius Piccolomini, Pope 1458-1464) in his transformation of the village of Corsignano into the city of Pienza. He began the church and palace in 1460, and finished them about 1462. The municipal building and bishop's palace were finished about 1463. The Piccolomini palace in Siena is attributed to Bernardo, finished after 1498.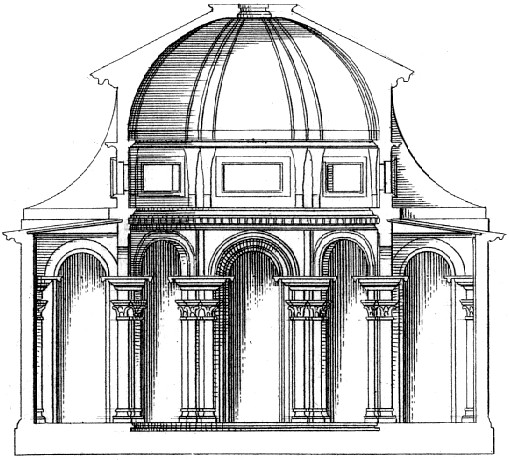 Transverse section of the small temple in the gardens of the Monastery of Sta. Marie degli Angeli at Florence; this building, commenced by Brunelleschi for the family of the Scolari, was never finished, the want of money having arrested the construction at the height of about two-thirds of the order of the interior. The entire figure, as here given, is taken from an ancient drawing by Brunelleschi, still preserved in the monastery, which has been published with very judicious observations by M. Onofrio Boni. (Memorie per le belle arti; Roma, 1786, vol. ii, pl. 37.)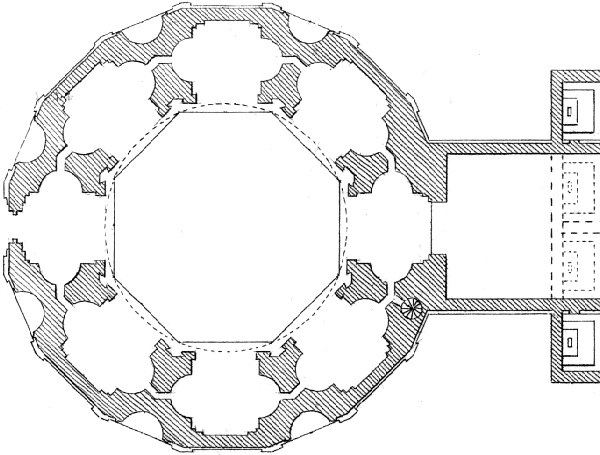 Plan of the above, octagonal within, and a figure of sixteen sides without, imagined by Brunelleschi no doubt to diminish the thinkness of the walls.
Seroux