Jean Jacques Marie Huvé
architect; b. April 28, 1783; d. November 22, 1852.
He was a son of Jean Jacques Huvé, architect of Louis XVI. He was a pupil of his father and of Charles Percier, and won the Grand Prix de Rome in 1770. He was attached, first as director and afterward as inspector, to the works at the church of the Madeleine, Paris, then being transformed into the Temple de la Gloire under the superintendence of Vignon. In 1828 he succeeded Vignon as architect in chief of this monument, which he finished. The interior decoration especially was carried out under his direction. About 1817 Huvé replaced Viel as architect of the Parisian hospitals, of which he built many of the most important.


Jean Nicolas Huyot
architect; b. December 25, 1780; d. August 2, 1840.
Huyot was the son of a builder (entrepreneur). He began the study of architecture at the school of design in the Rue de l'École de Médecine, and afterward entered the atelier of Antoine François Peyre who employed him in the restoration of the chateau of Ecouen. In 1807 he won the Premier Grand Prix de Rome. He made in 1817 an extended tour in Mediterranean countries, visiting Constantinople, where he designed several buildings. In Egypt he attempted a new classification of the monuments and a restoration of the ancient city of Thebes. Huyot made a special study of the topography of Athens. In 1822 he was appointed by the Institut to a professorship in the history of architecture. In 1823 he was charged in association with Goust with the completion of the Arc de Triomphe de l' Étoile, at that time raised to the spring of the arch. He presented a scheme introducing four columns on each side. The ministry preferred, however, the original design of Chalgrin. On the retirement of Goust in 1829 Huyot assumed superintendence of the work until 1832, when he was superseded by Abel Blouet. The entablature and the decoration of the vault of the arch were at this time completed.


Peter von Nobile
architect; b. October 11, 1774; d. November 7, 1854.
Educated in Rome, and devoted himself especially to the classic architecture of Vignola and Palladio. Among his important buildings are the Burgthor and Canal Brücke in Vienna and the lighthouse in Triest. He was Hofbaurath and director of the architectural school in the academy of Vienna.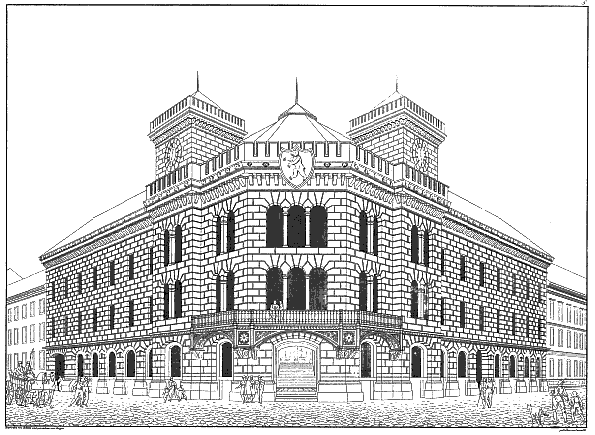 Karl Friedrich Schinkel, Rathaus (Berlin: 1817).