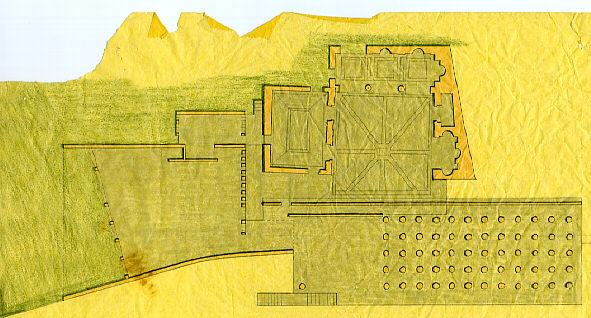 1982
1998.07.18
Ichnographia as a base for Quondam models
...the idea of placing the model collection into some kind of context--an imaginary context--and now the idea of using the Ichnographia as the base plan for the context. Moreover, the "program" of the Ichnographia could inform the museum context. For example, the Porticus Septa Julia is analogous to Plecnik's Houses Under a Common Roof (although perhaps not close in scale?). This presents the opportunity to place other models in other analogous situations.
...including Parkway Interpolation as well as the whole Center City model. This is also the prefect environment for the library elements, and indeed all the 2d and 3d data.
...the makings of an extremely virtual place. Like the Ichnographia, the whole design could manifest a message, and that message may be a critique of architecture today, starting with putting Laguna, Mayor and Wacko in place of the Garden of Satire.


2000.03.11
ideas
...the idea of elevating the Bye House over the Mayor's House with the ground plane of the Bye House (undulating) becoming the roof of the palazzo section of the Mayor's House.


2001.07.29
/recombinant
The Mayor's House - the first recombinant plan unique to Quondam.
2006.05.16 14:04
The Planless House
Bye House and Danteum and a little bit of Villa Massimo and a little little bit of me.


2008.10.05 16:04
Mixing Design Elements of Different Style Homes-Your Opinion
...been going into eclectic shock/therapy for 25 years now--Mayor's House.


2012.03.23 21:23
Response to Donna, re: Traditional Architecture
It's time for me enlarge/combine both my houses.
Mayor's House
Wacko House
The program is simple: add lots more period rooms--Ludi 002.


2012.10.29 10:25
for nearly two decades I've been saying that network...
So you've been saying for nearly two decades that architecture in network culture is ongoing planimetric collage of somewhat carefully chosen architectural plan fragments of similar geometric shapes, regardless of the fragments' original programs and scales, juxtaposed in further planimetric configurations translatable to any program and scale?
Almost three decades ago: 1982a 1984
Almost four decades ago: c1027