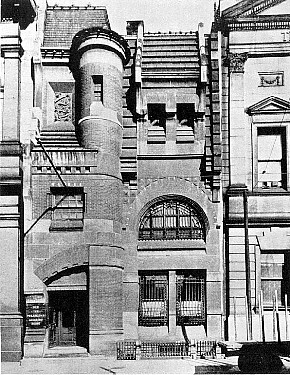 The reasons Robert Venturi likes Mount Sharon Baptist Church as much as he does are very likely the same reasons he likes the former National Bank of the Republic by Frank Furness. In Complexity and Contradiction in Architecture Venturi wrote:

"The city street façade can provide a type of juxtaposed contradiction that is essentially two-dimensional. Frank Furness' Clearing House, now demolished like many of his best works in Philadelphia, contained an array of violent pressures within a rigid frame. The half-segmental arch, blocked by the submerged tower which, in turn, bisects the façade into a near duality, and the violent adjacencies of rectangles, squares, lunettes, and diagonals of contrasting sizes, compose a building seemingly held up by the buildings next door: it is an almost insane short story of a castle on a city street. All these relationships of structure and pattern contrast the severe limitations associated with a façade, a street line, and contiguous row houses."

Although Mount Sharon Baptist Church does not exhibit the same degree of "violence" as the National Bank of the Republic, it nonetheless displays many of the same types of compositional juxtaposition and contradictory adjacencies.


Furness and Evans, National Bank of the Republic [Clearing House] (Philadelphia: 313 Chestnut Street, 1883-84, demolished).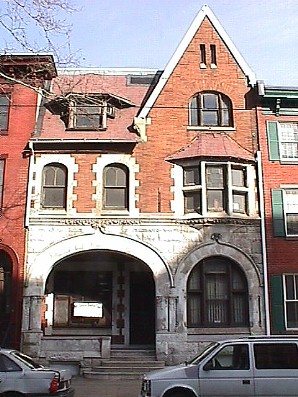 Today known as Mount Sharon Baptist Church, the former house on the north side of the 1600 block of West Girard Avenue is probably just over 100 years old, and the name of its architect is not exactly common knowledge among Philadelphia architects and architectural historians. Robert Venturi said George Thomas thought the building might be by Wilson Eyre, but even Venturi did not know the architect for sure, at least not in the middle of summer 2001. The house, now church, raising these questions sits on a still cohesive block of Girard Avenue that is among other Girard Avenue blocks that contain many empty lots and more abandoned buildings than not. On the south side of the 1600 block of West Girard Avenue is St. Joseph's Hospital, and the anchoring effect of this large building/institution is probably why the smaller buildings across the street are still relatively unchanged.