"The city street façade can provide a type of juxtaposed contradiction that is essentially two-dimensional. Frank Furness' Clearing House, now demolished like many of his best works in Philadelphia, contained an array of violent pressures within a rigid frame. The half-segmental arch, blocked by the submerged tower which, in turn, bisects the façade into a near duality, and the violent adjacencies of rectangles, squares, lunettes, and diagonals of contrasting sizes, compose a building seemingly held up by the buildings next door: it is an almost insane short story of a castle on a city street. All these relationships of structure and pattern contrast the severe limitations associated with a façade, a street line, and contiguous row houses."
Robert Venturi, Complexity and Contradiction in Architecture (1966), p. 61.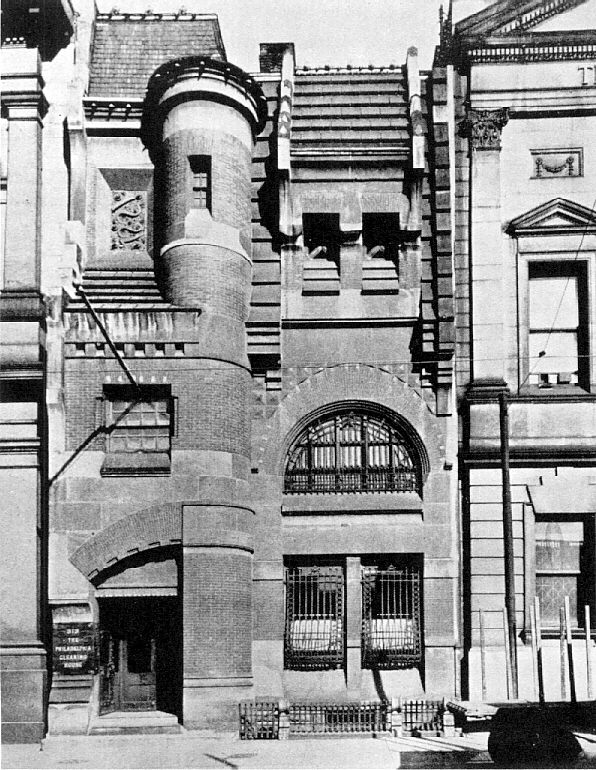 Furness and Evans, National Bank of the Republic [later Philadelphia Clearing House] (Philadelphia: 313 Chestnut Street, 1883-84, demolished).
2000.09.03
history of hypersurface architecture in Philadelphia
...plus maybe a "history of hypersurface architecture" in Philadelphia, e.g., the force-field of St. Francis de Sales Church; Institute for Scientific Information; Franklin Court; Welcome Park; and also the work of Kahn: Congregation Ahavath Israel, Alfred Newton Richards Medical Research Building and Biology Building, City Tower; [and also Giurgola's United Fund Headquarters;] and perhaps the best hypersurface of Philadelphia architecture, the work of Frank Furness, particularly the half castle bank facade (and this leads to Sullivan as a tangent).


2007.11.08 17:11
Name that Architect and Building!!!
Regarding the National Bank of the Republic, it is Robert Venturi that made the building well known in Complexity and Contradiction in Architecture. When Sullivan worked for Furness, the office was on the same block (300 Chestnut Street) as the National Bank of the Republic (or it was the next block west).


See the house on Girard Avenue.


Lee H. Nelson, "White, Furness, McNally and The Capital National Bank of Salen, Oregon" in Journal of the Society of Architectural Historians (May 1960).