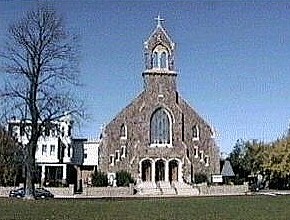 Frank Rushmore Watson, Saint Leo Roman Catholic Church (Philadelphia, PA, post 1884).


2005.08.16 10:42
Big up your home urban conurbation
Venturi's "latest favorite" building in Philadelphia is the church on the square [actually a strip park] close to the Tacony-Palmyra Bridge. Venturi told the friend I had pizza with this past Sunday to go see it. Venturi seems to only know it from train rides up to New York, so he told my friend it's around Allegheny Avenue. After my friend gave me Venturi's description, I told him where it really is. I myself haven't been there in 35 years, but I'm pretty sure it's on or next to Unruh Street.