1998.03.21
virtual Philadelphia
...the Philadelphia model as a base for new "construction" of unbuilt or demolished Philadelphia, e.g. Mitchell/Giurgola's Market St. Gallery, Kahn's Planning Commission studies and his City Hall, the Furness buildings that are long gone, and the cast iron district torn down to make room for Independence Mall.


2001.12.19
nimiety of ideas
18. begin an interpretive overlay of Kahn's Center City Philadelphia plans upon Quondam's Philadelphia model; this could produce a next wave of Koolhaas architecture, or will it also be a new wave of Piranesi / Kahn / Lauf.
19. Kahn's Dual Movie Theater for 2019 Sansom Street.


2008.05.16 10:29
Now try taking it to court.
I see a lot of late Le Corbusier meets universal Mies van der Rohe meets early planning Louis I. Kahn in the work of OMA, etc. Just one recent example: look at Kahn's Midtown [Philadelphia] Development (1956-57) and OMA's Quartier des Halles Urban Development Study (2003-04). And every time I now see Kahn's AFL-CIO Medical Services Center, I immediately also think of Herzog & de Meuron. There's a lot of mostly untapped inspiration within the unbuilt and lesser known architectural designs of the 20th century.
2012.05.27 12:09
Louis Kahn Car Park? Need help identifying
Kahn did design giant parking 'docks' as part of his Midtown Development - Civic Forum, Philadelphia, 1956-57: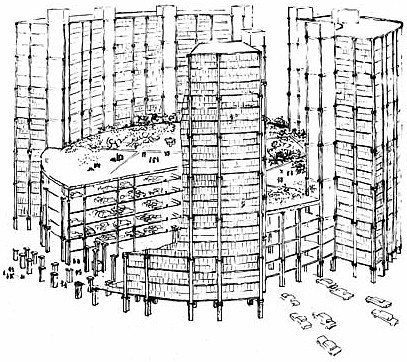 Each dock was designed to accomodate 1500 cars... "Great vehicular harbors or municipal entrance towers will be the gateways, the landmarks, the first images that greet the visitor."