2003.03.17 20:41
29 years ago today
On 17 March 1974 Louis Kahn died of a heart stroke in New York's Pennsylvania Station upon returning from a trip to India.


2005.03.17 13:16
17 March 1974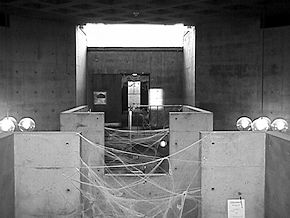 virtual mausoleum


2011.03.17 14:57
visited Kahn's grave today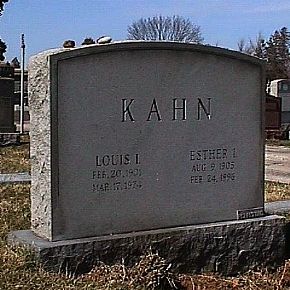 2011.03.18 10:06
visited Kahn's grave today
Kahn is buried at Montefiore Cemetery. It's in Rockledge (with a Jenkingtown zip code, I think), and more or less in my neighborhood now. I learned that Kahn was buried there a couple years ago, but never pursued it further. Since Kahn's death day was yesterday, and it was a really nice day here, I decided to go find his grave. And that's what I did. Turns out the grave is within easy eyesight of a road I've driven down innumerable times over the last 30 years.
While on my walk through Pennypack Park this morning, I tried to think of what Kahn building is now closest to his grave, and I think it's the Oser House in Elkins Park. The next closest would be either Pennypack Woods housing and commons, Ahavath Israel, Esherick House, Korman House or Fisher House.


2012.06.10 18:41
Why is architectural theory so hard to read?
Louis I. Kahn was not so much an architectural writer as he was an architectural speaker. The vast majority of Kahn's architectural texts are transcripts of lectures he gave. And as a lecturer, Kahn was in great demand, thus invited to give lectures all over the world.
The sense that I get is that Kahn did not prepare his lectures as something completely written out. I don't doubt that he wrote preparatory notes, but the lectures themselves were given ad libitum, 'at one's pleasure'. And it was indeed Kahn's uncanny ability to deliver architecture extemporaneously that amazed those that saw and heard him.
I've only heard Kahn speak, via tape recordings. The department head of the school I went to was a student of Kahn's, and he had several cassette tape recordings of Kahn's class lectures. One night while some of us second year students were staying overnight in studio, we found the tapes out in a box. All I said was "Can you imagine if someone added something to those tapes?" [This was like 1978 and we all had tape recorders (to play music) in studio.] About an hour later, "sound engineer" Steve Devlin came over to my desk as said, "Play this." I looked at the cassette and saw it was one of the Kahn lectures, and said, "You didn't!?" "Just play it," said Steve. There was Kahn, lecturing away when suddenly there was a bang, like a gun shot, and then "voice-over actress" Sue Dixon yelling, "Oh my God! Lou's been shot!" with lots of anguished yelling et cetera in the background. The thing is, it sounded so real and that made it doubly hilarious. By the end of the night the tape was put back in the box. A year later, the tape came out its box and was listened to in a lecture class... It was like the shot heard around the whole school.


2014.03.17 13:22
17 March
I still have to scale it with a map, but Kahn's burial plot is somewhere in the top left quadrant, maybe just within the western edge of Campo Rovine.