1998.09.14
ideas
Venturi is part of the equation almost unwittingly by virtue of the book title A View from the Campidoglio which in reality is the Campo Marzio! Both Kahn and Venturi were/are looking at the Campo Marzio, just as I have been doing.


1999.07.14
PMA + Quondam?
4. The Ichnographia Campus Martius in particular and Rome's Campo Marzio in general have a strong inspirational presence for Philadelphia's 20th century architects. A full scale reproduction of the Ichnographia Campus Martius hung over Louis Kahn's office desk throughout his mature career, and the title of Robert Venturi's and Denise Scott Brown's collection of essays A View from the Campidoglio taken literally is a indeed a view of the Campo Marzio. At least two prominent Philadelphia architects spent a lot of time "looking" at the Campo Marzio, and I see my long term commitment to redrawing and analyzing Piranesi's Ichnographia Campus Martius as a continuation and reenactment of the same Philadelphia architectural tradition.


2000.12.17
speaking architecture
In 1979, as an undergrad student halfway through my "formal" architectural education, I wrote an article entitled "Geometry: its internal workings, its external expression, and its meaning in architecture." This article was published within Stanza, Temple University's Architecture Students Association Magazine. Stanza was edited by Ronald Evitts and Michele T. Greene and designed by Stephen Lauf, and the magazine's name is derived from a quotation of Gio Ponti:
"The architect (the artist) must imagine for each window, a person at the sill; for each door, a person passing through; for each stair, a person going up or down; for each portico, a person loitering; for each terrace, somebody resting; for each room, somebody living within. (The Italian word for room is Stanza, a beautiful word; it means 'to stay', somebody there; a life.)"
"Geometry" was my first published work, and it was re-published at Quondam in early 1997, and is now again available at Quondam. Here's the opening paragraph:
"Geometry is the branch of mathematics that deals with space and its relations. The word geometry is derived from two Greek words meaning earth and measure. Man was once believed to be the measure of all things and perhaps in some ways still is. In architecture, geometry and man are used together; geometry as its form and man as its measure. Through this merger, a meaning evolves. Therefore, the purpose of this article is to demonstrate both the mechanical and theoretical aspects of geometry in the realm of architecture. "
For me personally, this was written literally a half lifetime ago. And I'm glad it is now that long ago, because virtually everything I've written since (now) has a firmly established "context". Incidentally, one of RE's prescient editorial decisions at Stanza was to reprint Robert Venturi's first publication, "Campidoglio: A Case Study", which originally appeared in The Architectural Review, 1954. I had since often wondered whether the reappearance of "Campidogilio" in Stanza, 1979 'inspired' Venturi and Scott Brown to then publish A View from the Campidoglio in 1984.
2005.10.12 09:19
Jimmy Venturi's new website...
Funny how A View from the Campidoglio is rarely, if ever, remembered. Taken literally, the view from the Campidoglio is indeed the Campo Marzio.


2005.10.12 15:09
Jimmy Venturi's new website...
On page 18 in A View from the Campidoglio is the famous collage architectural rendering of the Venturi & Rauch Football Hall of Fame--a "changing times" updated version of the collage renderings of Mies van der Rohe, and today oft reenacted by MVRDV (to name just one current group of architects furthering the tradition). MDRVD's Costa Iberica: Upbeat to the Leisure City is a "changing times" updated version (i.e., reenactment) of Learning from Las Vegas: The Forgotten Symbolism of Architectural Form. At least take the time to compare pages 282-83 of Costa Iberica with the cover of Out of the Ordinary. Maybe it's just coincidence that MVRDV's DataScape exhibition design is extremely similar to From Rome to Las Vegas: An Exhibit of the Work of Venturi and Rauch at the Philadelphia Art Alliance, 1968 (as pictured in Learning from Las Vegas, page 125, 1st edition), and boy do those collage rendering on page 124 look exactly like MVRDV's au courant renderings.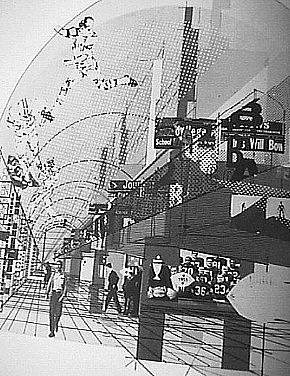 Not to be (dis)missed:
The Campidoglio: A Case Study
A Billdingboard Involving Movies, Relics, and Space
Learning from Lutyens
Learning from the Rear
Pop Off
Some Houses of Ill-Repute
Functionalism, Yes, But...
Complexity and Contradiction in the Work of Frank Furness
Plain and Fancy Architecture
Alvar Aalto
A Definition of Architecture as Shelter with Decoration on It, and Another Plea for Symbolism of the Ordinary in Architecture
Learning the Wrong Lessons from the Beaux-Arts
Learning the Right Lessons from the Beaux-Arts
Il Proprio Vocabolario
The RIBA Annual Discourse
Diversity, Relevance and Representation in Historicism, or Plus ca Chance...plus a Plea for Pattern all over Architecture with a Postscript on my Mother's House
Is calling something "b-side" an example of commercialism creeping into architecture criticism. Hey, as long as it sells, right. Imagine that, the institution of criticism based on commerce and consumerism! Does sinister even know what dexter is doing?
2013.06.16 10:21
Pritzker jury will not revisit decision to exclude Denise Scott Brown
Perhaps A View from the Campidoglio: Selected Essays 1953-1984 could just as easily be entitled Renewing Vows: still obliged toward the difficult whole.