Bryaxis
sculptor.
Bryaxis probably originally came from Caria (Asia Minor), and was educated in Athens. His signature is found on a bas-relief on the base of a monument at Athens. About 350 B.C. he was associated with Scopas, Timotheos, and Leochares in the decoration of the Mausoleum at Halicarnassus in Caria.


Deinocrates
architect.
This architect appears under various names: Dinokrates (Vitruvius), Dinochares and Timochares (Pliny), Cheirokrates (Strabo), Stasikrates (Plutarch), etc. The place of his birth is also variously given, Macedonia, Rhegion, and Rhodes. He was the favourite architect of Alexander the Great (b. 356; d. 323 B.C.), whose attention was attracted by his scheme for transforming Mt. Athos into a colossal statue. Deinocrates was employed to lay out the city of Alexandria (Egypt). He rebuilt the temple of Artemis at Ephesus.


Lysippos of Sicyone
sculptor.
An important Greek sculptor who was especially attached to the court of Alexander the Great (356-323 B.C.). His work differs from that of Polyclitus in having greater refinement of proportion. His bronze statue of an Apoxyomenos, an athlete scraping himself with a strigil, which was placed by Agrippa in his baths at Rome, is represented by a splendid marble copy in the Braccio Nuovo of the Vatican, which was discovered by Canina, in the Trastevere at Rome in 1849.
0303BC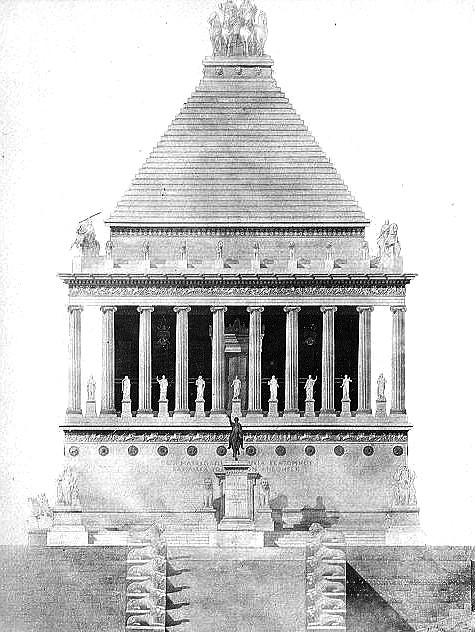 Pythius and Satyrus, Mausoleum of Artemisia (Halicarnassos: 355-350 BC). Sculpture by Scopas.