The place where the bodies of the dead were burned and buried under Hadrian
2001.07.18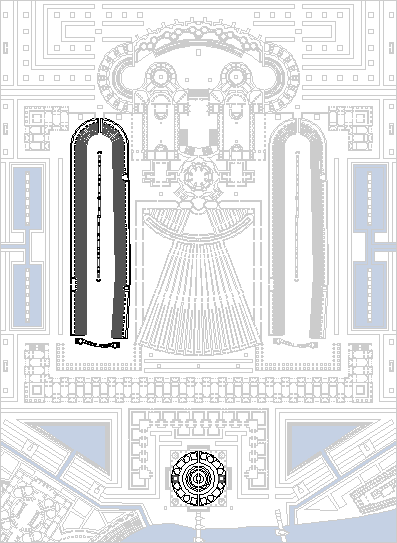 Piranesi begins his design of the Bustum Hadriani with two actual givens of ancient Rome's topography, Hardian's Tomb and the Circus of Hadrian. Hadrian's Tomb, situated on the bank of the Tiber and today known as the Castle Sant'Angelo is still one of Rome's largest monuments. The Circus of Hadrian, however, no longer exist, but faint remains of the Circus were discovered via excavations in the 1740s. A record of the Circus's position is delineated within Nolli's 1748 map of Rome, and offers clear evidence that at least this portion of the Ichnographia Campus Martius is not purely a Piranesian fantasy.

The rest of the Bustum Hadriani composition is purely of Piranesi's design, but actually only in architectural design, for the program that Piranesi fits out is very much a part of ancient Roman tradition.