Franz Christian Gau
architect; b. June 15, 1790, (Cologne, Germany); d. January, 1854.
Gau was naturalized as a French citizen and became a pupil of Debret and Lebas. He undertook the completion of the great work concerning Napoleon's expedition to Egypt, and also finished the third and fourth volumes of François Mazois's book on the ruins of Pompeii. From 1831 to 1844 Gau was architect of the prisons and hospitals of Paris. He published Antiquités de la Nubie (Paris, 1820, 1 vol. folio).
Gau was mentor to Gottfried Semper.


Charles Alexandre François Morin
architect; b. 1810; d. October 9, 1898.
A pupil of Huyot, he won a first-class medal at the École des Beaux Arts in 1831. Morin held the office of chief architect of the département du Bas Rhin for thirty years, and under the second Empire was made architect of the crown for the city of Strasburg. During the siege and bombardment of Strasburg, with his son, Georges Morin, at the peril of his life, he did what could be done to protect the cathedral and other monuments. In 1871 the German government desired to retain him in his position, but he settled in Paris.


Sir John Rennie, F.R.S.
engineer; b. August 30, 1794; d. September 3, 1874.
Son of John Rennie. He was associated with his father in the construction of Waterloo and Southwark bridges, London, and built new London Bridge from his designs. He was knighted on the completion of London Bridge in 1831. Rennie was employed in many important works.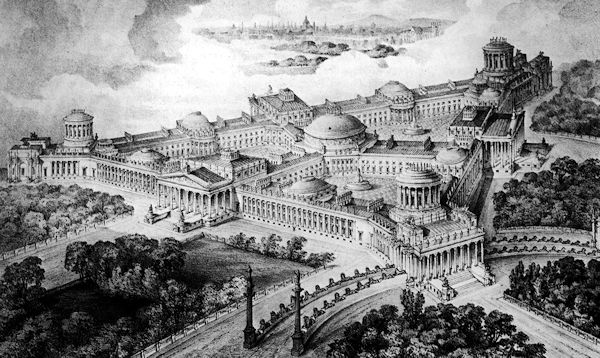 John Soane, Design for a Royal Palace (1821-31).