2000.02.03 11:43
an answer to "Now what?"
The Pantheon, Hall of Mirrors at Versailles, entry sequence of Schinkel's Altes Museum, Kimbell Art Museum--examples of the best osmotic architecture there is.


2004.04.07 08:24
Re: bilocation -- opening odds of Ottopia
During the afternoon, Frederick, Franziska, Otto, Maria and the "Virginia Hams" go on a 'King of Prussia Marble' tour conducted by Trumbauer and Fiske Kimball (who 'discovered' the origin of the Rococo, and restored Monticello, among other things). Otto recalls how he began to feel really, really sick 18 January 1871, in the Hall of Mirrors at Versailles when Wilhelm I was proclaimed emperor of Germany--"Alas Ludwig! I cannot describe to you how unhappy and wretched I felt during the ceremony, how every fiber of my being revolted at what I saw! Everything was so cold, so brilliant, so ostentatious and showy, so empty and unfeeling. I felt so oppressed, so stale in that great hall!"


2004.04.14 22:25
Re: "Revivalists..."
"Ludwig did not set out to copy the entire Palace of Versailles; in fact, he conceived Herrenchiemsee as something of a shell, in which only two rooms were of consequence--the State Bedroom and the Hall of Mirrors. He commissioned architect Georg Dollmann and, later, Julius Hofmann, to faithfully duplicate the center block and side wings, He eventually wished to include to longer auxiliary wings containing the chapel and court theater, but money ran short before these schemes could be executed. The king never intended that all the rooms should be completed: From the beginning, Herrenchiemsee was to be a set piece into which certain rooms were to be introduced. Their bare plaster walls, bricked up windows, and vaulted stone ceilings only served to fill out the space behind the palace's facade, providing an eerie contrast to the extravagant rooms of the piano nobile. By the fall of 1885, the palace was ready for a royal visit."
Greg King, The Mad King: A Biography of Ludwig II of Bavaria, pp. 241-2
Earlier today, while driving to the local post office (which is within a large local shopping center, which years ago was the site of Heinz Manufacturing), I passed by what until a year or two ago was a K-Mart. For some reason the entrance to this place was wide open, and inside was an enormous, cavernous space. I thought to myself, "Gosh, the interiors of these stores are so ephemeral." Then I thought, might it not be interesting if homes were treated/designed like BIG BOX stores. Now, thinking of Herrenchiemsee, why can't all BIG BOXES look like Versailles on the outside and empty shells on the inside. Or, is that what is kind of already happening, and Ludwig was a "dreamer" just a head of his time.
2004.05.08 11:02
Re: Unintended Consequences
Otto is extremely happy with how the papers to be delivered at the Horace Trumbauer Architecture Fan Club Convention are coming together--an impressive roster indeed. The three latest additions are:
"The Marriage of Twisted and Columns" co-authored by Eutropia and Peter Paul Rubens.
"The Architecture of Constantine the Great" co-authored by Helena, Eutropia, Eusebius, and Ambrose.
"Here a Versailles, There a Versailles, Everywhere a Versailles, sigh" co-authored by Marie Antoinette, Ludwig II, and Lucretia "Eva" Bishop Roberts Cromwell Stotesbury Dougherty.


2004.12.19
ideas
...incorporate Versailles, Herrenchiemsee and Whitemarsh Hall site maps.


2005.08.08 15:58
"How Did This Happen Revisited"
Vanbrugh begins "How Did This Happen Revisited" by pointing out the dates of the gardens of Versailles (1661-1668) and the plan of Philadelphia (1683), and from there it's a enlightening chronological list of events.


2007.10.15 21:23
Differentiation between the outside and the inside.
The Great Pyramid maintains a strict differentiation between outside and inside--life and light outside, darkness and death inside.
"The absolute rule of architecture is that the inside has to be different than the outside." 1983
Yet really great architecture manages to keep the rule and break the rule simultaneously.
The Pantheon at Rome brings the whole cosmology inside.
The Hall of Mirrors at Versailles reflects the whole garden inside.
The Kimbell Art Museum brings the outside light inside.
Osmotic Architecture.


2008.12.19
Durand plans and IQ
I've decided to start placing the to-scale-yet-still-raw Durand plans into "position" within IQ, and the new line work will follow from there. The point being to use the data right away creatively. The first things to learn are scale comparisons (like Versailles is turning out to be not so super big, more just extensive). Anyway, with all the more plans, IQ will become much more interesting.


2009.01.25 11:21
Re: Philly Row House
I'm thinking of designing North Philly as hyper-suburban. Versailles plus ultra even.


2009.01.31 16:38
Re: Misc. stuff
After seeing Lost this past week I was inspired with a new way to think about Quondam and what I've sort of being doing there already--experiment with architecture within a/the space time continuum. For example, where some building model have already been collaged together, it's not just being playful but also seeing what it's like when architectures from different places and/or different times cross paths. Another example is how the Axis of Life of the Ichnographia matches the Benjamin Franklin Parkway is like where two different space/time architectures actually lock together (hence the Ichnographia Quondam). Anyway, I'm just starting to work on this stuff now, so not much more to mention. I'm just today in the final stretch of nicely redrawing a plan of the Palace of Versailles, and I'm looking forward to seeing how and where that will fit in within Quondam's space time continuum--remember, here a Versailles, there a Versailles, everywhere a Versailles, sigh!


2009.02.17 07:58
Bilocation Syndrome
Here a Versailles, there a Versailles, everywhere a Versailles, sigh.
You mean like the distance and angle from Hall of Mirrors to Trianon equals the distance and angel from Capitol to White House?
Not exactly. The latter is somewhat magnified.
2009.03.17 17:02
pragmatists turning political?
Anyway, been meaning to interject a little exposition of the "politics of the plan".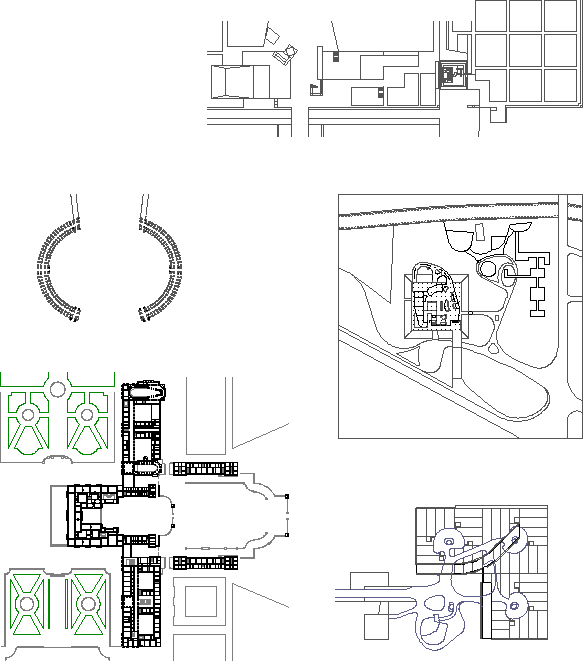 2009.04.07
museum collecting
...the collected museums are also within IQ. ...have yet to compile all the museum plans within Quondam's collection, meaning to add Museum Annex, Calder Museum, Working Title Museum, Haus der Kunst, Cut & Paste Museum (and just as an aside, the latest REX museum seems to relate to the Cut & Paste Museum), Acropolis Q, Venue, Gallery B, Circle Squared Museum, Domestic Museum, 5233, Villa Savoye(?), Palace of Versailles, and all the superimposed museum plans.


2011.07.20 11:53
Question about Charles Jencks' Declaration


2012.05.21 14:25
Need help identifying a building drawing! Please!