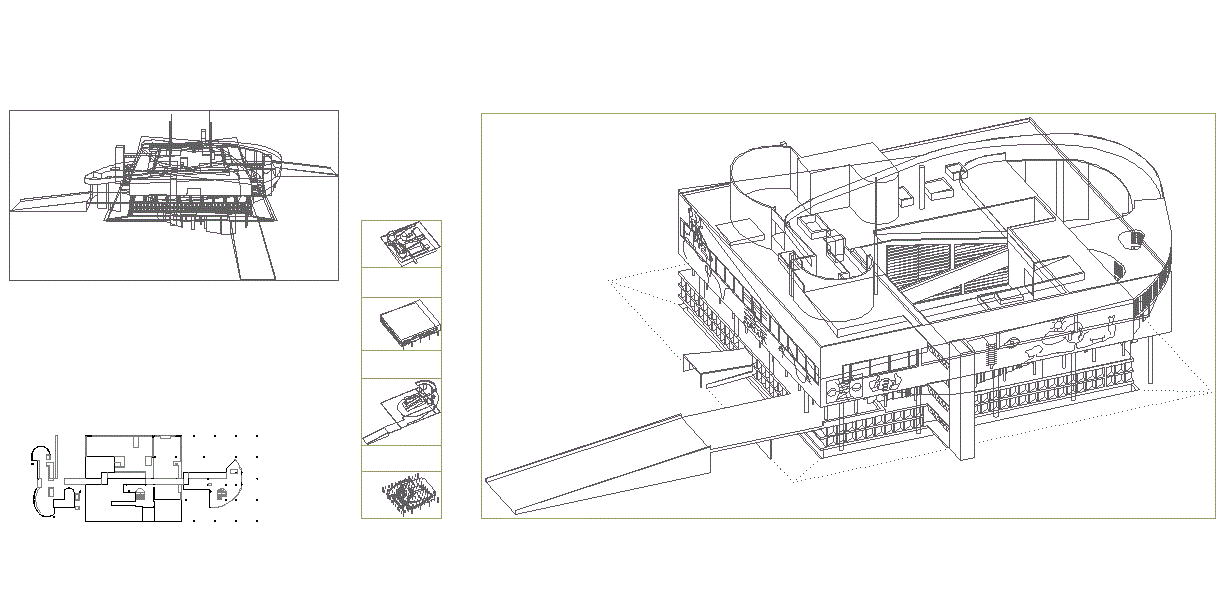 plans
13071003 040628a 99092010

plan unfolded
001124b

elevations
13071003 99092009 99092010

model
99092009

axonometrics
99092010

perspectives
99092010

promenade architecturale
99030501 99030502 99030503 99030504 99121706

architecture, collision, etc.
1997a

composite database
99092010

within a collection of domestic plans
07091201 07092102

with domestic elevations
011125a 011125b

scale comparison with other Le Corbusier designs
12012303 3292 3296

plan scale comparison with Villa Savoye derivatives
09010801

with Maison l'Homme
990922a 99092207

with Tower of Shadows
09061701 09062001 09062003

/scale
0045 0047 0056 0064

Sober House 1
Villa Skeleton
Sober House 2
Dominican Villa Savoye
Savoye Hystérique
Stoner Food Restaurant
Trivilla Savoye
HQ of D.A.T.A.
Villa Plus Ultra
Domestic Museum
Villa Savoye Shadowed
Savoye Shadows Annexation
Villa + 15
Palais Savoye
Looking Back from the End of the Road
1997.09.16



ideas
1998.01.16

The sink in the lower foyer of the Villa Savoye could be used as denoting the profane realm when it comes to addressing the profane to sacred nature of the architectural promenade. Remember there is a whole essay about the sink in the book entitled Plumbing.



regarding the Governor's Palace
1996.04.23



new Quondam
1998.07.20

...all kinds of experimentation:
1. display the Villa Savoye [model] completely multicolored and/or with some line images on the walls.
2. two Villa Savoyes collaged together--each could be a different color scheme and a slightly different scale.



Re: do tell
1998.11.13 15:11

When I think of architecture and show, my mind makes all kinds of associations. First, I am hard pressed to think of an example of architecture that doesn't represent (show) something, and in that sense all architecture could be seen as some kind of show. Next, I think of how architecture is usually shown in photographs, that is, usually without people in the same picture. Could this be an indication of the autonomy that architects like to perceive in architecture? I'm reminded of a story an architect/friend's wife told about visiting Le Corbusier's Villa Savoye. There were a handful of other architects there, and not only were all the architects taking virtually the same pictures, but they were all making sure not to get each other in any of the pictures. I immediately thought the best pictures would have been of the architects doing this; at least that would have been a unique set of pictures.



gallery 1999
1999.02.18

...a crazy building where a whole set of collaged Villa Savoyes are placed within the Palais des Congres with level 3 and 4 emptied out except for the columns.



letter to India - the formula
1999.03.03



Re: Piranesi
1999.05.16 09:08

I too am guilty of long silence, re: promenade architecturale. I continually mean to finish the "letter to India", but never get around to it. I did look to see where I left off and the next portion will point out that right at the center/mid-point of Villa Savoye, where the ramp reaches the first floor, is where the ramp moves from inside to outside. This transition is significant in that it is an integral part of the whole promenade. Without the halfway :: limbo :: inside/outside the promenade [formula] would be incomplete.

I am jumping way a head, but, since you recently mentioned Terragni, the Danteum too follows the same promenade architecturale formula, and it is through the Danteum that the promenade architecturale can be said to represent a transcendence from profane to sacred. Comparing the Danteum with the Villa Savoye -- the forest is the grid of pilotis; the inferno is the ground floor complete with sink (profane/plumbing); purgatory is the halfway :: limbo :: inside/outside; paradiso is the solarium.



tragic.2
1999.06.21 19:36

I see the point along the promenade architecturale [in Le Corbusier's Villa Savoye and his Palais des Congrès] where there is both outside and inside as precisely the same as Terragni's representation of Purgatory within the Danteum--the room that manifests equal measures of inside and outside.



the formula in words
1999.09.29 18:35

Both the Villa Savoye and the Palais des Congrès are essentially boxes raised on pilotis with a continuous ramp connecting three distinct levels. All three levels in each building and their relationship to the ongoing ascent of the ramp are part of the promenade formula. The lowest level, under the raised box, is symbolically the most mundane, and here Le Corbusier enacts a forest of pilotis within which the perimeter of the building is recessed--significantly, the entry point and the beginning point of ascent (ramp) are nearly synonymous. As one begins moving through the buildings, one is also ascending. The second level, the box, symbolizes the realm of limbo, the in-between, part inside and part outside. For Le Corbusier, this is realm where we live (Savoye) and where we gather (Congrès). Ultimately, the ramp in both buildings raises us to the garden on the roof in the realm of the sky. For Le Corbusier, this is architecture's goal, this is where architecture should deliver us.



Re: sculpture versus architecture
2000.01.03 03:38

Is the Villa Savoye a master work of modern architecture that is now an "object which is for perception only?" Or is it merely that the 'life style" the Villa Savoye now accompanies is one where great buildings (if they're lucky) become cultural shrines, where the buildings now accommodate our 'perceptual worship'?



Re: Virtual Architecture and Art?
2002.05.26 15:27

3. Computers seem to have a lot to do with virtual architecture, most likely because of the new drawing dexterity that computers provide architects. Beyond that, however, computers/CAD enable whole new visualizations of architecture. I am not so much interested in creating virtual environments, as much as environments parallel to real-time/place reality. For example, designing and (virtually) building an addition to Le Corbusier's Villa Savoye, or imagining oneself as an architect as squatter within Louis Kahn's Hurva Synagogue. In the sense of creating a whole other history of architecture parallel to the real present.



Re: Parametric Design
2002.07.14 15:00

I have often 'played' with changing the x,y,z parameters of existing CAD models. It is very easy to change the Villa Savoye, for instance, by x factor of 2, a y factor of .5 and a z factor of 3--this will make the Villa Savoye twice as long, half as wide, and 3 times as high. And if you incorporate an angle change(s) along any or all of the x, y, or z axes, then the resultant model gets very bizarre.



Koolhaas versus the Actor
2005.05.06 17:24

Le Corbusier is just as much a reenactor as Stirling and the NY5 are reenactors. Le Corbusier reenacted machine forms and ship forms and American agricultural architecture forms. And Le Corbusier even ultimately reenacted himself--the Palais des Congrès (1964) reenacts the Villa Savoye (1929).



are the origins common ? can we prove it ?
2005.09.08 10:54

Do a thesis on the commonality of brainwashing within architectural education within say the last two to three decades. Brainwashing in the sense of becoming blind to what is otherwise self evident. For example, is the Villa Savoye really a house? Yes, it's design intention was for it to be a house, but that's not what it really turned out to be, is it?



are the origins common ? can we prove it ?
2005.09.08 12:04

I was yesterday thinking of the Villa Savoye as a museum, perhaps specifically a museum of Modern architecture even?



bored with modern & contemporary, yet?
2008.07.14 10:06

It could well be argued that the Villa Savoye is a fitting representation or acme even of the paradigm shift in residential architecture toward overall minimalism. The skeleton of a minimalist building is even more minimal (or see Farnsworth House). Then came the decorated shed with minimalist decoration. And in the virtual present gemmating decorated sheds infringing upon minimalist remains.



museum collecting
2009.04.07

...the collected museums are also within IQ. ...have yet to compile all the museum plans within Quondam's collection, meaning to add Museum Annex, Calder Museum, Working Title Museum, Haus der Kunst, Cut & Paste Museum (and just as an aside, the latest REX museum seems to relate to the Cut & Paste Museum), Acropolis Q, Venue, Gallery Berwin, Circle Squared Museum, Domestic Museum, 5233, Villa Savoye(?), Palace of Versailles, and all the superimposed museum plans.



Examples of modern exterior with traditional interior
2009.10.04 11:55

I was wondering if anyone can point me to some specific examples of built works that have a modern exterior or shell with a traditional/historic interior design. Is there anything out there like Villa Savoye on the outside with like Rococo salons and/or Gothic kitchens and/or Turkish baths on the inside? Maybe Barcelona Pavilion on the outside with Greek temple interior? No hurry. Was just suddenly inspired to ask.