2009.01.29 16:57
Venturi's Lieb House (No. 9) House to be moved (or demolished)
In all honesty, how this story plays out doesn't really matter to me at all, but it does interest me. The house being moved and sailing on a barge will make great documentary film footage, and when you think of the price of entertainment film footage production, the moving of the Lieb House is probably relatively cheap. And there is the notion of someone actually "collecting" a building. This is not exactly something unprecedented, rather not so much a modern activity. Whether the house is moved or demolished, either case will be a historic architectural event. And, of course, a triumphal event will be more uplifting than a destructive one.
Coincidently, the utility wires are still an issue (if the house is moved).


2009.01.30 10:42
Venturi's Lieb House (No. 9) House to be moved (or demolished)
The article linked at the opening of this thread does not say that the Lieb House is in danger of being wrecked if it is not off the property by Monday, rather:
The company will begin today [Wednesday] to jack up the house and slip steel rollers under the foundation, said Kendal Siegrist, a manager. By Friday, it should reach the parking lot in Barnegat's marina.
How long it will sit there is anyone's guess. "Maybe several days," Siegrist suggested.
So, it seems while all of the above was being written, the Lieb House was actually being moved down a Loveladies street and into Barnaget Light.
I'm guessing the paperwork for the receiving end will indeed eventually materialize, and the house will sail on--Teatro del Mondo take 2.


2009.01.31 12:49
Venturi's Lieb House (No. 9) House to be moved (or demolished)
from Skyline Online:
For the record, the buyer was hoping to avoid having to tear down this architectural landmark. In fact, relocating the home to a vacant lot on West 27th Street in Barnegat Light was discussed. As the broker involved with the sale, I too looked into relocating the home to one of the properties I own in Barnegat Light. I proposed the idea to my architect and friend Robert Musgnug who was kind enough to do some research and get some numbers together for me. Unfortunatley the time, money, and permitting fiasco typically necessary to accomplish such an objective made it impossible for me at this juncture. Kudos to Jimmy Venturi and the couple from Glen Cove. Kudos to Sheila Ellman for all of her hard work in getting the word out, and helping save this modern architectural landmark! It was truly fascinating watching the workers from the fleets of Atlantic Electric, Verizon, and our local police departments come together with Wolfe Movers to help wheel this boxy structure from 30th street in Barnegat Light, up to the 16th street dock where the home now sits--awaiting the mothership. Amazing.
The most ironic part of the move was watching a man climb down the inside stairwell--as it crossed 20th street and Bayview Avenue in front of my office. Wow. Moving the home itself is a modern marvel!
2009.02.01 07:54
Venturi's Lieb House (No. 9) House to be moved (or demolished)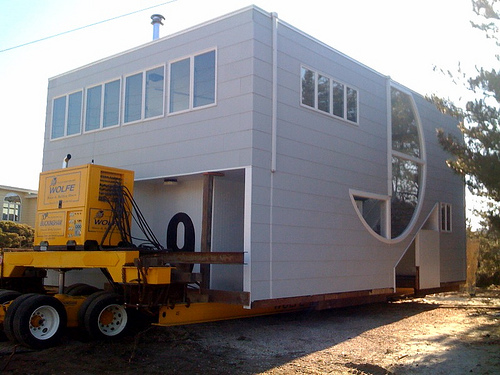 2009.01.29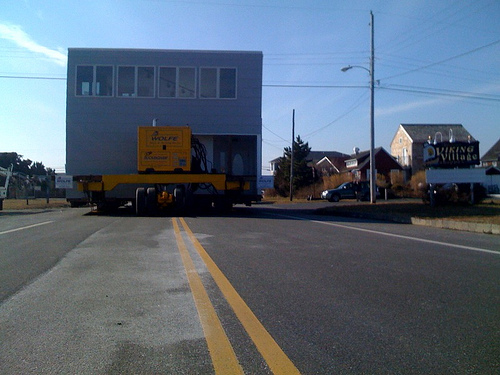 2009.01.30
2009.02.01 10:37
Venturi's Lieb House (No. 9) House to be moved (or demolished)
Gordon loves it even more like that.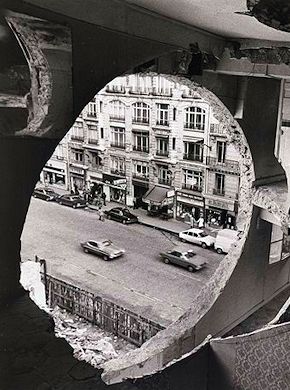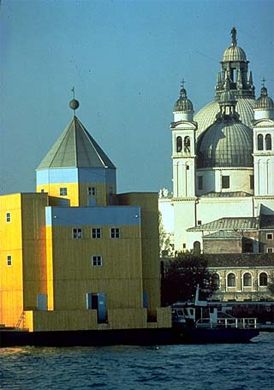 As does Aldo.
architectures in the space-time continuum


2009.02.02 13:07
Venturi's Lieb House (No. 9) House to be moved (or demolished)
...and then/now there's museification
dossier in brief:
(at least) a Philadelphia tradition:
Cedar Grove and contents
Letitia Street House
Hatfield House
Briar Hill library and contents
Period Rooms of the Philadelphia Museum of Art
Japanese House
Étant donnés
1977.02 antidote:
"If someone in the museum was truly interested in my work they would let me cut open the building. The desire for exhibiting the leftover pieces hopefully will diminish as time goes by. This may be useful for people whose mentality is oriented toward possession. Amazing, the way people steal stones from the Acropolis."
Gordon Matta-Clark
1993:
Robert Venturi, "Some Agonizing Thoughts about Maintainance and Preservation Concerning Humble Buildings of the Recent Past"
1998:
"Do you know the BASCO sign is now gone?"
"No! Do you know where it is now? We'd like to save it."
1999.10.06
A typed letter signed by Robert Venturi, wherein he laments the demolition of his BASCO 'baby', is currently up for auction at eBay
2000:
"What's the address of the Nurses' Office in Ambler?"
"It's better now if you just look at the pictures."
[found the building and took pictures anyway]
2002.11.23
Monument Hystérique
2004.12.17
"Took pictures of soon to be quondam building; visited museum exhibit without the museum building there yet; entered room that moved from inside one Trumbauer building to inside another Trumbauer building. Where do I get my best ideas?"
2005:
Best Building demolished; flower pattern porcelain enamal panels saved, many now in private and museum collections
2009.01.02
Lieb House; another chapter in the architecture of removement.