Michael Gottlieb Bindesböll
architect; b. September 5, 1800; d. July 14, 1856.
A Danish architect. In 1822-1823 Bindesböll studied in Germany and France. Having won the travelling stipend at the Academy of Copenhagen, he went in 1835 to Italy and Greece. In August, 1835, he presented his design for the projected Thorwaldsen Museum at Copenhagen, which was finished in 1847. In March, 1856, he was made professor at the Academy in Copenhagen.


Ludwig Lange
22 March 1808, Darmstadt - 31 March 1868, Munich was a German architect and landscape designer.
He was the son of a court official and began his training as an architect in 1823 under church designer Georg August Lerch (1792–1857). From 1826 to 1830, he attended the University of Gießen where he studied with Georg Moller. His studies continued in Munich, where he was a pupil of the landscape painter Carl Rottmann, with whom he undertook a study trip to Greece in 1834,
In 1835, he was appointed to be a drawing teacher at the New Royal High School in Athens and, on 15 May, became a building inspector for King Otto I. He returned to Germany in 1838 and travelled extensively there. In 1847, he was appointed to succeed August von Voit as Professor of Architecture at the Academy of Fine Arts Munich.
He is best known for a large series of lithographs (produced in conjunction with his brothers Georg, Gustav and Julius) depicting examples of Gothic architecture in the Rhine Valley; and (with Ernst Rauch) steel engraved views of prominent German cities. From 1846 to 1855, he published his designs as Works of Higher Architecture; encompassing three volumes. The Royal Villa in Berchtesgaden and the Museum der bildenden Künste in Leipzig (1856–1857) were built from his designs. His style was a mixture of Classical and Italian Renaissance elements.
4501l


Jean Baptiste Ciceron Lesueur
architect; b. October 5, 1794; d. December 25, 1883.
A pupil of Percier and the École des Beaux Arts. In 1819 he won the Premier Grand Prix de Rome. In 1835 he was associated with E. H. Godde in the enlargement of the Hôtel de Ville, Paris. From 1850 to 1852 he had entire charge of that building. Lesueur published numerous practical works on architecture.


Joseph Nash
draftsman and lithographer; b. December 17, 1809; d. December 19, 1878.
He studied architecture with Augustus Pugin, whom he assisted in the illustration of his works. In 1834 he was elected associate, and in 1842 a full member, of the Society of Painters in Water Colours. He won his reputation by his lithographs of architectural subjects accompanied with figures. Nash published Architecture of the Middle Ages (1838); Mansions of England in the Olden Time, his chief work; Views of the Exterior and Interior of Windsor Castle (1848) ; and other works.


Francois Léonce Reynaud
engineer and architect; b. November 1, 1803, at Lyons; d. February 14, 1880, at Paris.
He went to Paris in 1818, was a pupil at the École polytechnique and of Durand. In 1824 he entered the École des Beaux Arts as a pupil of Huyot. He studied in Italy and in 1835 became an engineer in the Service des Ponts et Chaussées. In 1842 he was appointed professor of architecture at the École des Ponts et Chaussées. March 7, 1883 he was associated with Vaudoyer and Viollet-le-Duc as inspecteur général des édifices diocésains. He became inspecteur général des ponts et chaussées in 1867, and in 1869 director of the École des Ponts et Chaussées. He was one of the founders of the Societé centrale des architectes. He is best known by his Traite d' Architecture (text 2 vol. 4to, plates 2 vol. fol., 1850-1858).


Karl Roesner
architect; b. June 19, 1804; d. 1867.
He was educated at the Academy of Vienna and in Italy, and was appointed Professor of Perspective at the Academy in Vienna. Professor Roesner was especially attracted to early mediæval architecture and built many Romanesque churches.


Albert Dietrich Schadow
architect; b. 1797 (in Berlin); d. September 7, 1869.
He was trained in Italy, and on his return in 1835 was made Hofbaumeitser in Potsdam (Prussia), and in 1839, Schlossbaumeister in Berlin. With Stüler he built the Schlosskapele (Berlin).
Hatfield is a transplant house. In 1930 Major Henry Reed rescued his house from the encroaching factories of Nicetown and moved it here from Hunting Park Avenue near Nineteenth Street. [museumification]

This new setting for Hatfield House is still within the "Northern Liberties" of William Penn's original plan. Plots of plans in the Liberties were part of Penn's plan to settle the countryside with property owners who also held land in town. Penn presented a 100-acre lot in the Liberties and two lots in town to each purchaser of 5,000 acres in the country. In this way he hoped to give early Philadelphians a sound political base as well as a sound economic base, since voting power was based on land tenure.

Built in 1760, the original house was a small, simple frame farmhouse until William J. Hay bought it in 1831. Although Hay took up permanent residence there, he furnished the house as though it were a country summer home.

The house became noteworthy in 1835 when Hay added rooms and a Greek Revival portico to one end of the house. He then built a new front door and sheathed the house in flush board siding to hide the joints.

Hatfield is one of the finest examples of Greek Revival architecture in Fairmount Park. Greek temple motifs for public building have been popular through the ages, but in the 1830s American homeowners began dressing up their houses with columns and pediments copied from architects' design books.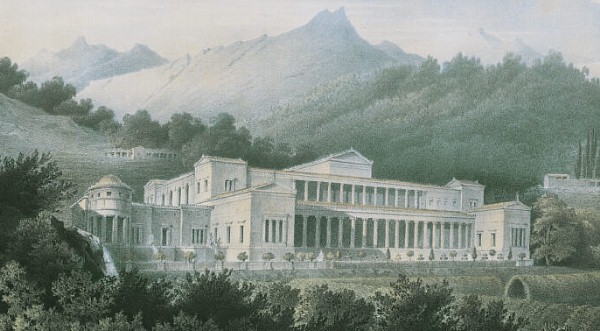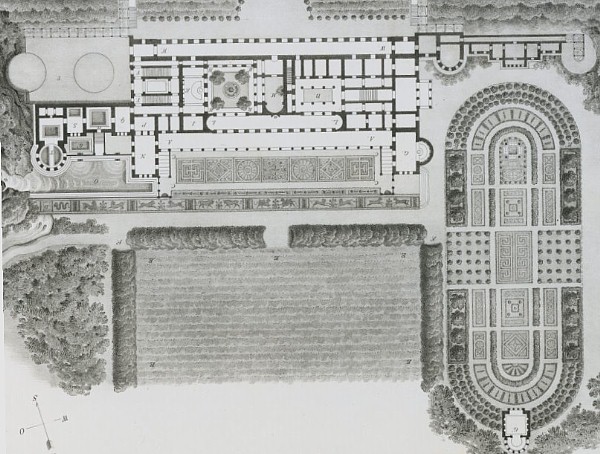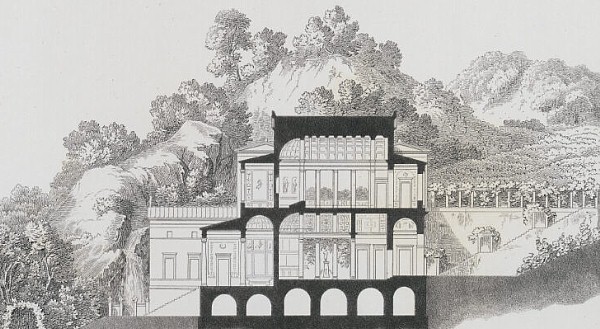 Karl Friedrich Schinkel, Reconstruction of Pliny's Villa Tuscum (1835). 3120z