2001.03.04 15:02
I don't want anymore snow because nowadays not only do I have to shovel my and my neighbors sidewalks and driveways, but I then also have to drive to my mother's house and shovel all her pavements as well.


2002.03.22 10:56
Speaking of deer, Philadelphia still has a thriving deer population. Just yesterday my mother told me of deer tracks already to be seen in her (small) front yard. She lives within a tract of land first developed in the early 1970s and a close part of the Pennypack Creek watershed. Even though there are side-by-side twin homes and twin duplexes comprising my mothers immediate neighborhood, one is still able to see small herds of deer literally on someone else's lawn, especially late at night in the summer, but also at dusk sometimes. In the summer (and the other night!) deer eat my mother's and her neighbor's many flowers during the night.


2002.08.11 13:23
I designed a fence for my father, but he built that, and it is now very much decaying in my mother's backyard next to the garden shed that my father designed and built himself (he was a carpenter in post WWII Germany for four years).


2002.08.13 19:42
And yes I'd love to buy the house myself, but right now I can barely handle one house, plus my mother's house, plus her rental property that we'll be unloading the end of this month (thank God!).


2002.10.29 09:49
Re: Traffic Design
In describing what is now a somewhat ubiquitous housing type in the USA, B wrote, "not like townhouses with the 1st floor dedicated to parking, and housing above." My mother lives in such a model of early 1970s vintage, and most of Northeast Philadelphia is of like ilk. I too have seen this paradigm as more regrettable than not, yet at the same time I realize that my mother's house is oddly related to Le Corbusier's Villa Savoye, though without the pilotis, ramp and roof garden. The genealogy goes like this. First there is Savoye and Le Corbusier's housing project at Pessac. Savoye over the years decays but is rescued and restored as museum piece, all the while being an icon in print. Pessac is rather quickly transformed from Purist manifestation into what is essentially ur-postmodern design by its individual inhabitants. The house my mother lives in is then post ur-postmodern Pessac (but because it is part of a twin rather than part of a row, it still harbors buried evocations of Savoye).
The (row) house I live in, built in 1938, is (I believe just still) within the first generation of US housing to incorporate a garage. Here, all the designated parking happens in the back at ground level via a communal driveway, which in reality a semi-private/semi-public street. From the back my house shows three stories, yet from the front the houses were made to look like two story dwelling via bermed lawns.
I sometimes wonder what Northeast Philadelphia would be like if its housing had more closely followed the design of Savoye and Purist Pessac. (Incidentally, Stonorov and Kahn's Pennypack Woods housing, certainly among the first planned housing communities of Far Northeast Philadelphia, has a strong affinity with Pessac, kind of a combination of both Pessac's Purist and post-Purist manifestations.)
2003.06.05 15:18
Then again, I did tear out a quondam termite infested baseboard in my mother's basement on Tuesday.


2004.01.14 14:09
Somewhere in my house or my mother's house there is a small 'viewmaster' type souvenir in the shape of a television set which contains view of Altötting.


2004.12.25 11:48
Prince of Traffic ($10,000) better than a Fuzzbuster, then The Expeditious Expedition Through Beuys Haus($15,000) for that long wall at my mother's house.


2005.05.23 15:04
The very generic Northeast Philadelphia 1975 twin across from my mother's in Fox Chase just sold for over 200,000.


2006.02.06 18:28
Thesis Semester [blog] 25 years ago
Because of Roma Interrotta and related genius loci issues, I've been doing a lot of reading/research, and thus I now know that when I look out my mother's living room windows I'm looking at the site where the oldest house in Pennsylvania once stood.
URY HOUSE -- Originally a fort, and once the oldest house in Pennsylvania was located at 8403 Pine Road. Ury House was reputed to have been built by Swedish refugees who sailed up the Delaware River and Pennypack Creek, circa 1645. [William Penn did not arrive and found Philadelphia until 1682.]
Ury House was demolished in 1973.
My parents moved to what was part of the Ury House estate in 1981, and thus I only have earlier vague memories of an old house on Pine Road, and until yesterday I had completely forgotten that there even once was a house at 8405 Pine Road.


2006.02.07 12:09
Thesis Semester [blog] 25 years ago
I'm still in kind of in shock over the fact that my mother owns a piece of one of the oldest white man settlements of Pennsylvania...
Nowadays, on a typical Saturday evening, I leave my home in a 17th century Lenni-Lenape camp and head toward a 17th century Swedish fort for dinner. For most of the way I follow the path of Tacony Creek and then one of its tributaries until I reach the ancient trail that is now Oxford Avenue, and then go a little further on Pine Road until I reach the fort. After dinner, I take my brother for a ride, part of which takes us through Bryn Athyn whose 'center', the Academy of the New Church, is what I call "a little Land of Reenactment"--Mitchill/Giurgola Architects designed the Campus Plan, and the Administration Building and Men's Dormitory in 1962-63.
This part weekend it was my thinking about the position of the Academy of the New Church Administration Building along Huntingdon Pike, which is the northern extension of Oxford Avenue, that got me to read Fox Chase: 300 Years of History on Sunday night. Saturday morning I was reading some of Chistian Norberg-Schulz's "The Genius Loci of Rome" in Architectural Design Profiles 20: Roma Interrotta.
My parents moved to Fox Chase mid-May 1981, a couple of weeks after my thesis jury. I never particularly liked where my parents moved because of the undeniable bland design of the 1970s housing development. Now, suddenly, there is even a reason for me to consider becoming a real architect again.
2006.06.18 14:13
Urban Voids Grand Winner
It's funny, I though about C. yesterday as I was silver coating the roof of my mother's (built by my father) garden shed.


2006.12.29 13:17
...I found out this morning that I now live on "the hill crest of the divide between the Pennypack and the Tacony Creek waters," and where I'm sitting now was in 1763 "an immense peach-orchard, with cows feeding up to the very doors of the [quondam 1645 Swedish fort turned] house." No cows here right now, but I can go see grazing cows anytime at the farm just over the crest and down the in valley.


2007.02.09 22:19
I found out yesterday that, on 17 August 1824, the man who "founded the nation's first public museum" visited and sketched "Miers Fisher's House." I doubt the "rambling" 83 year old suspected that one day in the far off future that the first virtual museum of architecture online would eventually emanate from the same place.
But I'm still looking for the drawing of "The Seat of Miers Fisher" exhibited by Benjamin Henry Latrobe in 1812.


2007.03.13 14:35
...and speaking of random tangents
wild turkey sighting; 2007.03.13 12:45; Ury
driving around the block on the way to market...
"Look, there's a big bird walking across the road. Is that a turkey?"
The bird is walking very slow. Is it wounded? We slowly drive by a few feet away.
"I think it's very old."
"It's probably just going back into the woods."
Within the various biographies of John James Audubon you'll find ongoing discrepancies regarding his whereabouts during his first several months in the United States. The discrepancies stem mostly from the biographers not knowing where Ury actually was.
For the record, Audubon arrived from France at New York City sometime August 1803. The first thing he did was go to a bank in Greenwich [Village] where Audubon's father had money waiting for his son. Within a day or two Audubon became very ill. The ship's captain had Audubon taken care of by two Quaker women at Morristown, New Jersey (25 miles west of New York City). Miers Fisher, the agent of Audubon's father, went to collect the young Audubon once he was well again and brought him back to Ury. Audubon stayed at Ury perhaps as much as a few months, but then insisted he be taken to Mill Grove, his father's farm not far from Norristown, Pennsylvania.
And from there on Audubon's life is like one seemingly random tangent after another.
Back to France, back to Mill Grove, Pittsburgh, PA, raft down the Ohio River, Louisville, KY, Henderson, KY, then somewhere along the Mississippi where the Ohio River enters, then down to New Orleans, then north on the Mississippi again, then back to New Orleans, then back to Philadelphia, then back to New York, then Liverpool, England, then Manchester, then London...(this is where I stopped reading one of the biographies, and I may have messed up a little on the sequence of places). And this was just the first 15 years or so since Audubon first came to the US.
I hope that wild turkey made it safely back into the woods. Are wild turkeys among the Birds of America?
2007.03.13 15:09
...and speaking of random tangents
I have no idea what a wild turkey was doing walking through my neighborhood today. I've gotten used to the small Canadian geese formations often flying overhead (several families of geese live year round just down valley at Pennypack Creek), but I've never seen a wild turkey walking in Philadelphia. The turkey did look sad, and probably hurt, but what could I do? I only hope it made it across Pine Road and into the woods.
Maybe John James Audubon is now a female turkey and came back to Ury for a random visit. Maybe they'll all start coming back.


2007.03.25 15:02
...and speaking of random tangents
1812 March 25 Wednesday
"...dined at my brother's, left town at 5 & got home at Dusk. Heard the Spring Hymn of the frogs, first time."
2007
Cheesecake just went in the oven.


2007.03.28 13:05
...and speaking of random tangents
10:43 EST Some sort of hawk or eagle gliding over Quondam Ury.
Remember to look for any references to John James Audubon in Miers Fisher's 1804 journal.
Finished digitizing a 1839 map of what is now Northeast Philadelphia. There are more 'Indian' trails around here than I prevously thought, and I hadn't realized before that Indian trail-Oxford Ave is a fairly consistant exact north-south trajectory. And Cottman Ave. and Castor Ave. correspond directly to lines on the 1687 map of Pennsylvania--their orthagonal intersection even makes a kind of cardo and decumanus. There's an aerial view of Cottman and Castor in Harvard Design School Guide to Shopping, p. 780 toward the upper left, Bustleton Avenue along the botton of the page is an old Indian trail.
Once you study them, you find that the "Indian" trails within Philadelphia are not random tangents at all. Certainly not as random as the lines on the 1687 map of Pennsylvania. (Cottman Ave. is the parallel line to the left of the planned Susquehanna Road.)


2007.05.09 20:41
"I see sham pane, but no glasses"
As I walked through the living room, I saw that WAY OF LIFE was the final phrase on Wheel of Fortune. "Do you know how to say way of life in German?" "No, not really." "Lauf der Leben." "Ach, nah sure." Laughter.
Rita Novel, I See Sham Pane, But No Glasses (www: Quondam, 2007).
2007.05.10 23:55
"I see sham pane, but no glasses"
A month ago I spent most of the day within the archive of the Medical Mission Sisters, going through their material on Ury House. The Medical Mission Sisters were the last owners/residents of Ury House, and indeed Sister Jane and Sister Carmine, who now work in the archive, both lived in Ury as novices. Sister Jane is now a retired MD who worked in various parts of Africa, Uganda (under Amin) and the Gold Coast. Sister Carmine was a nurse in various parts of India, and she obviously misses her work now.
There is a distinct architecture to the mission of the Medical Mission Sisters, and at its core is the issue of health issues intwined with women's rights. As I traced the contours of what was once Mier's Fisher's farm, and crop fields that Sister Carmine remembers working herself, Sister Jane related the history of their Order. Apparently Vatican II brought much hopefulness for missions dealing with health issues and women's rights, but that didn't last. I think Sister Jane was genuinely surprised I knew about (the mission of) Melania the Younger, and my mention of Church Fathers, Independent Virgins definitely raised her eyebrows.
I'd like to go back and hear more, but I don't know if I ever will.


2013.11.03 10:37
Sense of Scale and the Digital Age of Architecture 3400f


2014.01.19 14:05
19 January
If you read any of the biographies of John James Audubon, you can tell that the biographers really have no idea of where Miers Fisher's villa actually was, which is a little unfortunate, because a greater portion of the natural surroundings of the 'villa' have not changed much at all since Audubon was here, thus offering a real glimpse of the American landscape that Audubon first came into real contact with. And speaking of glimpses, if I looked out my living room window and was able to look back in time exactly 210 years ago, chances are that I would see John James Audubon himself.


"Places do indeed have spirit, they are embued with the activities that have taken place there."
2014.03.06 21:56
The Problem With Architecture Today (and the Solution)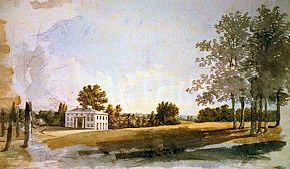 Imagine that, the Architect of the U.S. Capitol unwittingly painting a watercolor of the place from which the first virtual museum of architecture eminates. And may the spirit of John James Audubon be with you. Amen.