1952-53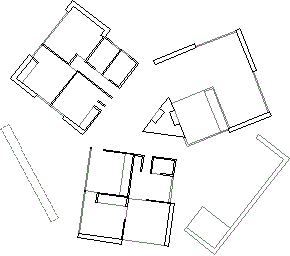 Louis I. Kahn Fruchter House 217j


1957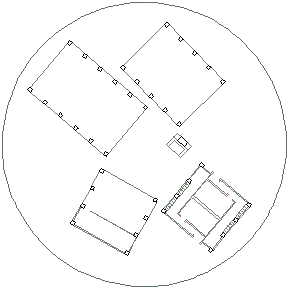 Louis I. Kahn Trenton Jewish Community Center Day Camp 217g


1960-67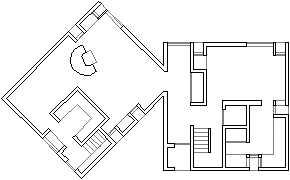 Louis I. Kahn Fisher House 2187



1965-68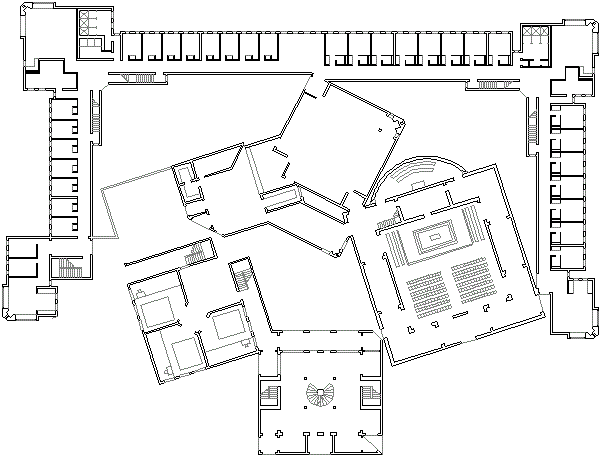 Louis I. Kahn Dominican Motherhouse of the Sisters of St. Catherine de Ricci 2206


1967
Daniel Libeskind Collage Rebus Education of an Architect I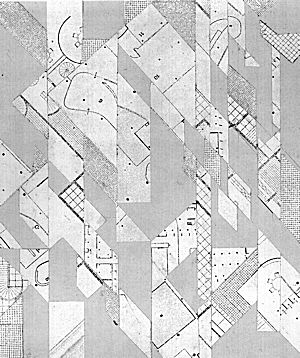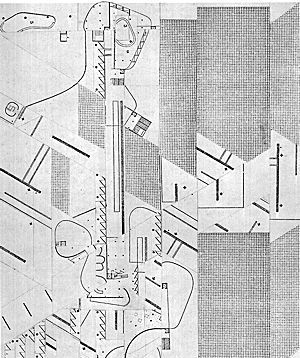 The pedagogical methods of John Hejduk, Ulrich Franzen and Robert Slutzky at the Cooper Union School of Architecture in the 1960's was crucial for Daniel Libeskind's linguistic development while still a student. Undergraduates were given a series of exercises on "the visual discoveries of Cubism and Neo-plasticism" and, among some very constrained assignments, one asked to design a building "in the intention of Juan Gris". The overlapping of visual art and architecture was explored by means of collage works aimed to explore space and form and "to demonstrate the concept of pure plastic composition".
Collage became a central method of research for a young Libeskind, who dedicated his thesis project (published in Education of an Architect--Cooper Union 1964-1971, Rizzoli Press and shown at MoMA in 1971) to this very theme. A series of drawings called Collage Rebus were based on the deconstruction of architectural plans and the consequent creation of three-dimensional, axonometric drawings based on the plans' recomposition, in a similar vein to Bernard Hoesli's method as a teacher at the University of Texas.
Orthogonal or 30° rotated grids provided the framework for the recreation of complex geometries while the translation to axonometry offered a tool to explore formal relationship and spatial ambiguity as opposed to the pretended objectivity intrinsic in the axonometric representation. In his writings for Micromegas and Collage Rebus, the architect explains that no hierarchical order and no physical layering is present in his collage drawings. In fact, a sense of blending and confusion permeates the result, as no element is on top of another and is thus impossible to understand where the piece begins and ends.
1971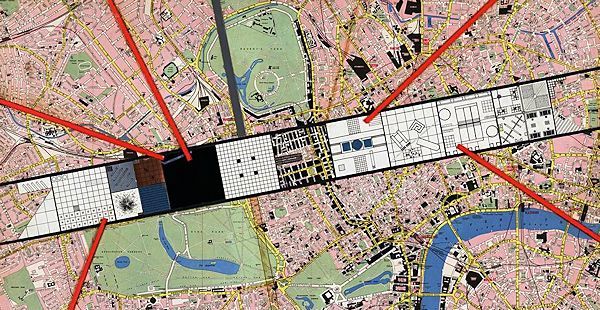 Koolhaas and Zenghelis Exodus, or the Voluntary Prisoners of Architecture



1976

Aldo Rossi et al La Cittą Analoga Lotus International 13


Having been asked to write about the panel exhibited at the Venice Biennale--entitled The analogous city, a joint work carried out with my friends Eraldo Consolascio, Bruno Reichlin and Fabio Reinhart--it is worthwhile, I feel, posing a few general questions that arise prior to experiments or results of this kind.
I do this not so much for criticism or the critics, whose freedom is irreplaceable both in the exploration and in the comprehension of things and, as unfortunately occurs especially in the Italian tradition, with pleasantly D' Annunzian verbal exercises, but rather for the sake of explaining a certain type of progressive culture which raises concrete problems in which I still believe.
Now, the answer contained in the theme of the analogous city, in a broader way, of course, than can be expressed in the panel, concerns the relation between reality and imagination. And I should like to set forth a number of comments on this subject.

The last few years have witnessed various different proposals concerning the city and in particular the historic centre. Due to an objective situation these recommendations, which are at times completed works or projects or programmes, belong for the most part to government officials or economists or politicians on the one hand and to town councilor state officers (Council for Public Monuments) on the other.
All things considered this is not a bad thing. The fact that architects, engineers and surveyors, the true...
1976

Leon Krier Urban Components 2230


The zoning of modern cities has resulted in the random distribution of both public and private buildings. The artificiality and wastefulness of zoning has destroyed our cities.
Leon Krier, "Leon Krier - Houses, Palaces, Cities," Architectural Design, vol. 54, no. 7-8, 1979.

Although inauspicious, Krier's sketch, nonetheless, inadvertently provides what is essentially a rare pictorial interpretation of the real condition prevalent in today's built environment. Thus, when looked at in a slightly positive light, and without much further use of the imagination, Krier's simple sketch readily becomes what may best be described as a virtual museum of desultory late-twentieth-century architecture.
Stephen Lauf, Precedent XI (Quondam: seeking precedents... ...finding inspiration exhibit, 1997.03.20).