2000.11.23
Domestic or QE: Domestic
...collect domestic Mies material... ...become an expert on his house plans and the "collage" perspectivism.


2000.12.10
idea
Palais des Congrès scale changed into mega hotel proportions plus collaged with other Le Corbusier models (that are scale distorted as well).


2001.01.30
Hyper Architecturism
Hyper Architecturism documents all the ideas and manifestations of CAD play, especially the mesh surfaces and extruded rotations. Of course, the play will include model manipulation and collage/collision.
The concept of "hyper architecturism" also applies to Piranesi's Campo Marzio... ...generate a new Ichnographia Quondam...


2001.05.16
Virtual Domain 001 002 003 004 005
2002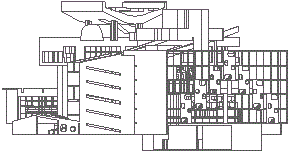 Palace of Knowledge 2339


2004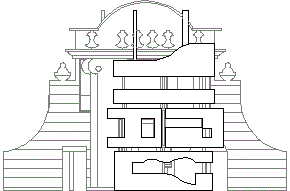 Good-Bye House 2345



2004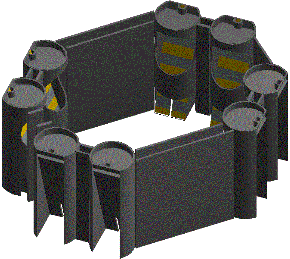 Mikveh PMP 2346

2004.01.24 09:47
Re: Fw: The New ICA. ICA Unveils Diller + Scofidio's Dramatic Museum Design
My thesis project (Temple University Architecture Program 1981) was a new building for the Philadelphia Institute of Contemporary Art. It took up most of the block on the south side of Rittenhouse Square (Street) between 17th and 18th Streets, just behind the Philadelphia Art Alliance (where Anne Tyng once lectured to an audience of five people (including me) circa 1980). The ICA building's design comprised a collage of various building types, inspired by Kahn's Convent for the Dominican Sisters and Stirling's Science Center in Berlin, in the flavor of a virtual museum of architecture you could say.


2004.09.20 13:47
reading MOBILE
"Considered by many to be his greatest book, Michel Butor's Mobile [first published in 1962] is the result of the six months the author spent traveling across America. The text is composed from a wide range of materials, including city names, road signs, advertising slogans, catalog listings, newspaper accounts of the 1893 World's Fair, Native American writings, and the history of the "Freedomland" theme park. Butor weaves bits and pieces from these diverse sources into a collage resembling an abstract paining (the book is dedicated to Jackson Pollack) or a patchwork quilt that by turns is both humorous and quite disturbing. This "travelogue" captures--in both a textual and visual way--the energy and contradictions of American life and history."
"A gifted disciple of French anti-novelist Alain Robbe-Grillet, Butor is notable because he uses a different technique with every book and turns out intense and interesting fiction just the same."--Time
"Mobile is not only a memorable experience, accomplishing that rich task of all true art--providing the reader with new eyes--but it is also work which fellow writers and artists can profit from because it supplies the best of all ingredients: stimulation."--New York Herald Tribune
"With a lexicographer's zest for words, Butor . . . captures the tone of American clichés, suggests an almost dizzying sense of space and variety, and brings into ironic juxtaposition elements of primitiveness and sophistication that are part of the American myth."--New York Times


2004.11.12 18:11
Re: Movement in Architecture. Architect Bernard Tschumi
The photo collages of Gordon Matta-Clark are an earlier precedent.


2004.12.19
Leaving Obscurity Behind ideas
5. develop Girard College/Collage [Girard Collage] re: quondam, (ancient) temple architecture.


2004.12.26 12:20
Re: cityscape collage
More cityscape collage, Romaphila.
It started more than eight years ago when it was realized that Hadrian's Tomb and Logan Circle share the same circular footprint. Then, about two years ago, it was realized that ancient Rome's axis of life, as delineated by Piranesi, and the Benjamin Franklin Parkway share the same length and design articulation, with again Hadrian's Tomb and Logan Circle being the key register.
Now delineation of the 'bilocalopolis' begins. The Tiber and the Schuylkill flow through the cityscape. Augustine's tomb and City Hall have their similarities. Rome's Corso is now the same as Broad Street, the longest cardo in the world. X marks the spot of the first Gothic camp outside the walls of Rome and the no-man's land of the Vine Street Expressway interchanges.
2005


Dominican Fortress 2356


2005


Mosque Q 2358


2005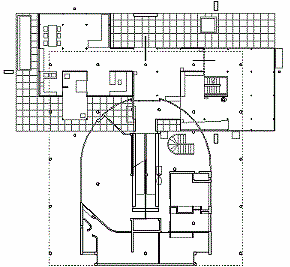 Sober House 2 2359