2006.05.28 12:28
bibliopolum
Ludwig's dissertation on reenactment
Trumbauer Architecture Tours
Nudist Camp at the Philadelphia Musuem of Art
"a moldy paper on mildew"
The King pf Prussia Marble Trail
De Spectaculis II
The Marriage of Twisted and Column
Here a Versailles, There a Versailles, Everywhere a Versailles, Sigh
The Promenade Architecturale Formula
The History of Terrorism in Film
Pilgrimage, Reenactment and Tourism
A Quondam Lenni Lenape Land
Learning from Lacunae
Creating One's Own Virtual Museum of Architecture
Ichnographia Romaphilia
The Bilocating Barnes Foundaton
An Architecture of Removement
How Did This Happen Revisited
2007.07.30 19:16
Necessary architecture books
worth holding your breath for....
Towards a Squeezed-Out Architecture
Heavy Volume Everywhere
The Architect Came Twice (in foreign tongue)
One Size Fits All


2007.07.30 22:20
Necessary architecture books
a must for all clients:
Does Your Architect Wear Boxers or Blobs?


2007.08.04 17:32
Koolhaas & Eisenman Discuss "Urgency" at the CCA
I thought the point was Archaeologies of the Future.
'Opaque' perhaps, but never without clues. The way I see it Koolhaas's architecture becomes him while Eisenman becomes his architecture. [Vanbrugh is at the top of the list if that helps.]
"Pejorativity" is an important chapter in The Irrelevancy Style of Architecture.
My tendencies are more coincidental than anything else.


2007.08.08 12:03
spreading like a virus...(discuss)
[googled "redesigning newness" and received no results]
Redesigning Newness: Architecture's Search for an Answer to Sprawl


2007.10.17 18:18
The Vanity Press
The Journal of Artificial Parameters constantly asks for my work, and I keep telling them I prefer the work remain virtual.


2008.03.19 12:39
Eisenman vs Zumthor theoretical approach
Wow, Kejduh's "The Imagination of Embryonic Development" flies better than time!
Yeah, that and Le Deuzzy's "Shoaling".


2008.07.29 08:40
I smell a Vorläufer
Ven Izsent, Architecture Exaggerated (Hypopolis: Universe of Overstate Press, +/- the future).
"It's like architecture as gaseous giant. And Izsent is a prick."
--The New Diminishing Globe


2008.09.05 08:43
MVRDV masterplan in Tirana
It's not geo-mimicry, it's jury-mimicry!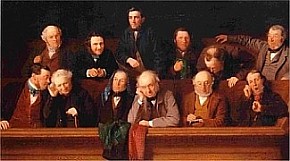 "Hey, let's design a reenactment of this painting."
"Yeah, we'll do it like abstractly, and when other architects see the scheme they'll start reenacting a design jury."
"Brilliant!"
--excerpt from "Scalping Double Theater Tickets" in The Further Adventures of the Broke Baroque Style.
2008.09.05 09:53
MVRDV masterplan in Tirana
"In September 2001, while seeing a display of quartz crystals (each labeled as to its geographic origin) compiled over 100 years ago, I thought it would be cool if the buildings of any global location started to match the formations of the local quartz. It was after seeing Harz Mountain quartz that the idea crystalized."
2004.10.05 14:54
--excerpt from "Ur-Geo-Mimicry" in Architektur von Vorläufer


2008.09.11 07:50
the concept of surface
or
Tad Hertz, Coming Apart at the Seamless: dissecting architectural superficiality, 2008.09.11.


2008.09.24 14:34
How can a building be 'critical'?
Stephen Lauf, Architecture in Critical Condition (Quondam, 2008).
from the series:
Architecture in Undetermined Condition
Patient is awaiting physician and/or assessment.
Architecture in Good Condition
Vital signs are stable and within normal limits. Patient is conscious and comfortable. Indicators are excellent.
Architecture in Fair Condition
Vital signs are stable and within normal limits. Patient is conscious, but may be uncomfortable. Indicators are favorable.
Architecture in Serious Condition
Vital signs may be unstable and not within normal limits. Patient is acutely ill. Indicators are questionable.
Architecture in Critical Condition
Vital signs are unstable and not within normal limits. Patient may be unconscious. Indicators are unfavorable.


2008.09.28 13:05
How can a building be 'critical'?
[sic]
To ERr with SuperGlue
Bilocation Syndrome
Going into Eclectic Shock/Therapy
Surgical Double Theater
Waiting Room: Anxious, Reading, Liszt
Operation a Success; Patient Dead
Malpractice Case: Houses
Eternal Wrest
chapters of Architecture in Critical Condition


2008.10.19
chapters of AinCC
1. [sic]
2. To ERr with SuperGlue(TM)
3. Bilocation Syndrome
4. Going into Eclectic Shock
5. Surgical Double Theater
6. Waiting Room: Anxious, Reading, Liszt
7. Operation a Sucess; Patient Dead
8. Malpractice Case: House
9. Eternal Wrest
For [sic] I can collect all the various mistakes I've found over the years, starting with Immacualte Conception. It would be possible to limit the chapter to this material. I'll know better once the bulk of the material has been collected.
To ERr w/SG could be the whole Eisenman as Piranesi expose and an unraveling (somewhat) of Tafuri's interpretation (of the Campo Marzio). The missing notion of reenactment within "dans le boudoir" could happen here.
Bilocation Syndrom could be all about IQ and how it operates. Perhaps including thoughts on virtual and real and how there can be two places where things occur (simultaneously?).
My thoughts for Eclectic Shock were all about the recombinant architectures stuff. I suppose that's the point, but I'd like good shock to be involved as well.
Right now I have no idea what "surgical double theater" is really about. I suppose I could go through TX2 and TX2, too for further ideas and hope that that's enough. The surgical aspect may occur in cutting the various double theaters open and thus finding new meaning, inspiration, modus operandi, etc. I could take all the sic items and operate on them, but not ultimately be able to fix it all.
"Waiting Room: Anxious, Reading, Liszt" could have something to do with copyright-free texts and altered texts and lots, lots of them--the wordiest chapter of the book that doesn't really have to mean anything. (At this point I got Encyclopedia Britannica to read about Liszt.)
2008.10.20
AinCC, continued
Another possibility for "Waiting Room" is to tackle the Working Title Museum.
Now, what is "Operation a Sucess; Patient Dead" going to be about? I have no idea right now. Is it a joke like the expression of the chapter title itself? Is it a paradox? How is architecture (today) a paradox? Does it have to do with really being metabolic? Being creative/destructive? That would certainly be a fine lead, and I'll have to go over my metabolic material and maybe just formalize it all.
"Malpractice Case: Houses" is all about my zany domestic architecture designs and how they got to be that way.
"Eternal Wrest" will have to do with reenacting with a twist as a constant generator of originality.


2008.10.25 11:20
front-line ideas + regional tradition = potential for a design culture of thinking/making?
"Eternal Wrest" is mostly about "reenactment with a twist".


2008.11.22 15:15
watching old architects talk to each other
"Architects, for the most part, are not particularly convincing (especially viewed amongst themselves)."
excerpt from "Operation a Success, Patient Dead"


2009.11.20 11:50
The Great Books (of Architecture)
The Decline of the Whiskey Empire
Eutropian Theories
Voodoo Valley, 19120
buildings that move(d)
Apostate Architecture
Kissing That Reality Good-bye
The Last Great Pagan Architecture of Rome
Uninhibited Habitations
Architecture of the Divided States of America
Appositional Architecture
Rita Novel This Sontag


2013.06.16 10:21
Pritzker jury will not revisit decision to exclude Denise Scott Brown
Perhaps the collaborative work of Robert Venturi and Denise Scott Brown embodies "the obligation toward the difficult whole" indeed.
The last chapter of Complexity and Contradiction in Architecture is "The Obligation Toward the Difficult Whole," and it at the very end of that chapter where the tone suddenly changes. [In a conversation I had with Mark Wigley late November 1999, Mark was convinced that Scott Brown was very much responsible for the sudden change of tone in the last chapter of Complexity and Contradiction, saying there was even evidence of this within the Complexity and Contradiction manuscripts in the MoMA archives.] The Museum of Modern Art published Complexity and Contradiction in Architecture in 1966, but actual distribution did not occur until March 1967. Venturi and Scott Brown marry 23 July 1967.
Scott Brown collaborates with the then brand new firm Venturi and Rauch on the Monumental Fountain on the Benj. Franklin Parkway Competition in 1964. "...I thought about Scott Brown's first association with Venturi and Rauch, the competition for a Monumental Fountain on the Benjamin Franklin Parkway (1964).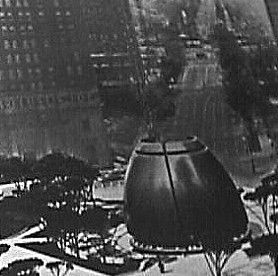 Here we have an enormous egg, cracked open by a very long diagonal(!) axis with a giant jet-stream gushing inside." This project also exhibits a sudden change in design tone (for better or worse, I'm not really sure).
Read "The Bicentennial Commemoration 1976," a rare collaborative text where Scott Brown's name precedes Venturi's. I seriously wonder whether it is actually all Scott Brown.
[note to self: This is starting to remind me of Duboy's Lequeu: An Architectural Enigma meets schizophrenia + architectures, like Learning Contradiction from a Complex Who Done It.]
Perhaps A View from the Campidoglio: Selected Essays 1953-1984 could just as easily be entitled Renewing Vows: still obliged toward the difficult whole.
2013.07.18 18:20
18 July
I understand you are staying at the new hotel. La Bataille. How do you find it?
Very pleasant. In a bit of turmoil because they are in the process of opening a casino. The man in charge of the casino is called Shelley Keats. I thought it was a joke at first, but that really happens to be his name.
Marcel Proust works at Le Foulard, that fine little seafood restaurant in Scheolcher, the fishing village.
Semiquincentennial: an almost novel architectonics
Miers Fisher Jr. and Helen Gregoroffsky reunited


2013.12.20 18:55
20 December
This year's late Autumn is very different than last year's late Autumn--I've already had to shovel snow four times in the last two weeks. Despite the warmer temperatures, yesterday's and today's walk in the woods was still amidst a white blanket of snow--quite nice, actually. Saw a lone fawn yesterday, in the woods adjacent the cow pasture high point, the third time I'd seen it there since the controlled hunt on 4 November. I get a strong feeling that that's where the fawn last saw its mother alive. It's interesting how this animal's mind registers the spot of last sighting to then be, by default kind of, the spot of possible further sighting. A sadly innocent point of view, or is that exactly how hope operates?
Read this while having a late lunch: "Have you ever stopped to wonder anything about what you see there [ArchDaily] or on Archinect or Dezeen or ArchNewsNow or whatever blog or newsfeed you tune into (or tunes into you) every morning?" Figure out for yourself who wrote that in the book UPS delivered here today. I have to return/exchange one of the other books I received today; Project of Crisis is missing pages 123 through 154. Amazon is express shipping a new copy tomorrow. Such modern times we live in, or is it such Christmas (shopping) times we live in?
Reading over the last week and a half has been very Tafuri centric. So far finished Architecture and Utopia, "Ashes of Jefferson," (I think I'm going to read the chapters of The Sphere and the Labyrinth in reverse order) "The Boudoir in The Expanded Field," and "Manfredo Tafuri, or, Humanism Revisited." Last night I started to re-read Theory and History of Architecture. I'm reading the texts to learn/study the structure of Tafuri's history/theories, with particular focus on how Tafuri fit's Piranesi's Campo Marzio Ichnographia into his history. As I wrote a week ago, "Also, I'm currently re-reading Tafuri's Architecture and Utopia, and I have a heightened awareness of the avant-garde architectural lineage that Tafuri sees the Ichnographia Campus Martius as the protogenitor of. I think it's now possible, however, to 'fabricate' a whole other avant-garde architectural lineage once one understands what the Ichnographia Campus Martius is really all about."
At this point I'm still reading, but I'm also beginning to formulate "a whole other avant-garde architectural lineage." It's rather inspiring to even imagine a whole other architectural history of the last 250 years. Aha, working title: Architecture post Semiquincentennial.