2000.09.09
Unthinking an Architecture [book]
...Unthinking an Architecture [book] . . . the act of unthinking architecture allows . . . [a] free, spontaneous, and facile . . . modus operandi . . . utilize all the resources . . . as freely as possible.

...scale-rotate manipulation of the model collection . . . (the title could be Arbitrarily Unthinking an Architecture.) ...extrude portions of building plans that have been arbitrarily moved around in 3d.

An architectural Ulysses?

2000.09.09
Unthinking an Architecture [book]
Today I began scanning the collage parts of Hey Art..., and after over an hour, I found out that the images are much more clear on the screen if they are enlarged while scanning. This then made me realize that it would not be reasonable to publish Hey Art..., with the collage areas equal to the large screen size. I also experimented with stored pattern infills of the white areas of the collages, and it was incredible how quickly a very provocative image could be generated. All the above is a prelude to what I now want to do in terms of creating an incredible publication on architecture.
The title of the project is Unthinking an Architecture [book], and I believe (and hope) the act of unthinking architecture allows me to be free, spontaneous, and facile. I will continue the large background and floating iframe motif, but I will make no attempt at coherence in terms of subject matter or composition or message. The modus operandi will be the utilization of all resources at my disposal, and use them as freely as possible. For example, incorporation of all the various book ideas; Unthinking can be an undoing (doing) of all the architecture book ideas had or started. This idea gives Unthinking a "book" theme and allows an "un-execution" of the books that will otherwise never reach manifestation.
A lot of the imagery will derive from scale-rotate manipulation of the model collection--exploit the data the way I always wanted to. Just now wondering if the title could be Arbitrarily Unthinking an Architecture [book]? Furthermore, generate new forms by continuing the experimentation with rotate extrusions, e.g., extrude portions of building plans that have been arbitrarily moved around in 3d. Additionally, begin scanning more images at enlarged scale. (I read all of File Under Architecture tonight.) There are all kinds of ways to generate images, and exploit those images already available.
Figure out and finalize a file directory-index system. ...using 6 digits for the page file names, e.g., 000100.htm contains 000101.htm and 000102.htm... ... for ease of file creation and keeping of chronological order, but how to design the reader's navigation? Is there to be a mammoth table of contents that is always just a click away? Perhaps a navigation bar along the bottom or a floating frame with navigation links.
Create a memorable and influential "book" on architecture. Its novelty and originality to be the most obvious, and do that fairly easily via images and note texts, but not sure if there will be any well written meaningful texts. There is also the option of using altered texts, altered via word changes, and/or auto translation. "Invade" the references in arch-text-z and alter the texts. Perhaps fill the document with so much text that it really won't make any difference. An architectural Ulysses?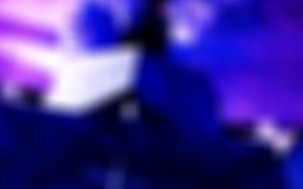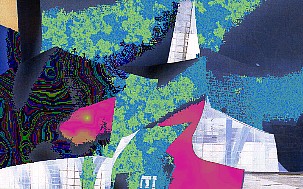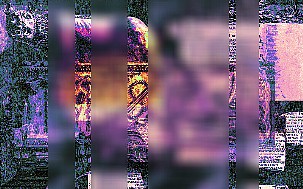 2000.09.10
some progress, but no definites
...a lot of work with scanning experimentation (i.e., enlarging images via scanning) and also image manipulation, and ultimately java slide manifestations. It was all very productive, and much data was generated. After the scanning, etc., worked on an iframe title page for Unthinking [actually Quondam Frameworks], and ultimately achieved a satisfactory result. ...rethink (or is it unthink?) the current publishing objectives.
...concentrate on what Unthinking could be. ...saw a lot of new visuals today with the slide shows... ...next step is to use captured images from the cad collection and experiment with various architectural slide shows. The biggest challenge is to figure out what "unthinking an architecture" means exactly. Instinctually, it means not thinking about architecture the way it is normally thought about, or to not design the way one normally designs. There is a propensity for collaging, because that is easy to do, but does collaging buildings constitute a process of unthinking? The answer is "not exactly," but if collage is mixed with cad manipulations, such as scaling, rotating, and extruding, then there might be a process of unthinking evolving. Furthermore, there is the exercise of recombining building parts to create completely new buildings into whole new buildings.
...already demonstrated some unthinking architecture processes (mostly in schizophrenia + architectures): infringement complex, the Otto houses, the Schizophrenic Folds plans. ..."designing" a neighborhood (suburban) comprised of all the domestic architecture in the collection. ...creating various museum designs by simply combining (and recombining) the plans and models in the collection. ...designing all in a way that things shouldn't be designed. ...rely on all the crazy design ideas had over the years. ...begin to utilize and manipulate all the available data, then see an enormous amount of completely new designs.
...record everything done via image captures, and generate a generic htm record of each image. ...by beginning to combine various databases... ...quickly see how easy it is to generate new designs.
It appears that Unthinking is primarily an image book, ...substantial texts come from the collection of letters and Body Imagination Architectures notes, and these don't have to relate directly with the design projects (much like MOVE and SMLXL).

2000.09.11
@ Quondam
...create many (crazy) model databases while working on Unthinking an Architecture...
... Piranesi images over large color scan images... ... create contemporary compositions using all the different Piranesi imagery.


2000.09.11
projects
Unthinking an Architecture
Develop an essay on unthinking an architecture revolving around the notion of what can an unarchitecture be that a real architecture can not be? Does this work only with a virtual architecture or an architecture in cyberspace?
What happens when the connection between form and function is simply rendered unnecessary or even non-existent? What happens when architecture has no cause and/or effect?
Rather than architecture being a design solution to a problem, is a problem of the solution design an architecture? (Or something like that line of questioning.)
...within the "designs" or should I say "problems" of UaA.
...begin model collisions.


2000.09.13
UaA: further development
...a design solution that allows quick and easy execution of ideas... ...found inspiration while looking through MOVE one more time. ...fulfillment of the REMOVE book ideas. The theme of "remove" relates directly to the slapdash art and architecture of the 1980s.
"Remove" relates to "unthinking" as well, and thus envisioning REMOVE as volume one of UaA.
What are the titles of subsequent UaA volumes? "Lacunae" and "Nimiety". Where "Remove" deals with the 1980s and issues of "new dexterity" among scribbles, as well as recombinant "theory," "Lacunae" deals with all the "not there" issues, which include Quondam's collection and the already established outline for Learning from Lacunae. "Nimiety" deals primarily with reenactment as the conclusion to mimesis and simulacra; reenactment also expands to include the "abundance of redundance" (as a counterpoint essay)?
"Chronosomatics" to be the fourth volume... ...present Body Imagination Architectures.
It might be appropriate to add a fifth volume on Piranesi... ..."Quondam Piranesi." A Piranesi volume of UaA entitled "Sagacity."


2000.09.13
ideas
UaA... ...begin with an outline of what notes pertain to what volume. Go through all my material, i.e., photographs, notes, letters, web pages, sketches, drawings, photocopies, artwork, poetry, V80s, books, yellow trace and drawings, flatfiles, magazines. UaA will comprise all activities from the last 20 years. Manipulate or change anything, especially if it makes for a better presentation or narrative. Architecture design and theory, will always be present. The future is to be present--"The Present Future"--a motif to always bear in mind as a guiding principle... ...the notion of "illustrating" the future.
2000.09.09
Unthinking an Architecture
experimented with stored pattern infills of the white areas of the collages . . . incredible how quickly a very provocative image could be generated . . . a prelude to creating an incredible publication on architecture . . . the large background and floating iframe motif . . . no attempt at coherence in terms of subject matter or composition or message . . . the utilization of all resources at my disposal, and use them as freely as possible . . . Unthinking as an undoing (doing) of all the architecture book ideas . . . imagery derived from scale-rotate manipulation of the model collection . . . the option of using altered texts . . . an architectural Ulysses?

2000.09.10
some progress, but no definites
scanning experimentation . . . image manipulation . . . slide manifestations . . . not thinking about architecture the way it is normally thought about . . . to not design the way one normally designs . . . a propensity for collaging . . . collage mixed with scaling, rotating, and extruding . . . recombining building parts creating completely new buildings . . . unthinking architecture processes: infringement complex, the Otto houses, the Schizophrenic Folds . . . designing" a neighborhood (suburban) comprised of all the domestic architecture in the collection . . . creating various museum designs by combining (and recombining) the plans and models in the collection . . . designing in a way that things shouldn't be designed . . . all the crazy design ideas had over the years . . . record everything via image captures . . . primarily an image book . . . collection of letters and Body Imagination Architectures notes

2000.09.11
@ Quondam
many (crazy) model databases . . . Piranesi images over large color scan images . . . contemporary compositions using all the different Piranesi imagery
projects
What can an unarchitecture be that a real architecture can not be?

2000.09.13
UaA: further development
"Remove" . . . "Lacunae" . . . "Nimiety" . . . "Chronosomatics" . . . "Sagacity"
ideas
What notes pertain to what volume? . . . all material: photographs, notes, letters, web pages, sketches, drawings, photocopies, artwork, poetry, V80s, books, yellow trace and drawings, flatfiles, magazines . . . manipulate or change anything . . . "The Present Future"

ideas
2000.09.16

UaA: atypical
2000.09.16

UaA: notes
2000.09.16

Unthinking an Architecture
2003.02.04

ideas
2003.02.06

"slapdash" architectural publications
2003.03.07

many architectural publications
2003.03.08

ideas
2003.03.11

now
2003.03.25

Re: changing stuff that really is life
2003.04.02

UNTHINKING AN ARCHITECTURE
2003.04.15 06.01

Architecture Not Now
2003.10.11

next use of Quondam
2007.09.06

The Official Paradigm Shift thread
2008.05.19 20:47

The Official Paradigm Shift thread
2008.05.20 09:45

Examples of modern exterior with traditional interior
2009.10.04 11:55
2009.10.04 12:48

Examples of modern exterior with traditional interior
2009.10.06 15:59

Future Trends in Architecture
2011.09.09 08:31

Is drawing dead?
2013.03.28 10:36

Is drawing dead?
2013.03.29 17:41

4 February
2014.02.04 13:48

the beginning of Unthinking an Architecture
2014.02.04

6 February
2014.02.06 11:37