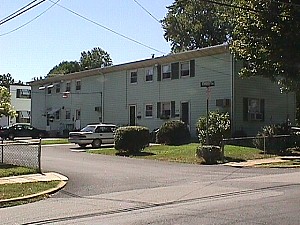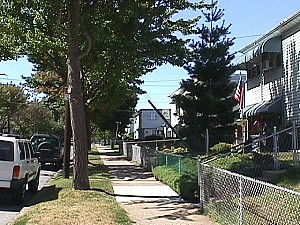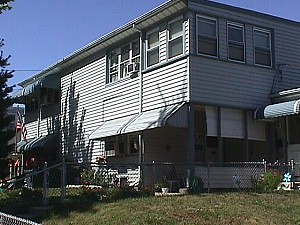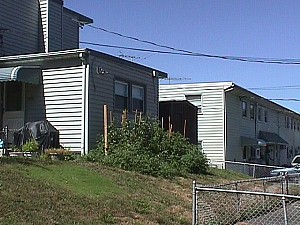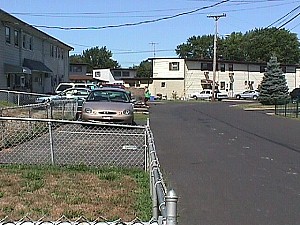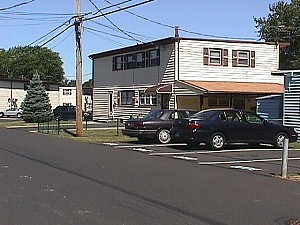 Howe, Stonorov, and Kahn, Pennypack Woods (Philadelphia, PA: Federal Public Housing Authority, 1941-43), images: 2002.08.06.
2002.08.14 14:07
Pennypack Woods, then Trenton
The first early Kahn buildings I photographed last week were the housing development and community center of Pennypack Woods (1941-43). A few days before going I asked RE about the place since R grew up practically across the street from the development, and he did a study/report on it while we were both studying architecture at Temple University. I asked R if there is anything distinctly Kahn about the design, and R answered that the housing is indeed 'modern' in terms of the flat roofs and straight-forward 'boxiness', but that the design doesn't automatically evoke Kahn in the accepted sense. R did mention, however, that one might recognize Kahn's hand in the design of the community center of the development, a building I did not even know about. R also mentioned that the development has since been renovated with plastic siding.
I knew Pennypack Wood literally in passing, but never before went into the development. I was very much surprised by the enormity of the development, and yes indeed every home, and there are probably something like 200 or more, was now covered in plastic siding; the original siding was wood, which is probably still under the present plastic. The whole community is still very fully occupied, and, by the looks of it, a nice place to live (this community has their own swimming pool and a still active grounds maintenance operation--I was jealous!).
Pennypack Woods was designed while Kahn was in a partnership with George Howe and Oscar Stonorov. It's location is incorrectly given in Louis I. Kahn Complete Works 1935-1974--it is in Greater Northeast Philadelphia between Holme and Frankford Avenues, in what at the time of construction was still pretty much open country side, yet within Philadelphia's border. (Thomas Holme, the original surveyor of Philadelphia's grid plan, is buried very near by.)
R was right about the Community Center building, there are recognizable traces of Kahn, at least of early Kahn. I particularly like the retaining wall opposite/along a portion of the center's east elevation.
In general, it is interesting to compare Pennypack Woods with the housing development of my own immediate Philadelphia neighborhood (1938-40) since they were built at almost exactly the same time.
After taking pictures at Pennypack Woods, I got right onto I-95 and headed to Trenton. Thanks to John Young's "eyeball series" at cryptome.org I now know that color aerial photos can be obtained at mapquest.com, and I had already searched for and found the Trenton Bath House that way (it's also neat to see the Bryn Mawr Dormitories from the air). Since this was the first day after the fierce heat wave two week ago, I wondered if there would be people using the swimming facility, and, sure enough, the Trenton Jewish Community Center was a very lively place. A big sign between the parking lot and the Bath House states the historic significance / registration of the building. I took as many pictures as I could from the parking lot side as moms and their kids were going in. Then I went in the entrance, and since I had a camera in hand, a lifeguard at the deck right away said, "You want to take pictures of the place, right?" I answered yes, and he said go right ahead. As I was adjusting my camera, the lifeguard offered, "I heard the roofs are supposed to be seen as floating." I answered with a smile, "I never heard that before." The girl lifeguard also behind the desk added, "I never heard that either," and we winked at each other. Then I said, "it all has to do with servant and served space, as in you are the servants and the people in the pool are the served." That kind of perplexed them. As I started to photograph the court space, the third lifeguard from behind the desk came up to me and wanted to know more. To him the building just looked old and "falling apart." I pointed out the support of the roof that doubled as entrances to the men's and ladies shower rooms, and how they work as one element. He thought that was "cool." For the rest, I told him, he'd have to go to architecture school.
One of the nicest things I saw at the Trenton Jewish Community Center was a group of elders playing cards in the shaded lawn area next to the pool. It instantly reminded me of the four Jewish housewives that played bridge every Monday night adjacent an open garage just down and across from my childhood bedroom.
2002.10.29 09:49
Re: Traffic Design
I sometimes wonder what Northeast Philadelphia would be like if its housing had more closely followed the designs of Villa Savoye and Purist Pessac. Incidentally, Howe, Stonorov and Kahn's Pennypack Woods housing, certainly among the first planned housing communities of Far Northeast Philadelphia, has a strong affinity with Pessac, kind of a combination of both Pessac's Purist and post-Purist manifestations.


2011.03.18 13:06
visited Kahn's grave today
Kahn is buried at Montefiore Cemetery. It's in Rockledge (with a Jenkingtown zip code, I think), and more or less in my neighborhood now. I learned that Kahn was buried there a couple years ago, but never pursued it further. Since Kahn's death day was yesterday, and it was a really nice day here, I decided to go find his grave. And that's what I did. Turns out the grave is within easy eyesight of a road I've driven down innumerable times over the last 30 years.
While on my walk through Pennypack Park this morning, I tried to think of what Kahn building is now closest to his grave, and I think it's the Oser House in Elkins Park. The next closest would be either Pennypack Woods housing and commons, Ahavath Israel, Esherick House, Korman House or Fisher House.