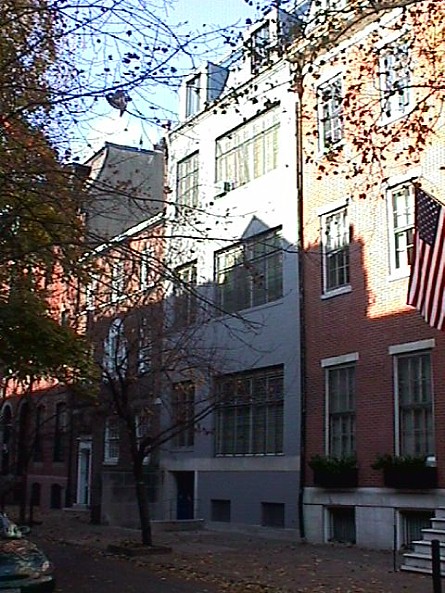 George Howe, Maurice Speiser House (Philadelphia: 2005 Delancey Place, remodeled 1933).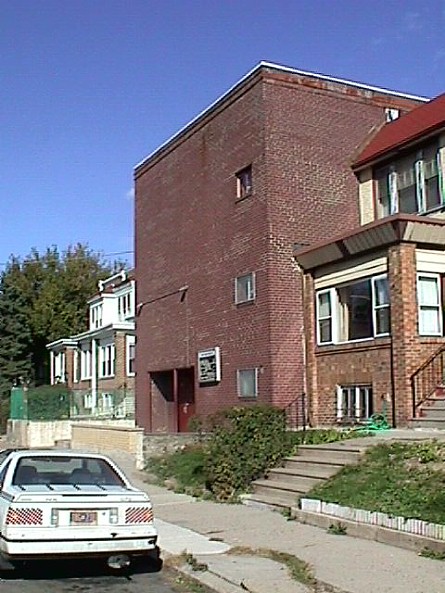 Louis I. Kahn, Congregation Ahavath Israel now Grace Temple Church Inc. (Philadelphia: 6735 North 16th Street, 1935-37).
The simple, flat facade treatment of Howe's Speiser House renovation within a downtown residential block of Philadelphia may well be the precedent for Kahn's similar facade treatment of Congregation Ahavath Israel (1935-37) which is also within a residential block of upper north Philadelphia. Congregation Ahavath Israel was Kahn's first independent project.
"Louis I. Kahn, in many ways a spiritual successor to George Howe, seems to understand better than any architect alive today, the Beaux-Arts theories of architecture. These he learned from Paul Cret and from his years of association with Howe."
Robert A. M. Stern, "PSFS: Beaux-Arts Theory and Rational Expresion" in Journal of the Society of Architectural Historians (May 1962), p. 95.
1998.12.02 11:20
Re: def: AutoCAD Architecture
With regard to "flatness", take a look at Louis Kahn's first independent building commission--Ahavath Israel Synagogue, Philadelphia, 1935-7. My point being that "flatness" is an architectural aesthetic with a long history and very much independent of CAD. There are also some Venturi, Scott Brown and Associates buildings that absolutely revel in their flatness, e.g., any of the 1980s and 1990s university laboratory buildings. I also suggest you read Tom Wolfe's The Painted Word, within which you will find an analysis of the flatness of 1960s POP art.


2000.03.06
reenactment in Philadelphia
1. the Merchant Exchange and the choragic monument in Athens--this also relates to Schinkel's...
2. Strickland's Second Bank of the US and the Pantheon (and hence the model for many subsequent American banks).
3. Girard College as a "true" Corinthian temple.
4. B.F.Parkway as the Champs Elysee/Place de la Concorde.
5. the 2nd Street church tower reenacting City Hall tower--also the church on south 22nd street?
6. the Art Museum on Fairmont reenacting the Athenian acropolis.
7. Franklin Court.
8. Welcome Park.
10. cardo and decumanus.
11. Guild House reenacting Ahavath Synagogue.


2000.09.03
history of hypersurface architecture in Philadelphia
...plus maybe a "history of hypersurface architecture" in Philadelphia, e.g., the force-field of St. Francis de Sales Church; Institute for Scientific Information; Franklin Court; Welcome Park; and also the work of Kahn: Congregation Ahavath Israel, Alfred Newton Richards Medical Research Building and Biology Building, City Tower; [and also Giurgola's United Fund Headquarters;] and perhaps the best hypersurface of Philadelphia architecture, the work of Frank Furness, particularly the half castle bank facade (and this leads to Sullivan as a tangent).


2001.09.09 12:46
Re: Phila
Just five minutes north of Einstein is Louis I. Kahn's first executed building, which was in fact a local, neighborhood synagogue (1937), now... Then 10 minutes north of that is Beth Sholom (1955?), a Frank Lloyd Wright masterpiece.


2002.08.08 20:10
axis of synagogues
Ahavath Israel Synagogue [Kahn's first independent commission] was/is situated within a typical northern Philadelphia block of row homes where it is indeed atypical for a synagogue to be in the middle of the block. Nonetheless, Ahavath Israel is indicative of the large Jewish community living in northern Philadelphia, particularly along the North Broad Street corridor, during the first half of the 20th century. Although a large building within its immediate context, Ahavath Israel represents the smaller type of synagogue intended for more informal daily use by its neighbors.
By the 1950s, North Philadelphia Jews began moving out to the suburbs directly north of Philadelphia.


2002.08.08 20:10
axis of synagogues
[an excerpt from Somewhat Incompletely Louis I. Kahn:]
Ahavath Israel Synagogue [Kahn's first independent commission] was/is situated within a typical northern Philadelphia block of row homes where it is indeed atypical for a synagogue to be in the middle of the block. Nonetheless, Ahavath Israel is indicative of the large Jewish community living in northern Philadelphia, particularly along the North Broad Street corridor, during the first half of the 20th century. Although a large building within its immediate context, Ahavath Israel represents the smaller type of synagogue intended for more informal daily use by its neighbors.
By the 1950s, North Philadelphia Jews began moving out to the suburbs directly north of Philadelphia. In 1954-55, Kahn designed Adath Jeshurun Synagogue for a site along Old York Road about two miles directly north of Ahavath Israel. While ultimately not of Kahn's design, Adath Jeshurun is today on Old York Road, and it is worth noting that the Oser House by Kahn, 1939-43, is on Stetson Road directly across Old York Road from Adath Jeshurun. Furthermore, Beth Sholom Synagogue by Frank Lloyd Wright, 1954, is also on Old York Road about two miles north of Adath Jeshurun.
[Broad Street is the main north-south axis of Philadelphia, while Old York Road is a less rigid extension of Broad Street beyond Philadelphia's northern border. Both Broad Street and Old York Road are Route 611. There are many other/former Jewish institutions along North Broad Street and Old York Road, and their (remaining) architecture would make a very interesting study--hint, hint to those that like to take (full bodied) pictures of buildings.]