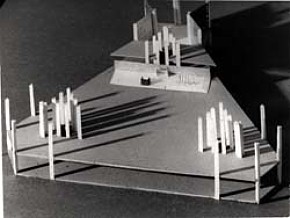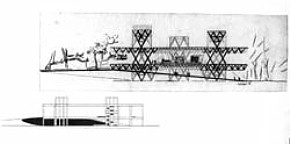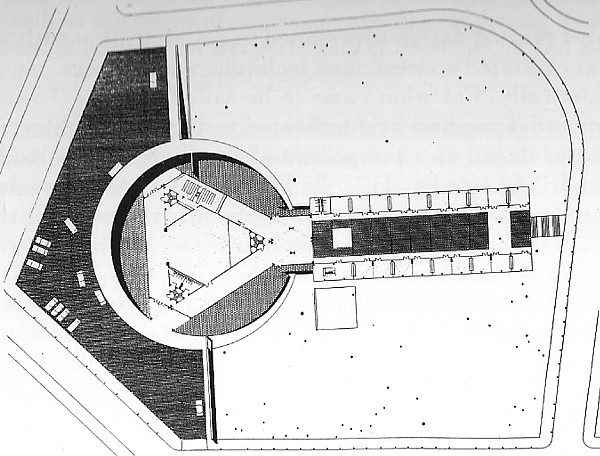 2002.08.09 15:20
Re: Congregation or Synagogue ?
It dawned on me last night that both Wright's Beth Sholom and Kahn's Adath Jeshurun are hugely triangular in plan. Wright mailed the preliminary drawings to Rabbi Mortimer Cohen on 15 March 1954. Kahn's design is dated 1954-55. Since Beth Sholom and Adath Jeshurun are neighboring congregations, it wouldn't surprise me at all if architectural rivalry between the congregations was going on, and that Kahn even saw the Wright plans before he came up with his design. Has anyone heard of this possible connection before?


2002.08.11 10:44
Kahn and Wright
Here is excerpt from Louis I. Kahn: In The Realm of Architecture (1997) with some commentary following:
on pages 79-80: Documented evidence of ties between Wright and Kahn is slight. His connection with Henry Klumb (1904-1985), a former associate of Wright's and a staunch supporter of his ideals, is noted in chapter 1. In 1952 Kahn and Wright both attended a convention of the American Institute of Architects, in 1955 (as previously noted) Kahn praised Wright's early work, and when Wright died in 1959 Kahn wrote in tribute [published in Architecture Record], "Wright gives insight to learn / that nature has no style / that nature is the greatest teacher of all / The ideas of Wright are the facets of his single thought." Scully recalls that later that same year Kahn made his first visit to a Wright building, the S.C. Johnson and Son Administration Building (1936-39), where, "to the depths of his soul, [he] was overwhelmed."
It is curious in that the Scully quotation (from Scully's book Louis I. Kahn (1962)) seems to harbor a mistake, a distancing, and/or perhaps even an intentional fabrication. I, for one, find it hard to believe that Louis Kahn never visited Beth Sholom prior to late 1959, thus I doubt very much that it is true that the first Wright building Kahn visited was the S.C. Johnson building in Wisconsin. Now I have to wonder about Scully and Brownlee/DeLong (authors of Louis I. Kahn: In The Realm of Architecture). Was Scully or even Kahn(!) fabricating a false history that would distance Kahn safely away from being suspected of having ever been really influenced by Wight? And why did Brownlee/DeLong not notice and/or correct what appears to be just plain false? The only real reason I'm pointing all this out is that I believe it is much more valuable to know how designs really came about rather than how they really didn't come about.
This leads me to bring up the anecdote R. shared here as to what Wright said to Venturi about Kahn, i.e., "Beware an architect with one idea." If Wright said this to Venturi circa 1955 (date of Beth Sholom construction), then the "one idea" Wright was speaking of may well be the Yale Art Gallery (1950-53). The Yale building is the first to get Kahn wide recognition, particularly for its triangulated ceiling structures, a structure, moreover, that Kahn further investigated in the second scheme of Adath Jeshurun. Furthermore, the second scheme of Adath Jeshurun is remarkably similar diagrammatically to the stairwell plan within the Yale Art Gallery, i.e., a triangle within a circle.
Could it be that Venturi told Kahn what Wright said, and that is perhaps why Kahn wrote "The ideas of Wright are the facets of his single thought"?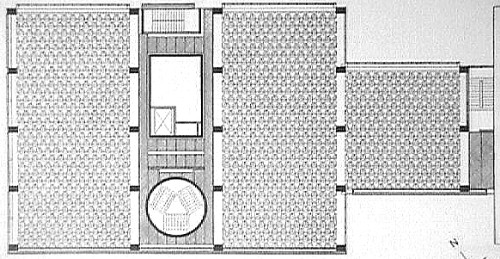 Louis I. Kahn, Yale Art Gallery, 1950-53 (New Haven, CN: reflected ceiling plan).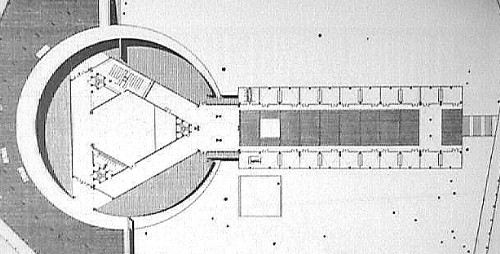 Louis I. Kahn, Adath Jeshurun Synagogue, 1954-55 (Philadelphia, PA, site plan with first floor plan, second scheme).
2002.08.13 15:20
Kahn and Philadelphia Jewry
In doing all this recent research into Kahn's architecture prior to 1950, it becomes clear that most of Kahn's clients then were Jewish and/or Jewish institutions. Besides Ahavath Israel, Adath Jeshurun, and Philadelphia Psychiatric Hospital (now Belmont Rehab, and a subsidiary of Einstein Medical Center (on North Broad Street with an historic 1902(?) synagogue on its campus, btw)), about a dozen private houses, half of which were built, all appear to be for Jewish clients. It wouldn't surprise me if much of Kahn's 'networking' back then can actually be credited to his wife, Esther Israeli Kahn, a highly educated women, and a long-standing pillar of Philadelphia's Jewish community herself.
I'm mentioning all this because I believe it is indicative of how Kahn really began to achieve his greatness as an architect. Beyond the adage that "behind every great man there is a great woman," Kahn also had early exposure to great clients. So, before Kahn stepped up into the 'limelight' after the Yale Art Gallery, he was already at a nice, elevated place essentially created by Philadelphia's Jewry.


2007.10.12 11:17
Negative notes
In Goldhagen's Louis Kahn's Situated Modernism we read:
"In 1951, the [Adath Jeshurun] synagogue's leaders purchased a large polygonal site in Elkins Park, where many of its members were moving. The short end of the lot faced a major thoroughfare, and the remainder sloped back into a more pastoral setting that was bisected diagonally by a small stream (Fig. 4.1)."
And the caption of Fig. 4.1 reads: Sketch of the Elkins Park site for the Adath Jeshurun synagogue, 1954. From the Kahn Collection.
These citings convey misinformation. Kahn's design for Adath Jeshurun was sited on Old York Road within Philadelphia. Kahn's design was never executed, but Adath Jeshurun did ultimately build a new synagogue on a site (within a more pastoral setting) further north up Old York Road in Elkins Park. [This site misinformation is also conveyed within Louis I. Kahn: Complete Works 1935-1974.]
Goldhagen also mentions Wright's Beth Shalom [sic] synagogue. Beth Sholom is about a mile further north up Old York Road from the current Adath Jeshurun and about two miles north of Kahn's site for Adath Jeshurun.
Just coincidently, Kahn's first independent build work, the quondam Ahavath Israel synagogue, is about a half mile away from the Philadelphia site of Adath Jeshurun. And Kahn's Oser House is practically across the street from the bult Adath Jeshurun in Elkins Park. And Trumbauer built three Elkins' mansions for which Elkins Park is named. It's like a little architectural mecca along an ancient Indian trail.